Willow Springs Blues Fest – Saturday, JULY 29th
1 Village Cir, Willow Springs, IL 60480-1665, United States
WINDY CITY BLUES SOCIETY presents
1:00 – 1:45 A Patch of Blues
2:00 – 2:45 The Miles Minor Band
3:00 – 3:45 The Sean McKee Band
4:05 – 5:05 The Dave Specter Band w/ Brother John Kattke
5:25 – 6:55 Bob Corritore's Reunion Revue Set with John Primer
Kenny Beedy Eyes Smith, Billy Flynn, Bob Stroger and Singers: Oscar Wilson, Willie Buck, Tail Dragger
7:10 – 8:10 Johnie B & Queen Iretta Sanders
8:30 – 10:00 Billy Branch and The Sons of Blues
Area Map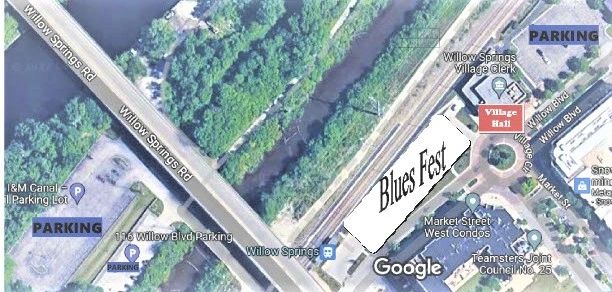 Fest Info
The Fest is FREE
You read that correct. The festival is free thanks to our sponsors, membership, merch sales and The BEVERAGE sales. WE will pass a tip jar to help cover expenses, please make a donation.
Where do we Park
Look at the Map above. There is plenty of parking. Park on the other side of Village Hall and more parking on the other side of the bridge. PLUS there will be people directing you to parking.
Can I bring a Cooler? My Pet ? A Lawn Chair?
Leave your Pet at home, but bring your chair. You can bring a cooler but no outside ALCOHOL is allowed. The BEVERAGE Sales pay for the festival. We will confiscate your outside alcohol
https://windycityblues.org/willow-springs-blues-fest?fbclid=IwAR0hG0Y2HJkEhB7ofr_TC8iv2YFxta_RDHrhchghUvwmmptcmPFrbSW1tic