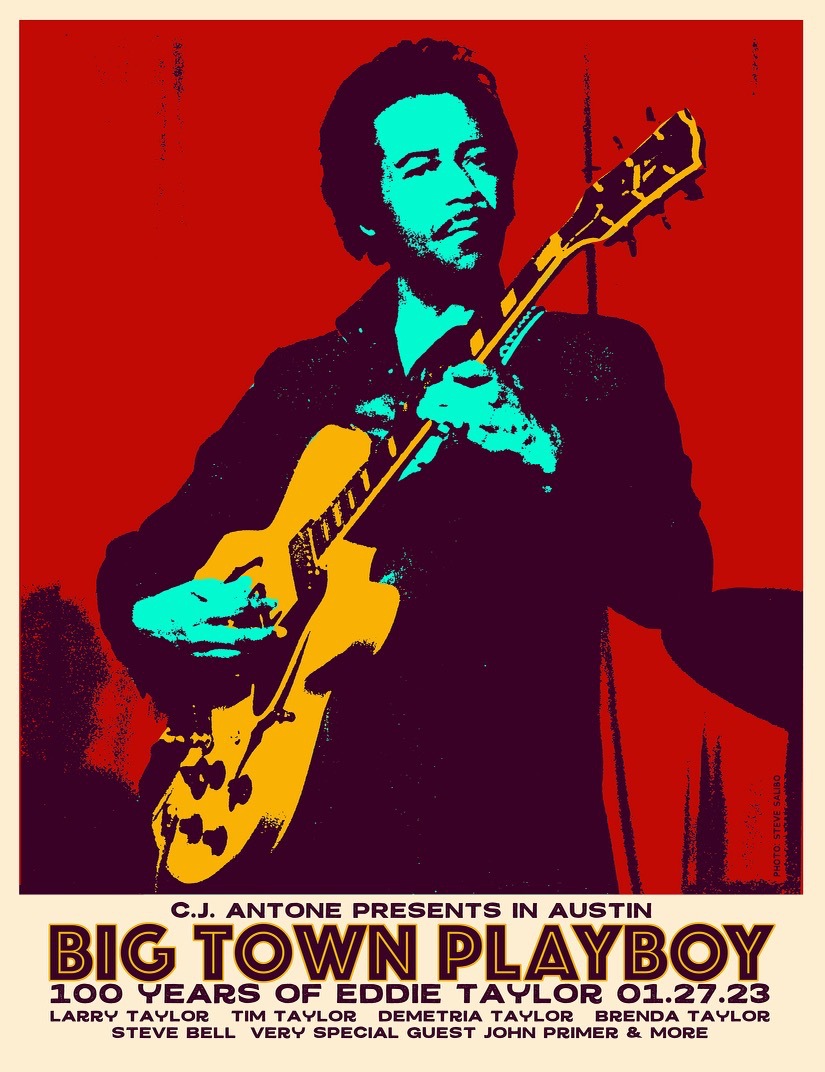 Eddie Taylor 100th Birthday Celebration w/ The Taylor Family, John Primer & More
Friday, January 27, 2023
8:00pm (Doors: 7:00pm )
Antone's Presents Eddie Taylor 100th Birthday Celebration featuring: Larry Taylor, Tim Taylor, Demetria Taylor, Brenda Taylor, Steve Bell, Very Special Guest John Primer & Special Guests
Eddie Taylor 100th birthday celebration & tribute w/ the Taylor Family (Larry Taylor, Demetria Taylor, & Brenda Taylor), Steve Bell, John Primer
"Ladies and gentlemen, this is Eddie Taylor, the man that made all the great Jimmy Reed records, all the John Lee Hooker records, and all the Eddie Taylor records," gushes the emcee. "Ladies and gentlemen, the greatest guitar player in the world."
As preserved on Still Not Ready for Eddie, recorded live at Antone's the year of its GOAT's demise on Christmas Day 1985, the club owner's not lying. Musketeered by three additional axe-grinders (Hubert Sumlin, Luther Tucker, Jimmy Rogers) and electrified by Snooky Pryor's harp and pianist Sunnyland Slim's pedigree (Muddy Waters, Howlin' Wolf, Little Walter), Taylor burns. Nearly all band members belonging to the blues' postwar migration from Mississippi to Chicago, the Antone's Records release blisters open atop "Bad Boy," gets randy with "Knockin' at Your Door," and beams bright lights via "Bigtown Playboy," all three Taylor tunes matching covers of Muddy Waters and Elmore James.
Famously jamming with the talent, Clifford J. Antone returns from the beyond to promote this centennial. Six of Taylor and wife Vera Burns Hill's eight children became performers, so the five survivors reunite Friday to reignite, plus guest John Primer. "That was Eddie Taylor, big town playboy," concludes Austin's giddy host. Ghost notes courtesy of Antone and his esteemed heavenly comrade.– Raoul Hernandez
https://www.austinchronicle.com/events/music/eddie-taylor-100th-birthday-celebration-w-the-taylor-family-larry-taylor-demetria-taylor-and-brenda-taylor-steve-bell-john-primer-2992918/
Check out Demetria Taylor on her version of her legendary father, Eddie's "83 Highway" with the amazing Billy Flynn on guitar!
Larry and siblings to lead Antone's 100th birthday party for Eddie Taylor
At Antone's club in the music city of Austin, TX : master Chicago blues guitarist Eddie Taylor Sr. brought the place down in the 1980s. His kids plan to do the same for his 100th heavenly birthday Jan. 27, 2023. Featuring Larry and siblings: singers Brenda, Edna and Demetria, brother Tim on drums with very special guest John Primer on guitar, special guest Steve Bell on harp, and others. Also in memory of Vera Taylor and Eddie Taylor Jr.