Delmark Records 70th Anniversary Blues Revue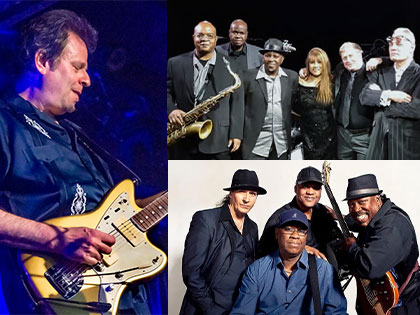 Featuring:
Dave Weld & The Imperial Flames with guest Pierre Lacocque
Mike Wheeler Band with guest Demetria Taylor
Dave Specter Band with guest Jimmy Burns
An epic night of blues music as venerable Chicago label Delmark Records celebrates its 70th anniversary with three prominent acts. First, the original driving houserockin' blues, boogie and Soul of Dave Weld & The Imperial Flames hits the stage with guest artist, harmonica player Pierre Lacocque of Mississippi Heat. Then, the versatile Mike Wheeler Band delivers "old school for the new century" (Blues Blast), joined by singer and Blues Music Award nominee Demetria Taylor. The evening closes with the "global ambassador of Chicago Blues" (Chicago Sun-Times) Dave Specter Band with Delta roots guitarist/singer Jimmy Burns. 
$34 / $32 (seniors & students)
Buy Tickets at:
https://www.prairiecenter.org/…/Calendar/Event/577/835… 
https://www.prairiecenter.org/
Sponsored by 90.9FM WDCB Listener Supported Public Radio and Chicago Blues Guide.
Presented by the Village of Schaumburg.
Tickets ($34 / $32 seniors & students) and more information at prairiecenter.org
Get your tix here!
ci.ovationtix.com/35209/production/1130089
Big thank you to LINDA CAIN and her CHICAGO BLUES GUIDE!!

https://www.chicagobluesguide.com/post/hot-show-october-22-delmark-records-70th-anniversary-prairie-center-for-the-arts-schaumburg
https://www.prairiecenter.org/programs/2022-23-season/delmark-blues
Delmark Blues–
Founded in 1953, Delmark Records is Chicago's oldest American jazz and blues independent label. To celebrate its 70th year anniversary the label will highlight three bands for a night of blues, rock and soul. Dave Specter, Dave Weld and the Imperial Flames, and Mike Wheeler showcase the latest and greats hits all in one night. 
Dave Specter has earned an international reputation as one of the premier talents on the Chicago music scene. Since 1985 Specter has performed regularly at top Chicago venues in addition to clubs, festivals and concert halls throughout the USA. Dave appears on over 50 albums and DVDs as a guitarist, bandleader and/or producer, with 13 albums as a leader or co-leader on Delmark Records. Joining Specter will be guitarist Jimmy Burns.
In 1988 guitarist Dave Weld drew together seasoned Chicago blues veterans to form "Dave Weld and the Imperial Flames." To this day the band continues to keep its authenticity and high energy with versatile talent, variety, and a cohesive show that includes original driving blues, rock blues, boogie, R&B and Soul. Internationally renowned harmonica player Pierre Lacocque join the band for its set.
Mike Wheeler's vast knowledge of music is enhanced by a voice reminiscent of the late Sam Cooke. The band features Mike Wheeler on guitar and vocals, Larry Williams on bass and background vocals, Cleo Cole on drums, Brian James on keyboards and background vocals. Each member brings variety and a diverse range of experiences enabling the group to be among the best in the business. Adding powerful vocals to Wheeler's set is blues singer Demetria Taylor.
The three-act concert will showcase Delmark's vast and extensive variety of styles offered, from jazz and blues to soul and rock & roll.