See publications and radio charts from the US, Europe & Australia about this historical double album celebrating Dave's 30 years on Delmark Records.
---
Saluting a Brilliant, Individualistic Chicago Blues Guitar Legend
by delarue
Today's installment in the ongoing monthlong celebration of all things epic is a mammoth thirty-track career retrospective by one of the giants of Chicago blues guitar. Dave Specter is not as well known outside the Windy City as he deserves to be, but the mammoth double album Six String Soul: 30 Years on Delmark – streaming at Spotify – should go a long way to bring this eclectic, purist player to an audience beyond the diehard blues crowd.
This is a feel-good story: career sideman, revered by his peers, finally decides to front a band rather than just being the guy that everybody in town seems to turn to when they need a sizzling solo. But the side of Specter we most often get to see here is the erudite, purposeful player who's more interested in telling a story and keeping the crowd at the edge of their seats. Beginning with his work in the early 90s, it's fascinating to watch him expand his sound, from a terse, Larry Burton-esque mutability, through more intricate, jazz-inspired style and then a fiery return to his 80s roots. Specter is fluent in more styles than you can count, but he's not a riffbag guy stealing other peoples' licks: when there are multiple guitarists on a track, there's no mistaking which one is Specter.
The album opens with an unexpectedly careening, briskly swinging 1991 tune with Specter and Ronnie Earl backing Barkin' Bill Smith. The final cut is Specter's simmering, gut-wrenching protest anthem The Ballad of George Floyd, which might be the single most powerful blues song released in the past year.
In between, we get a capsule history of a style of music which on one hand was concretized a long, long time ago, but which Chicago musicians keep reinventing in all kinds of interesting ways. There are plenty of live tracks here, which is where Specter is most in his element (and to his credit, his studio work here is a cut above so many of the great artists of the 90s whose albums were rush jobs helmed by hack engineers and producers).
There's Sweet Serenity, a swinging soul-gospel number from 1995 with Tad Robinson on vocals. There's This Time I'm Gone For Good, a slow-burning, anguished soul song with Otis Clay out front, Specter channeling a little Wes Montgomery and some ferocious Otis Rush chord-torturing. There's Seventy-Four, a slow ballad with Specter swooping and diving around, taking two long solos and building to a fiery, circling coda behind singer Willie Kent.
Specter excels at instrumentals, and there are plenty here. The Stinger is one of the best, a latin funk mashup of Chris Thomas King and Otis Rush, if you can imagine all that. Wind Chill, with Dez Desormeaux on tenor sax, Ken Saydak on organ and Ronnie Earl on guitar is a minor-key gem, part late 60s South Side soul, part Wes Montgomery and part state-of-the-art for the 90s. Specter's Walk is a brisk, bittersweet stroll; Riverside Ride offers a nod back at summery Steve Cropper Muscle Shoals soul, but with Chicago grit. There's also a caffeinated, burning take of Magic Sam's Riding High.
Taken from a live set with Floyd McDaniel, the version of St. Louis Blues here veers from a suspenseful mashup of Wes Montgomery and klezmer, veering back and forth to straight-up ba-bump drive. Specter throws a hilarious quote from Thelonious Monk in toward the end. There are more references to Otis Rush and also Elmore James in Specter's chordal attack in Get Back Home.
Unleavened Soul ,with Brother Jack McDuff on organ, is a light-fingered bossa blues, again with hints of klezmer plus a low key soulful John Brumbach tenor sax. McDuff chooses his spots; trumpeter Rob Mazurek displays unusual restraint and modal intensity.
The tradeoff between solos from Lurrie Bell to Specter in Bell's You're Gonna Be Sorry is a clinic in tasteful playing. Backing Sharon Lewis' vengeful vocals, Specter finds the least expected stepping-off point to drive In Too Deep to a bellicose peak.
By the time the story reaches the second disc, it's 1998 and Specter is filling out the space behind crooner Larry Lynn with an unhurried upward trajectory toward a similarly smart Rob Waters organ solo. Right after that we're treated to Texas Top, a casually paced, expertly assembled update on Booker T instrumental soul, Waters again reaffirming the high level of company Specter typically hangs with.
The most inspiring number on the second disc is March Through the Darkness. a heartwarming, Memphis-style soul anthem written in 2019 in protest of Trump-era divide-and-conquer, although it has even more relevance at at time when we're we shaking off genuine totalitarianism. Considering how Specter has stepped out as a frontman, as he celebrates in The Blues Ain't Nothing with Jorma Kaukonen. this is a great gateway to the rest of Specter's discography and reason to look forward to whatever he comes up with next.
---
---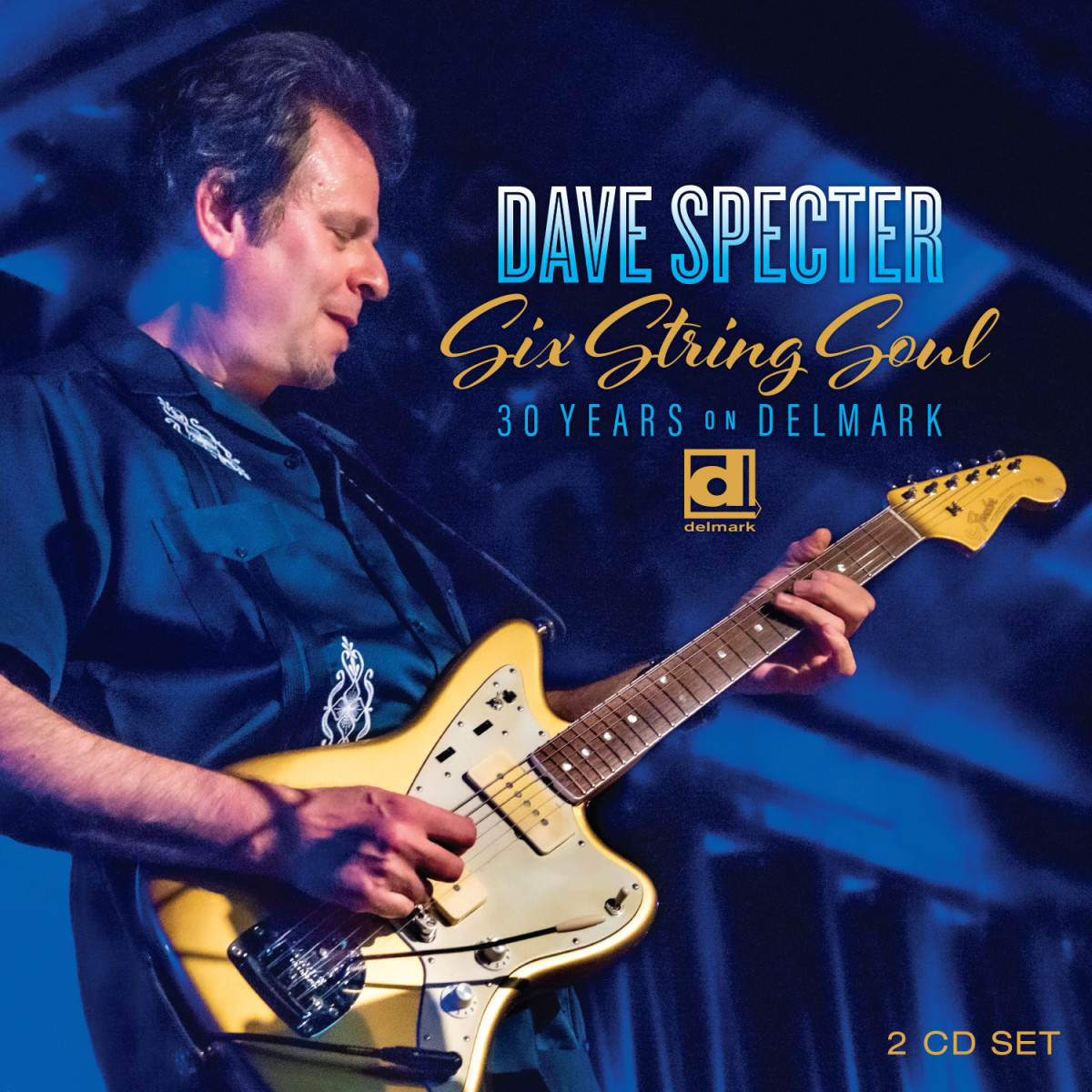 Six String Soul: 30 Years on Delmark has singer/songwriter/guitarist/producer Dave Specter celebrating his three decades of Chicago blues on one label with this 28-track 2-disc career retrospective…and it's a gem. Remastered with an ear for detail, it sounds great. Dave has been at it since '85, has played all over the world, served his apprenticeship with Buddy Guy, Junior Wells, Pinetop Perkins and Otis Rush. He's played for presidents, governors and mayors. Lovingly compiled from his 12 albums and a few of his 50+ sideman gigs, his eclecticism stands out, be it soul, jazz, rock or funk but it's all so deliciously blues-drenched. (Watch him strut his stuff with the legendary Jorma Kaukonen.)
---
---
Six String Soul: 30 Years of the Chicago Blues with Dave Specter
The Windy City guitarist reflects back while looking ahead in this exclusive chat Rev. Keith A. Gordon 0 Comments
Chicago blues guitarist Dave Specter celebrated a 30-year relationship with noted blues label Delmark Records in 2021 with the release of Six String Soul, a two-disc compilation album that offers up 28 red-hot songs chosen from among the dozen albums he's recorded for Delmark over the past three decades.
Considering the wealth of music he's recorded for the label, how did he whittle his impressive back catalog down to slightly more than two-dozen songs for the compilation?
"Elbio Barilari, Delmark's Artistic Director and I started at the beginning with my first album and worked our way through my entire catalog as a bandleader, producer, guitarist, vocalist, and sideman," Specter replied via email. "It was easy choosing most tracks, but hard to leave some out. The project started as a single album idea but, after realizing how much material we had, it was clear we needed to release a double album."
Like many blues artists, Specter began as a fan, immersing himself in performances by legends like Otis Rush, Junior Wells, and Magic Slim as a teenager. Once he began playing, he apprenticed with artists like Sam Lay (from the Paul Butterfield Blues Band), Hubert Sumlin (Howlin' Wolf's longtime guitarist) and Son Seals. After four years of performing as a sideman, Specter put together his own band, the Bluebirds, in 1989. The group quickly made a name for itself on the competitive Chicago blues scene, signing with the legendary label. How did Specter get that first record deal?
"Delmark was starting to get active recording again in the early '90s," says Dave, "and I asked Bob Koester to come out and hear my band at a small club outside of Chicago called The Tip On Inn. He must have liked what he heard, and signed me to a two album deal in 1990."
The label subsequently released Specter's debut album, Bluebird Blues, in 1991, and he's stayed with them ever since. What's the best thing about recording for a historic, independent label like Delmark?
"Well, first of all, Delmark's blues and jazz history is so rich with great recordings, including some of my favorites, classic albums like West Side Soul and Hoodoo Man Blues," says Specter. "Getting signed to the label when I was 27 was a real thrill and definitely carried some weight to it. Secondly, Delmark has always given me the artistic freedom to pursue a wide variety of recordings with a long list of blues and jazz musicians over the past 30 years."
Six String Soul offers a representative cross-section of Specter's three decades with Delmark, beginning with the swinging album-opener, "Buzz Me," with vocalist Barkin' Bill Smith and featuring guitarist Ronnie Earl playing alongside Specter. It's the first of three selections from Specter's debut album, Bluebird Blues, the third of which – the seven-minute "Railroad Station Blues" – provides a fine showcase for Specter to stretch out and display his significant six-string skills while Smith delivers a torch-song styled vocal performance. Two songs on the first disc hail from Fortune Tellin' Man, a 1992 album Specter recorded with Chicago blues legend Jesse Fortune. That album's title track allows the singer to really roar, showing why he's held in such high esteem in the Windy City, while Specter and the Bluebirds rock 'n' roll behind him.
Singer Tad Robinson came into the Bluebirds fold for the 1994 album Blueplicity and hung around for the following year's Live In Europe, "Sweet Serenity" displaying Robinson's warm, soulful vocals above a walking rhythmic backdrop, with Specter's filigree guitar licks threaded throughout the performance. The 1995 album Wild Cards offered a sort of 'Chicago blues all-stars' line-up with Specter, Robinson, bassist Willie Kent, and guitarist Al Miller, "Can't Stay Here No More" providing what is practically a master class in the Chicago blues style, with a sturdy rhythmic soundtrack peppered with funky brass and Ken Saydak's Stax-styled keyboards, then embroidered with Specter and Miller's dueling fretwork.
Lenny Lynn was one of the most talented, yet underrated singers that Specter has worked with, as evidenced by the late-night blues vibe of "Blues On My Mind," a subtle, smoldering ballad with Lynn's smoky vocals floating above Specter's gossamer solos and Rob Waters' nuanced keyboard accompaniment. The guitarist entered the new decade with the critically-acclaimed 2000 album Speculatin', represented here by the rollicking instrumental "Texas Top," which includes two talented keyboard-bangers, both Saydak and Waters, chiming in alongside Specter's imaginative fretwork. There's also only one track from Specter's 2005 collaboration with guitarist Steve Freund, Is What It Is, but it's a good 'un, the instrumental "Riverside Ride" buzzing with energy from the two guitarists' unique playing styles. https://open.spotify.com/embed/album/6hfNie4ElRr15hO1kPxbYq?si=3f7-ZDIISruPjEvoVPbA5g&utm_source=oembed
Much of the second disc of Six String Soul features songs from Specter's more recent albums, Message In Blue (2014) and Blues From the Inside Out (2019), both of which feature keyboardist Brother John Kattke, who has helped Specter take his muse into exciting new directions. From the former you have "Got To Find A Way," with legendary R&B singer Otis Clay on the microphone, the song an old-school R&B shouter with scorching fretwork and blasting horns, and "This Time I'm Gone For Good," which is a real barn-burner with powerful, emotional vocals; dense rhythms; and flamethrower guitarwork with diverse tones that range from B.B. King to Robin Trower. From the latter album, the title track offers a jazzy, roller-coaster performance with Specter's first attempt at singing (note: he ain't half-bad!), trembling guitar notes, and Kattke's rolling piano-pounding. The instrumental "Sanctifunkious" is a red-hot slab o' New Orleans' styled funk a la the Meters or the Neville Brothers, with Specter's fatback guitar notes and Kattke's inspired keyboards.
Specter's albums always include a diverse range of guest musicians, many of which are featured on the tracks included on Six String Soul. How does the guitarist choose the guests he showcases on his records? Says Specter, "every album has a different story, but so many of the guests over the years have been personal favorites of mine, with me just being a huge fan of their music. Otis Clay, Jack McDuff, Jimmy Johnson, Billy Branch, Jorma Kaukonen and so many more come to mind." One of the most memorable moments to be found on Six String Soul is "The Blues Ain't Nothin'," which includes guitarist Kaukonen (Jefferson Airplane, Hot Tuna) adding some choice solos alongside Specter while Kattke handles the microphone. It's a rich, show-stopping performance.
There has also been strong demand for Specter as a sideman, and his elegant six-string work can be found on albums by like-minded artists as Lurrie Bell, Steve Freund, and former Bluebird Tad Robinson. The Bluebirds backed up Chicago blues giant Floyd McDaniel on his last album, West Side Baby, and McDaniel's wonderful take on W.C. Handy's classic "St. Louis Blues" benefits from Specter's fluid guitarplay and the band's rock-solid rhythm section. "You're Gonna Be Sorry," from Bell's 1998 album Kiss of Sweet Blues, is fueled by the juxtaposition of Bell's jagged, knife-edge solos and Specter's silky, stiletto tones.
Like the vast majority of touring musicians, the past two years have been tough on Specter. "Dealing with the pandemic has been really tough on musicians and I've had tours postponed and canceled along with almost a year and a half without gigs," he says. "It was difficult for me to find the inspiration to write but I did write and record 'The Ballad of George Floyd' early in the pandemic, and also wrote a few other songs including a couple of instrumentals. I was able to play some livestream shows, including a series I helped curate for Chicago Blues Network featuring artists including Jimmy Johnson, Billy Branch, Katherine Davis, and John Primer."
Specter refers to "The Ballad of George Floyd," a song that he released as a digital single in late 2020 and which is included on Six String Soul. The song offers a powerful social statement, blending Gospel furor with bluesy instrumentation, insightful lyrics sung reverently by Chicago bluesman Billy Branch. Specter's mournful guitar playing is punctuated by Branch's wailing harp. What inspired him to write the song and what sort of response did he get from it? "Watching the shocking and sickening video of the murder of George Floyd inspired me to write the song," he says. "It started with the lyrics, followed by the music, and then I reached out to Billy Branch to collaborate on the recording. The reaction was mostly very positive, including quite a bit of radio airplay here in Chicago. The lyrics were chosen to be part of the exhibit, 'Songs of Conscience, Sounds of Freedom,' at The Woody Guthrie Center in Tulsa; the exhibit is now on display at The Grammy Museum in L.A."
With 30 years under his belt and the future wide open, what does Specter think is the state of Chicago blues today are where does he think that it's going in the future?
"I think the Chicago blues scene is fairly strong," he explains. "But I was spoiled coming onto the scene in the 1980s when you could hear so many giants of the music on an almost nightly basis – from Otis Rush to Junior Wells, Sunnyland Slim to Jimmy Rogers, Koko Taylor to Lonnie Brooks, Magic Slim to Otis Clay. Today's scene is just not the same. It's encouraging, however, that there are some good young players on the scene. I wish the audience was younger, too."
It's a sure bet that whatever direction the Chicago blues style goes in the future, Dave Specter will be leading the way.
---
---
DAVE SPECTER NEW DOUBLE ALBUM "Six String Soul" receives a great review from KEYS & CHORDS music magazine.
With the new double album 'Six String Soul', Dave Specter celebrates three decades as an artist on the renowned Chicago blues and jazz label Delmark Records. The compilation features some staggering number of guest artists. Guitarist Dave Specter was associated with the Delmark record label long before he was characterized as a recording artist. The Chicago blues and jazz artist was taught by New York-born Steve Freund, who had moved to Chicago in 1976 and worked for Bob Koester's label. Specter first picked up a guitar in the early 1980s, when he had just turned seventeen. In the decades that followed, he first worked as a sideman for Son Seals, before acting as leader of his own band The Bluebirds. Dave Specter joined the Delmark family in 1991, and had a brilliant debut album with fellow guitarist Ronnie Earl and singer Barkin' Bill Smith with 'Bluebird'. Now the fan and especially the layman of Specter will have the opportunity to get acquainted with his rich oeuvre through this 30th anniversary. It is a chronological listing of his Delmark Records catalogs. His early releases lean towards that warm traditional Chicago blues style. Many instrumental songs are musical highlights. It's already blues, because the soul jazz inspired 'Wind Chill' is somewhat reminiscent of Wes Montgomery. Three of the 28 tracks are from the release 'Bluebird Blues'. Some songs are also from the 2019 album 'Blues from The Inside Out', when Specter also took a mic for the first time. All of his albums for Delmark Records, including the live recording 'Live In Chicago 2008', are represented here. Dave Specter's style is deeply rooted in Chicago blues, but he's just as versed in genres as jazz. Specter plays in an authentic style with no effects and demonstrates a versatility in soul, jazz, funk and different styles of blues. The collection concludes with a new track that was previously only available in digital format. The understated but heartfelt "Ballad of George Floyd" was a current single in collaboration with Billy Branch. A fitting tribute to Floyd whose untimely death served as a social item in The States. The release 'Six String Soul' 30 Years on Delmark, is a wonderful release..! (Translated by Elbio Barilari)
DETAILS ALBUM
​Met het nieuwe dubbelalbum 'Six String Soul' viert Dave Specter drie decennia als artiest op het gerenommeerde Chicago blues en jazz label Delmark Records. De compilatie bevat een aantal duizelingwekkend aantal gastartiesten. Gitarist Dave Specter was verbonden aan het Delmark-platenlabel lang voordat hij als artiest werd gekarakteriseerd. De Chicago blues en jazzartiest kreeg les van de in New York geboren Steve Freund, die in 1976 naar Chicago was verhuisd en voor het label van Bob Koester werkte. Specter pakte voor het eerst een gitaar in handen begin jaren '80, hij was toen net zeventien geworden. In het decennia dat volgde werkte hij eerst als sideman voor Son Seals, om daarna als leider van zijn eigen band The Bluebirds te fungeren. Dave Specter trad in 1991 toe tot de Delmark familie, en had met 'Bluebird' een schitterende debuutplaat met collega-gitarist Ronnie Earl en zanger Barkin' Bill Smith. Nu krijgt de fan en vooral de leek van Specter de gelegenheid om via dit 30-jarig jubileum kennis te maken met zijn rijkelijke oeuvre. Het is een chronologisch overzicht van zijn Delmark Records catalogi. Zijn vroege releases leunen aan bij die warme traditionele Chicago bluesstijl. Heel wat instrumentale nummers zijn muzikale hoogtepunten. Het is al blues, want het souljazz begeesterde 'Wind Chill' doet wat denken aan Wes Montgomery. Drie van de 28 tracks komen dan ook uit de release 'Bluebird Blues'. Enkele nummers komen ook uit het album 'Blues from The Inside Out' uit 2019 , toen Specter voor het eerst ook een micro in handen nam. Al zijn albums voor Delmark Records, inclusief de live registratie 'Live In Chicago 2008', zijn hier vertegenwoordigd. De stijl van Dave Specter is diep geworteld in de Chicago-blues, maar hij is dus net zo goed thuis in genres als jazz. Specter speelt in een authentieke stijl zonder effecten en demonstreert een veelzijdigheid in soul, jazz, funk en verschillende stijlen van blues. De collectie wordt afgesloten met een nieuwe track die voorheen alleen in digitaal formaat beschikbaar was. De ingetogen, maar oprechte 'Ballad of George Floyd' was een actuele single in coöperatie met Billy Branch. Een passend eerbetoon aan Floyd wiens vroegtijdige dood als maatschappelijk item diende in The States. De release 'Six String Soul' 30 Years on Delmark, is een schitterend release..! Philip Verhaege

​With the new double album 'Six String Soul', Dave Specter celebrates three decades as an artist on the renowned Chicago blues and jazz label Delmark Records. The compilation features some staggering number of guest artists. Guitarist Dave Specter was associated with the Delmark record label long before he was characterized as a recording artist. Dave Specter's style is deeply rooted in Chicago blues, but he is also equally at home in genres like jazz. Highly recommended!

---
---
Chroniques / 22.10.2021
Dave Specter, Six String Soul
Passer 30 ans sur un label aussi exigeant que Delmark, cela vous pose assurément un musicien. Dans le cas de Dave Specter, en plus de ses évidents talents musicaux, rien de véritablement surprenant, tant le personnage respire le professionnalisme, menant une carrière en tout point remarquable.
Les 28 titres classés chronologiquement sont ici issus de 14 albums au sein desquels on retrouve un impressionnant aréopage d'invités parmi lesquels on peut citer Otis Clay, Jimmy Johnson, Ronnie Earl, Jack McDuff, Jorma Kaukonen, Lynwood Slim, Tad Robinson ou encore Steve Freund, l'un des mentors les plus influents de Specter. Ces prestigieuses coopérations sont l'occasion d'apprécier la justesse, la finesse et l'inventivité du jeu de l'homme à la Jazzmaster dont le style très personnel n'a cessé de s'affirmer et de s'étoffer lui permettant de s'exprimer avec une égale aisance dans le Chicago blues le plus pur (Chicago style, In too deep), les pièces à haute teneur en jazz (Wind chill, Specter's walk), la soul (Got to find a way), le funk (Sanctifunkious) ou même des titres aux influences latines prononcées (The stinger).
Loin de se reposer sur ses acquis, ce colosse s'est récemment révélé comme un chanteur convaincant dont on peut apprécier la voix sur Blues from the inside out et The ballad of George Floyd, témoignage d'un artiste impliqué et concerné par les vicissitudes de notre monde ce que confirme le poignant March through the darkness. Jeune guitariste dans le Chicago des années 1980, Dave Specter s'imaginait marchant dans les pas de bluesmen continuant à jouer jusqu'à 80 ou 90 ans. On ne peut que souhaiter qu'il atteigne cet objectif en lui donnant donc rendez-vous en 2051 pour célébrer ses 60 ans de carrière sur le vénérable label chicagoan !
Nicolas Deshayes
Note : ★★★★★ (Le Pied!)
Label : Delmark
Sortie : 22 octobre 2021
---
Dave Specter – "Six String Soul-30 Years On Delmark"
Napisao/la Mladen Lončar – Mike Kreirano: 29 Studeni 2021
Molimo ocijenite
Dave Specter – "Six String Soul-30 Years On Delmark" (naslovnica)
Otis Clay, Jimmy Johnson, Ronnie Earl, Lurrie Bell, Billy Branch, Willie Kent, Jorma Kaukonen, Brother Jack McDuff, Steve Freund, Barkin' Bill Smith, Lynwood Slim, Sharon Lewis, Floyd McDaniel, Tad Robinson, Jesse Fortune, Lenny Lynn i ima ih još, to su sve sjajna imena koja su uključena u doista sjajnu retrospektivu posloženu na dva CD-a i nazvanu: "Six String Soul-30 Years On Delmark", a koju ponosno potpisuje Dave Specter.
Dave Specter rođen je 21. svibnja 1963. godine u Čikagu. Vrlo rano počinje se zanimati za glazbu i to osobito za onu glazbu koja svoje ishodište ima u tradicionalnoj glazbi američkog kontinenta. Njegovi utjecaji su poznati i legendarni blues majstori, kao što su: T-Bone Walker, Pee Wee Crayton, Magic Sam i Otis Rush. Jednako tako, Dave u svojoj glazbi jasno daje do znanja da i jazz utjecaji, poput glazbe Kennya Burrella, nisu mu strane.
Svoju ljubav prema gitari razvio i otkrio je relativno kasno, s nepunih 18 godina, i to potaknut i inspiriran glazbom svog starijeg brata Howarda. Pored toga, počeo je uzimati satove gitare od Stevea Freunda, inače gitariste u bendu poznatog Sunnyland Slima. On mu je zaista dao raskošnu poduku, a potom ga poslao na turneju s bubnjarom Samom Layom i briljantnim gitaristom velikog Howlina' Wolfa, Hubertom Sumlinom. Pored toga, Dave je nastupao i sa Johnnyem Littleom Johnom te Sonom Sealsom. Sve to, jednostavno, nije moglo proći nezapaženo. Naime, poznata jazz i blues izdavačka kuća Delmark Records iz Čikaga objavljuje mu osam albuma za redom, svi su snimljeni za ovu izdavačku kuću. Od njih svakako želim istaknuti albume: Bluebird Blues (1991.), Blueplicity (1994.), Live In Europa (1995.), Is What It Is (2004.), Live in Chicago (2008.) i Message in Blue (2014.). A, evo, Delmark Records 22. listopada ponosno mu najavljuje objavu ovog dvostrukog kompilacijskog albuma, u čijem glazbenom sadržaju možemo samo uživati, i to gotovo puna dva i pol sata uz, zaista, impresivni glazbeni sadržaj. https://www.youtube.com/embed/QZqHyAw7nKE?rel=0&fs=1&wmode=transparent
Vrlo nadahnuta i efektna kombinacija bluesa, jazza, soula i r&b svakako će vrsne poklonike ovog glazbenog stila ostaviti bez teksta.
Naravno, tijekom svih proteklih godina Dave radi, surađuje i stalno svira s brojnim jazz i blues glazbenicima, a tu bih izdvojio suradnje s legendarnim jazz orguljašem Brotherom Jackom McDuffom, te blues glazbenicima: Tadom Robinsonom i kalifornijskim harpistom Lynwoodom Slimom. Svakako da je do danas Dave Specter izgradio internacionalnu reputaciju i afirmaciju sebe, i to kao blues gitariste, producenta te sposobnog frontmana i glavnog čovjeka u bendu. Povrh toga, svaki dan sve više i više uvažavaju ga mlađi glazbenici i nadolazeći naraštaji budućih glazbenika, a koji će to tek postati. Nije, naravno, nikakvo čudo da je, zahvaljujući, svom proteklom radu i profesionalnoj karijeri Dave radio i nastupao s brojim poznatim rock, soul, blues i jazz glazbenicima. Zahvaljujući svemu tome itekako snažno se osjeća to njegovo iskustvo, pa baš iz tog razloga možemo lako odrediti sve navedene glazbene utjecaje i, shodno tome, ta njegova izuzetno originalna fuzija zaista daje ovako dobre i kvalitetne rezultate. Naravno da ovakva impresivna kompilacija traži određenu potkovanost i razumijevanje ovakvog glazbenog žanra.
Na ovom dvostrukom kompilacijskom izdanju "Six String Soul-30 Years On Delmark" možemo vrlo jasno čuti kako to sjajno radi Dave i da sve, doslovno, zrači tom nadahnutom fuzijom soula, r & b, jazza i bluesa. Tako nešto uvjerljivo i iskreno možemo još čuti s albuma velikih Dukea Robbilarda i Ronniea Earla. Tu je izuzetna i, nažalost, pokojna soul legenda Otis Clay (Otis Lee Clay (11.2.1942. – 8.1.2016.), koji još uvijek sa svojim moćnim i uvjerljivim blues/R&B vokalom doslovno oduzima dah slušateljstvu. https://www.youtube.com/embed/J8lEo16HVF4?rel=0&fs=1&wmode=transparent
Specterov najnoviji kompilacijski album sjajan je dokaz da on zasigurno ima ulogu frontmana i, nesumnjivo, da diktira svojim stilističkim linijama kompletnu glazbenu priču. Dave, jednako tako, ima i osigurava doista široki raspon svoje prezentacijske forme od efektnih blues rifova i toplih tonova njegove gitare do raspojasanih, nijansiranih jazz fraziranja, koja su prožeta dubokim osjećajima, koji svoje odraze imaju u mutnim vodama Mississippija. Ponuđene skladbe većinom su instrumentali, i oni kao da nam govore da je ovaj glazbenik, gitarista itekako jako uronjen u onaj poznati Chicago blues stil.
Iako je primarno instrumentalista, Dave piše i tekstove koje je tako osebujno vokalno modelirao poznati pjevač, istinska legenda Chicago soul glazbe, pokojni Otis Clay. S druge pak strane, Dave je sa svima dokazao da je blues jak temelj za daljnje i dublje, konciznije potrage i ispitivanja u drugim glazbenim stilovima, ali koji su prožeti snažnim osjećajem za blues. I ovaj dvostruki album istinski je dokaz svemu tome. Uostalom, poslušajte u miru cijeli album i sami ćete se čvrsto uvjeriti kako nisam niti malo pogriješio, baš suprotno!
PREPORUKA
Dvostruki kompilacijski album "Six String Soul-30 Years On Delmark" Davea Spectera pružit će vam zaista ugodne i opuštajuće trenutke. I zato, ovaj album svojim sadržajem nedvojbeno pokazuje kako je glazba ovog Chicago blues glazbenika i iskrena, osjećajna, raskošna, kvalitetna i inspirativna u ama baš svakom pogledu. A to su bez sumnje glavni razlozi da potražite ovaj album.
A svi vi, koji poznajete ovaj glazbeni stil sigurno ćete odmah prepoznati vrijednost i značaj albuma koji je pred vama, a, isto tako, jako dobro znam da ćete o svojim pozitivnim iskustvima usmeno prenositi poruku te što prije nabaviti i slušati ovaj album. Bolje preporuke nema, a, vjerujte, zaista se ima što čuti. PROVJERITE!!!
Više o svemu možete naći na:
www.davespecter.com
www.facebook.com/dave.specter & www.facebook.com/pages/Dave-Specters-Blues-Beyond/148729468484537
www.twitter.com/davespecter
www.delmarkrecords.com
www.allmusic.com
www.cdBaby.com
www.chicagobluesnetwork.com
Sadržaj kompilacije:
CD 1:
Buzz Me (Feat. Barkin' Bill Smith & Ronnie Earl) (4:32)
Wind Chill (Feat. Ronnie Earl) (5:27)
Railroad Station (Feat. Barkin' Bill Smith) (7:14)
Specter's Walk (4:59)
Fortune Tellin' Man (Feat. Jesse Fortune) (4:31)
Ridin' High (3:46)
Sweet Serenity (Feat. Tad Robinson) (5:21)
West Side Stroll (4:38)
Seventy-four (Feat. Willie Kent) (6:51)
Can't Stay Here No More (Feat. Tad Robinson) (5:13)
Get Back Home (Feat. Lynwood Slim) (4:02)
Unleavened Soul (Feat. Jack Mcduff) (5:33)
St. Louis Blues (Feat. Floyd Mcdaniel) (5:59)
You're Gonna Be Sorry (Feat. Lurrie Bell) (3:29)
CD 2:
Blues On My Mind (Feat. Lenny Lynn) (6:17)
Texas Top (4:42)
Riverside Ride (Feat. Steve Freund) (6:48)
Feel So Bad (Feat. Jimmy Johnson) (6:46)
In Too Deep (Feat. Sharon Lewis) (5:17)
Got To Find A Way (Feat. Otis Clay) (3:54)
This Time I'm Gone For Good (Feat. Otis Clay) (5:31)
Chicago Style (Feat. Brother John Kattke) (3:34)
The Stinger (5:17)
Blues From The Inside Out (5:15)
March Through The Darkness (Feat. Brother John Kattke) (3:45)
Sanctifunkious (5:04)
The Blues Ain't Nothin (Feat. Jorma Kaukonen) (5:17)
Ballad Of George Floyd (Feat. Billy Branch) (5:15)
(Delmark Records)
Yours bluesy
Mladen Loncar – Mike
---
---
RADIO & RADIO CHARTS
---
DAVE SPECTER
SIX STRING SOUL / 30 YEARS ON DELMARK
Delmark Records
Dave Specter guitarrista, compositor, vocalista i productor de blues, es un dels principals talents de l'escena del blues de Chicago. Des de 1985 en Spectre ha actuat als clubs de blues i jazz de Chicago a més de concerts als Estats Units ha fet gires internacionals i també molts àlbums gravats amb Delmark.
Presenta l'àlbum "Six String Soul / 30 Years On Delmark" es commemoratiu dels trenta anys que fa que Dave Specter grava amb Delmark Records es recull en un dobla disc on s'han remasteritzat les cançons.
En aquest treball discogràfic compta amb la col·laboració de molts músics com Otis Clay • Jimmy Johnson • Ronnie Earl • Lurrie Bell • Billy Branch • Willie Kent •Jorma Kaukonen • Lynwood Slim • Sharon Lewis • Jesse Fortune • Ken Sedaka · Barkin' Bill Smith • Steve Freund • Bob Stroge • Floyd McDaniel • Tad Robinson • Lenny Lynn · Brother John Kattke • Barrelhouse Chuck • Jack McDuff i d'altres…
You can listen to all the podcast here.

Pots escoltar tots els podcast aquí.
You can listen to the broadcast here.
---
Crossroads Top 40 For December 2021
Published January 1, 2022 at 7:00 AM CST
Dave Specter – Six String Soul (Delmark)
Sue Foley – Pinky's Blues (Stony Plain)
Colin James – Open Road (Stony Plain)
Jason Ricci/Joe Krown – City Country City (Gulf Coast)
Zac Harmon – Long As I Got My Guitar (Catfood)
Eric Bibb – Dear America (Provogue)
Jon Spear – B Side of My Life (Jon Spear Band)
Seth Lee Jones – Flathead (Horton)
Brandon Isaak – Modern Primitive (Brandon Isaak)
Ben Levin – Still Here (Ben Levin)
GA-20 – Try It…You Might Like It! (Karma Chief)
Memphissippi Sounds – Welcome to the Land (Little Village)
Robbin Kapsalis & Vintage #18 – Soul Shaker (Bird Song)
Colin Linden – bLOW (Thirty Tigers)
Malcolm Wells & the Two-Timers – Hollerin' Out Loud (Malcolm Wells)
Raphael Wressnig & Igor Prado – Groove and Good Times (Pepper Cake)
Joseph Veloz – Joseph and the Velozians (Big O)
Dionne Bennett – Sugar Hip Ya Ya (Hunnia)
Ronnie Wood – Mr. Luck (BMG)
Adam Schultz – Soulful Distancing (Blue Heart)
Al Basile – B's Testimony (SweetSpot)
Mike Zito – Resurrection (Gulf Coast)
Chickenbone Slim – Serve It To Me Hot (Vizztone)
Lowell Fulson – Live! (Pro Sho Bidness)
Avey Grouws Band – Tell Tale Heart (Avey Grouws Band)
Wee Willie Walker – Not In My Lifetime (Blue Dot)
Tito Jackson – Under Your Spell (Gulf Coast)
Teresa James & the Rhythm Tramps – Rose Colored Glasses Vol. 1 (Jesi-Lu)
Johnny Tucker – 75 and Alive (Blue Heart)
Fabrizio Grossi & Soul Garage Experience – Counterfeited Soulstice Vol. 1 (SoulGarage Experience)
Altered Five Blues Band – Holler If You Hear Me (Blind Pig)
Corey Harris – The Insurrection Blues ((M.C.)
Catfish Keith – Land of the Sky (Fish Tail)
Sean Chambers – That's What I'm Talkin' About (Quarto Valley)
Carolyn Wonderland – Tempting Fate (Alligator)
Rob Stone – Trio in Tokyo (Blues Heart)
Robert Nighthawk – Sweet Black Angel & More Chicago Blues (Jasmine)
Otis Rush – I Won't Be Worried No More (Jasmine)
Blind Lemon Pledge – A Satchel Full of Blues (Ofeh)
Guy Davis – Be Ready When I Call You (M.C. Records)
Tags
Chris Heim Chicago native Chris Heim produces and hosts Global Village, a nationally and internationally distributed world music show heard in more than 40 states and nearly 40 countries; the nightly jazz show Night Train, and Crossroads, KMUW's twice-weekly blues and R&B show. In 2020, Chris received first place in Special Program from the Kansas Association of Broadcasters for Global Village at the Savannah Music Festival, as well as first place in DJ Personality Air Check for Night Train. See stories by Chris Heim