A big shout out to our friend, Bob Marovich and his amazingly detailed, informative, and well researched and written website, Journal of Gospel Music for his new review of Mud Morganfield's new Delmark Records gospel blues single, "Praise Him!"
Thank goodness we have this "definitive online resource of gospel music of yesterday, today, and tomorrow" because gospel has to be one of the least documented music genres out there, it seems.
"Although Chicago's Delmark Records is best known for its estimable blues and jazz catalogues, there's a sacred single in the mix, brought to you by a most surprising source: Mud Morganfield, the eldest son of electric blues pioneer Muddy Waters. Expressing the religious experience in his own way, Morganfield conjures "Praise Him" as a hoodoo brew built on a pinch of blues, a dollop of gospel, and a generous scoop of Memphis-style soul. A salvation story sets the scene for this haunting praise song. Morganfield participates in a call-and-response with a trio of singers, while Luca Chiellini's organ sets a brakeless tempo and guitarists Mike Wheeler and Rick Kreher, along with Mud on bass and Cameron Lewis on drums, offer a seething rhythm section. This track, which could benefit from a radio edit version, is less church hymn, more blunt testimony at a late night revival." – Bob Marovich
"Praise Him" – Mud Morganfield
Make sure to check out Mud Morganfield's powerful new lyric video for "Praise Him" on YouTube…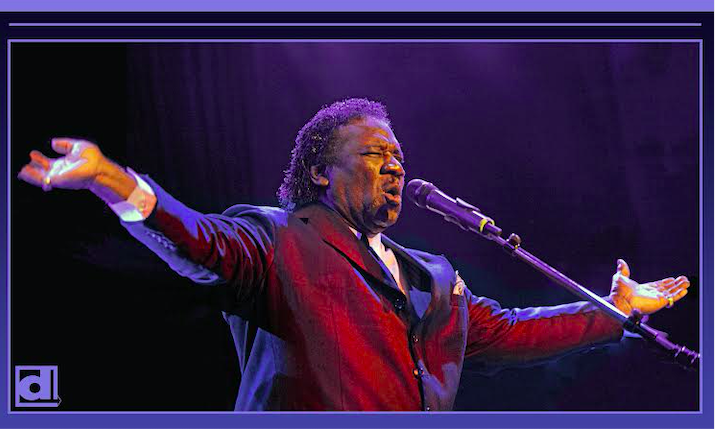 Mud Morganfield's Single Debut on Delmark Records Available Now
American Blues Scene Staff
Listen to single debut "Praise Him" – Lyrics and Music by Mud Morganfield
Multi-award-winning artist Mud Morganfield is an established star in the world of blues music. The eldest son of the legendary Muddy Waters, Mud was brought up surrounded by many of the finest musicians in the Blues.
Mud's singing is firmly in best of traditions of Chicago Blues, but he is also a writer of great new songs and he is backed by some of the best musicians playing today. He is acclaimed by artists and critics, including Buddy Guy and Jools Holland for his own musical ability.
Mud's single debut on Delmark Records is out now! On "Praise Him," a spiritual new song, he is joined by Rick Kreher (guitar), Mike Wheeler (guitar), Cameron Lewis (drums), Luca Chiellini (keyboards) as well as choir singers Felicia Collins, Shantina Lowe and Demetrius Hall.
"I've done and seen many things in my life. From drugs to gang wars, to hustling the streets. I not only have a duty but a responsibility to tell you all that I am a walking testimony to what God can do." – Mud Morganfield
Mud Morganfield: vocals, bass
Rick Kreher: electric guitar
Mike Wheeler: electric guitar
Cameron Lewis: drums, percussion
Luca Chiellini: keyboard
Choir Singers:
Felicia Collins
Shantina Lowe
Demetrius Hall
Recorded by Blaise Barton at Joyride Studios, Chicago IL on June 1st 2021
Mixed by Blaise Barton & John Grimaldi
Mastered by Blaise Barton
Cover Photo by Peter M. Hurley
Design by Jonathan Hill