https://www.chicagobluesguide.com/post/mud-morganfield-portrait
Mud Morganfield – Portrait
Release date: November 11, 2022 Delmark Records By Curt Brown
Photo: by Roman Sobus
A burden or a benefit? A mighty weight or a supporting edge? An anchor to the past or a push forward? What bearing does having the Morganfield surname carry in the blues today?
Before he was known to the world as blues titan Muddy Waters, he was McKinley Morganfield. His legacy is one of taking the country blues of his Mississippi youth and forging a new urbanized electric brand of the music now known as the Chicago blues. This style he developed was energized by the metropolitan landscape, one where life for southern Blacks who moved north was impacted by new stressors and difficulties. His blues was loud, tense, and band-oriented, signifying the beginning transition of acoustic country blues into a hard city medium. Here, the lines between art form, song, and performance blurred, as this was blues on a whole new level. And to this day, Waters' blues visions spur creative dynamisms in songwriters across many genres.
Mud Morganfield is the eldest son of Muddy Waters, coming into the world in 1954 as Larry Williams. As a youngster, he was brought up by his mother, Mildred McGhee, and his various uncles. Muddy, though, was not a constant presence in Mud's life. However, Mud was surrounded by music all his life, with his musical journey starting via a drum set his famous blues artist of a father provided him as a boy. Eventually, Mud turned his musical attention to the bass guitar. Here is a point of departure for Mud versus his esteemed father: Mud grew-up appreciating various types of music including soul, R&B, and the Detroit Motown sound, allowing him a broader set of influences upon which to build his musical education, songwriting and performing style, and overall musical perspectives.
Like his father, Mud supported himself early on by being a truck driver, yet after his father's death in 1983, he began his blues development in earnest, and became a fixture on the Chicago South Side blues scene, along with the blues festival trail. Not only was he paying homage to his blues lineage, but he was also presenting his own blues compositions, demonstrating his desire to not be merely seen as cashing-in on his undeniable blues pedigree.
It took time, but Mud began to feel pride in the inherent talent from being Muddy's son, and embraced his baritone voice and vocal phrasing that closely approximates his father, now viewing it as his calling to keep Muddy's brand of blues alive. He isn't parroting his famous father whatsoever; rather, he is championing all that was great about his Muddy and his blues while constructing a musical identity all his own.
Mud's third overall release, and his first on Severn Records, was entitled Son Of The Seventh Son, a collection that saw the light of day in 2012. The 12-song outing drew positive critical reviews, and was nominated for a 2013 Blues Foundation Blues Music Award in the Best Album and Traditional-Male Artist Album classifications. Seven of the collection's songs were written by Mud. The tunes were recorded at Chicago's Rax Trax Studios in 2011, produced by Phoenix, AZ's blues champion Bob Corritore, and mixed by John Wroble in Chandler, AZ.
Mud's new Delmark Records Portrait CD comprises the entirety of the Son Of The Seventh Son release, plus two new tracks entitled "Praise Him" and "Good Morning Little Schoolgirl." All the original 12 Son Of The Seventh Son cuts have been remastered by Julia Miller and Elbio Barilari, the President & CEO and V.P. and Artistic Director, respectively, of Delmark Records.
The original Son Of The Seventh Son tunes included a veritable roster of "who's-who", or, "first-call", blues musicians who unfailingly add prized value and depth to the studio backing they provide. Those venerated pros include Muddy's one time band mate Rick Kreher with his considerable guitar proficiencies, Billy Flynn also offering his indisputable broad guitar aptitudes, blues drumming elite Kenny "Beedy Eyes" Smith (son of Muddy's longtime drummer Willie "Big Eyes" Smith), departed blues piano and organ giant Barrelhouse Chuck, along with both Bob Corritore and Harmonica Hinds plying their considerable harmonica talents to the mix, and bassist E.G. McDaniel (son of bluesman Floyd McDaniel) keeping the low end in-check on the bass.
These tracks could be primers of how to construct and musically interact in a blues ensemble format; how to do so collaboratively, while staying in one's own lane, how to become communal in making truly inspired music, and through that collective respect, bringing out the best in one another, ultimately leading to the best collective end.
"Short Dressed Woman" finds Mud at his most Muddy, if you will, his vocal nuances, shades, and articulations causing even this jaded reviewer to do an auditory double-take to ensure it was indeed Mud roaring his appreciation for the lady at the center of the discussion. But the point here, and for the whole of this CD, needs to be made now: Mud is his own man, and as a singer, if an astute ear listens closely, he brings his own unique subtleties and precisions to his vocal outpourings as to firmly rise above any ill-advised charge that he is merely mimicking his father. Nothing could be farther from the truth. "Short Dressed Woman" (formerly "Short Dress Woman") plows forward with an ensemble approach that is a blues racket in all the right ways. Once one jumps aboard Barrelhouse Chuck's cascading piano train here, it is too late, for this highly-spirited ride is too infectious to jump from.
Another cut of particular interest is "Son Of The Seventh Son" (a "Studebaker" John Grimaldi composition), and the hyper sexuality that is assertively conveyed by Mud, with Hinds' braying harmonica solos adding substantial tension, while Barrelhouse Chuck adds foreboding overtones to the proceedings. This tune is a shameless testament to male bravado; the song lurches and plows ahead with masculine passion and fury unabetted.
Also, Mud's "Loco Motor" burbles with Corritore's omnipresent harmonica, Barrelhouse Chuck's joyful piano excursions, while Flynn's guitar solo swings the outing with great aplomb. With accompaniment such as this, how could Mud not find and bring back the woman he envisions as his ideal?
Mud's haunting "Midnight Lover" finds him in a more restrained vocal mood, considering the potential implications of his forbidden pursuit of love, knowing full well that his is a path paved with nothing but unfortunate outcomes. All backers on this heavy, deep cut play to the somber side of the scenario. In short, this is a fabulous story blues. Mud is at his best here, and his restrained temperament idyllically suits the no-win situation at-hand. This reviewer hopes to hear more of this side of Mud in the future.
Mud's reading of his father's "You Can't Lose What You Ain't Never had" is vocally dead-on with the original; but, there is an undeniable lift in emotional intensity that is difficult to put into words that he submits. It inhabits the first syllable of each line of lyrics, with the ending syllables drawn ever-so-slightly out. As such, Mud makes this song his own. The anxiety extended by the slicing slide guitar and keyboard work only adds to the power of this cut.
Mud's "Blues In My Shoes" is his account of how he came to the station in which he finds himself, as the torch-bearer for both his father's gloried blues contributions, and how his unique life's experiences have framed him to be the blues force he has developed into. One wants to reach through the speakers at the end of the song and proclaim to Mud that he owes no justifications for his vast skill set and ancestry.
One of the new songs on Portrait, "Praise Him", a gospel tune recorded in June, 2021 at Joyride Studios in Chicago, includes Rick Kreher and Delmark Records artist Mike Wheeler in guitar support, Mud providing a solid bass pattern, Cameron Lewis contributing the percussive elements, Luca Chiellini swirling on keyboards, and Felicia Collins, Shantina Lowe, and Demetrius Hall offering soulful backup vocals. This is a tune brimming with life affirmation and faith, and Mud sings with conviction regarding personal conversion leading to a better path through life. A special mention here to "Studebaker" John Grimaldi for arranging this tune.
The additional new song on Portrait, Sonny Boy Williamson I's "Good Morning Little School Girl," effortlessly rides the ensemble beauty comprised of Mud's perfectly sung certain message of interest to the youthful lady who is the object of his affection, while Kreher's and Flynn's guitars easily intertwine, with Corritore's harmonica solo economically and respectfully paying reverence to Williamson (the liner notes don't credit him for his contribution here), along with Barrelhouse Chuck's curlicuing keyboard runs , while Smith's spartan drumming is the ideal percussive framework, and with McDaniel's bass subtly shaping the necessary low timbre. This could easily be confused for a 1937 Bluebird label release; however, it is not a slovenly recreation, but instead a respectful outpouring of blues energies by a cast who know the tune's place in Chicago's blues lore. This tune too was recorded at Chicago's Rax Trax Studios in 2011, produced by Phoenix, AZ's Bob Corritore, but mixed by Delmark Records' Julia Miller.
In total, Portrait is a living, breathing, dynamic blues document of a man who, while he came to the blues world a bit more direct than most, is utilizing his unique personal creative inputs to shape his blues visions, with the advancement of his competences being attained through demanding, hard work that allows him to stand tall upon his merits solely. Period. Without any qualifications whatsoever.
The highly-respectful ensemble approach here makes this a repeated go-to CD for the discerning blues fan. Kudos to all involved.
Sound across this release is vivid and rich due to the remastering by Delmark Records. Bravo.
Word is that Mud is currently recording brand new songs for a future album. While that's something to greatly anticipate, this Delmark Records release is stirring in a contemporarily classic way, if that even makes any sense. It does, because this CD is proof of it, without stipulation.
For info or to buy the music:
About the Author: Curt Brown is the author of the weekly "Curt's Blues" blog (Curt's Blues – Blues. Only. Spoken. Here. (curtsblues.com). He was the long-time late-night blues radio host on WSND FM 88.9 Notre Dame/South Bend. His Master's Degree thesis from Indiana University dealt with the notion of travel in blues lyrics. He previously published a weekly blues article for the student newspaper of Indiana University South Bend, and has been interviewed by newspapers and magazines regarding the blues.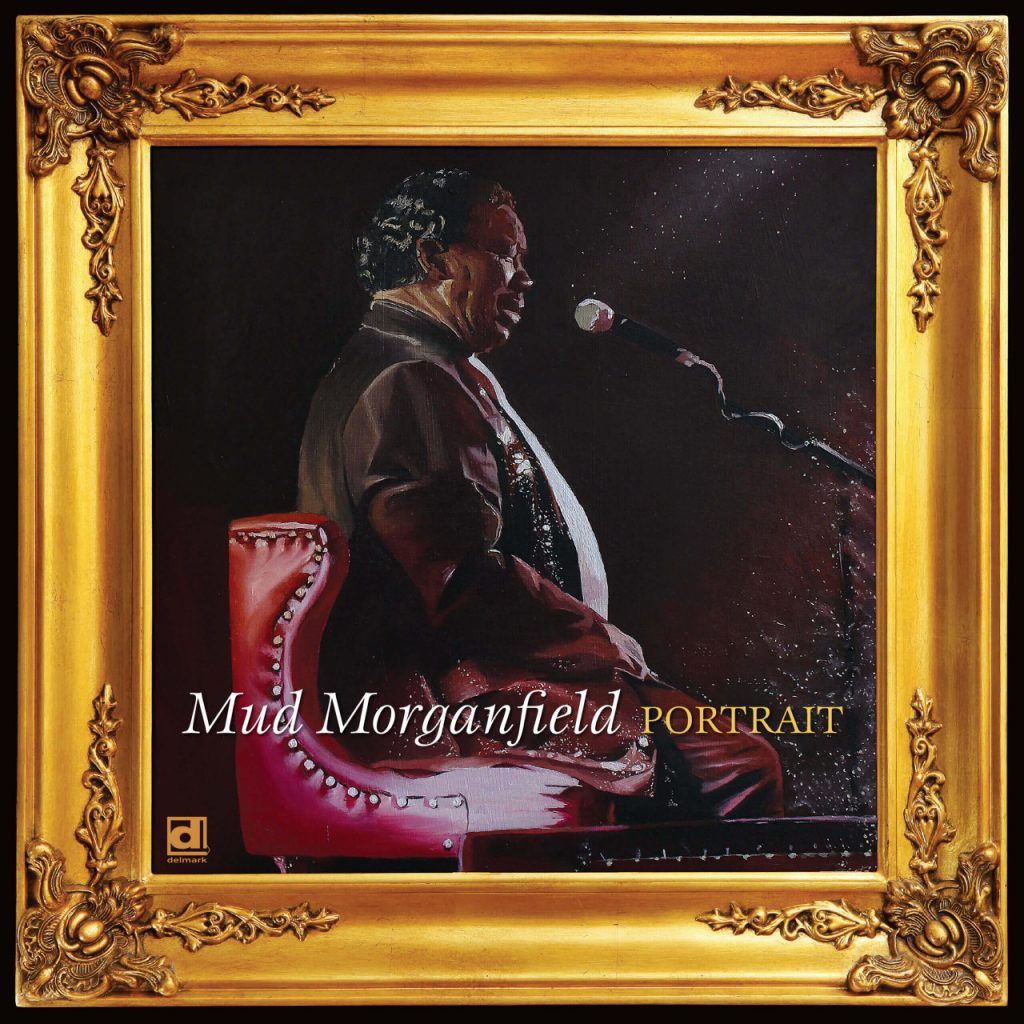 http://bluesjunctionproductions.com/album_review_mud_morganfield_-_portrait
Album Review: Mud Morganfield – Potrait
Mud Morganfield is set to release his latest offering and debut on the Delmark record label on November 11th. If this album sounds familiar, it should. Twelve of the fourteen songs were released back in 2012 as the album Son of a Seventh Son on Severn Records.
Industry folks are abuzz over how this record's contents went from one label to another and have reappeared after ten years. You folks should be able to figure this out. As to the general listening public, you don't care, nor should you. Some great music has been given some new life and is available on the oldest label in the blues field.
Here Morganfield will put listeners in mind of his father, Muddy Waters. If you are a blues singer, you could do a lot worse and it's hard to imagine striving for a higher mark.
Of the numerous singers who have used Muddy Waters as a vocal template, if not as a subject for hackneyed mimicry, nobody comes anywhere near Mud Morganfield in terms of sounding like "Pops." Of course, Mud has a distinct advantage in this realm.
Then it is a matter of choosing the right material and musicians to capture the sound he is trying to achieve. Check and check…
With Kenny "Beedy Eyes" Smith on drums and E.G. McDaniel on bass the rhythm section is in order. Billy Flynn shines on guitar.
The late Barrelhouse Chuck channeled the history of Chicago blues piano every time he sat down at the piano bench. This recording is no exception. Chuck of course plays in the spirit of his mentor and friend Little Brother Montgomery and to the granddad of the Chicago blues piano Sunnyland Slim but also, as expected, gives a nod to Otis Spann. This particular mix brings his playing to light that in many ways was absent on many of the original recordings from which this album takes its inspiration.
The album's original producer Bob Corritore handles the harmonica duties on seven of the album's fourteen tracks. A long-time resident of the Sonoran Desert, Corritore makes a good accounting of himself, as he has made a career out of paying tribute to the music from his hometown.
The twelve songs that made up the original 2012 album sit as tracks 2-13 here and have not been re-sequenced. The album's final song is from John Lee Williamson aka Sonny Boy 1 and had been covered by Muddy and others, Good Morning Little School Girl. It is from those original sessions.
The only brand-new tune is a Mud Morganfield original, Praise Him. As the song title suggests, it is a gospel number. The song while listenable, doesn't add anything to the album and in fact sets it off on the wrong track.
The album straightens itself out quickly with J.T. Brown's Short Dressed Woman and chugs down the Chicago blues rails aided by seven more Mud Morganfield originals that are more suited to his unique pedigree in this field.
Few artists, if any, have cast a larger shadow on the blues field than Muddy Waters. In many ways that umbra follows the music everywhere. For Mud Morganfield it must feel like a total eclipse. I'm sure it is a natural instinct to follow one's own muse and musical instincts. However, Mud Morganfield shines brightest when he embraces his legacy head on. He does that here and we are all the beneficiaries of that decision. On this new release the first son of the seventh son paints a portrait that is worth a second look.
– David Mac
In 2021, Mud Morganfield signed with Delmark Records, releasing a single shortly afterward. The label has now issued Portrait, a fourteen song set which collects and remixes the dozen tracks from Morganfield's 2012 release, Son of the Seventh Son, bookending it with two new tracks, including the aforementioned single. Morganfield looks and sounds very much like his famous father, but with subsequent releases he managed to expand his sound into soul and R&B territory, so listening to his previous work proves that he's no mere imitator…..very much his own man.
The original release, one of my favorites of 2012 is defintely worth revisiting, but the newer tracks add to an already impressive package. One of the new tracks is the album opener, "Praise Him," the single Morganfield released last summer. A self-penned gospel track, it describes Morganfield's own spiritual walk and how it continues to lead him in a positive manner. Morganfield also plays bass on this inspirational track and he's backed by guitarist Rick Kreher and Mike Wheeler, with drummer Cameron Lewis and Luca Chiellini on keyboards.
Kreher played guitar on the 2012 release, along with Billy Flynn. E.G. McDaniel played bass and Kenny "Beedy Eyes" Smith played drums, with the late Barrelhouse Chuck working wonders on the keyboards and producer Bob Corritore and Harmonica Hinds splitting the harmonica duties. Morganfield does a couple of songs associated with his father, such as "Short Dress Woman" (written by J.T. Brown)," and Waters' own "You Can't Lose What You Ain't Never Had."
He also proves himself to be a very good songwriter, submitting seven original tracks including the playful "Love To Flirt," "Catfishing" and "Health," which both feature Barrelhouse Chuck playing some very 60's psychedelic organ, a great train song ("Loco Motor"), a cool slow blues ("Midnight Lover"), the swinging "Leave Me Alone," and "Blues In My Shoes," a nice mid-tempo shuffle. Studebaker John Grimaldi contributed "Son of the Seventh Son," a slow burning sequel to "Seventh Son," a favorite from his dad's repertoire, while Corritore and Flynn each penned a track ("Go Ahead and Blame Me" and "Money (Can't Buy Everything)" respectively).
Morganfield's other new song rounds out Portrait, a faithful reading of the blues standard "Good Morning Little School Girl," the John Lee Williamson tune that many a blues man, including Muddy Waters, covered over the years. The vocal similarities are remarkable between father and son and the musical backing gives the tune a late-50's Chess feel.
If you missed Son of the Seventh Son when it came out in 2012, Portrait is a great opportunity to check out what you missed, and then some. The excellent new tracks show that Mud Morganfield figures to be a great addition to the Delmark roster.
Graham Clarke
BLUES RADIO CHARTS!
#4 on NACC- College radio charts!
Here he is on the ROOTS MUSIC REPORT main blues charts at #4!!
https://www.rootsmusicreport.com/charts/view/album/genre/blues/weekly
The Roots Music Report's
Top 50 Blues Album Chart
for the Week of Nov 12, 2022
"BLUES IN MY SHOES " is up to #9 on blues songs
The Roots Music Report's
Top 50 Blues Song Chart
for the Week of Nov 12, 2022
#3 on Contemporary Blues album charts
The Roots Music Report's
Top 50 Contemporary Blues Album Chart
for the Week of Nov 12, 2022
and #1 on Illinois State charts, with Demetria #2
The Roots Music Report's
Top 50 Illinois Album Chart
for the Week of Nov 12, 2022
top album of the month in AIRPLAY DIRECT!
APD Global Radio Indicator Charts ™
Top 50 Albums – November 2022 (as of 10:28am Wednesday, November 16th 2022)
| | | | | |
| --- | --- | --- | --- | --- |
| Result | Image | Track Name | Downloads | Creds |