Watch & Read: videos, photos, interviews, article.
Delmark Records is the oldest continuously operating jazz and blues independent record label in the United States. It was founded by Robert G. Koester in St. Louis, Missouri in 1953, originally under the name "Delmar." In 1958, Koester and the label relocated to Chicago with the label's current name: Delmark.
Between 1953 and 2018, when Bob Koester passed the torch to the new Delmark President, Julia A. Miller, he built an amazing catalogue. Bob recorded a fundamental era of Chicago blues and jazz music and he was also the mentor for many others and a driving force behind the city's music scene.
Throughout its history, Delmark has released records by historical jazz artists such as Sun Ra, Sonny Stitt, Jimmy Forrest, Wynton Kelly, Curtis Fuller, Roscoe Mitchell, Anthony Braxton, the Art Ensemble of Chicago, Fred Anderson, Von & George Freeman, Ernest Dawkins, Ari Brown, Ken Vandermark, Jason Stein, Nicole Mitchell, Rob Mazurek, Paul Giallorenzo and so many more.
Delmark's stellar blues catalogue includes, among others:  Junior Wells, Little Walter, T-bone Walker, Big Joe Williams, J. B. Hutto, Robert Nighthawk, Luther Allison, Magic Sam, Jimmy Dawkins,  Jimmy Johnson, Sleepy John Estes, Arthur Crudup, Otis Rush, Roosevelt  Sykes, Carey & Lurrie Bell, Eddie C. Campbell, Big Time Sarah, Eddie Clearwater, Dave Specter, Steve Freund, Linsey Alexander, Tail Dragger, Studebaker John, Billy Flynn and Jimmy Burns.
The label also has released albums by musicians from Chicago's Association for the Advancement of Creative Musicians. The first record was Roscoe Mitchell's Sound (1966) which received a five-star review in Downbeat. This was followed by a string of releases on Delmark that highlighted the new music being played in Chicago by artists associated with the AACM including Muhal Richard Abrams, Kalaparusha Maurice McIntyre, and Anthony Braxton. Additionally, Delmark released two of the earliest Sun Ra albums, Sun Song and Sound of Joy, in 1967 and 1968 respectively.
When Bob passed away, on the morning of May 12th, the music world reacted unanimously. He was 88 and in poor health for awhile. But the sad news shocked musicians and blues & jazz lovers around the world.
Today, Delmark is thriving. The label is a  world force on the blues & jazz music scene with recent releases of jazz albums by Geof Bradfield (2), The Soul Message Band, Volcano Radar with Paquito D'Rivera, Fareed Haque and Goran Ivanovic, Dee Alexander with the Metropolitan Jazz Octet, and The Fat Babies. Additionally Delmark re-released Roscoe Mitchell's historical "Sound" album, going back to the original mixes by Stu Black.
The blues new releases since May 2018 include Rockwell Avenue Blues Band, Willie Buck, Johnny Burgin (2), Breezy Rodio, Dave Specter with special guest Jorma Kaukonen, Jimmy Johnson, Linsey Alexander and singles by Jimmy Johnson, Linsey Alexander, Johnny Burgin, Mojo Morganfield and Jose Ramirez.
The label also started its Delmark Classics series, that already includes albums by Fareed Haque with KAIA String Quartet and by classical guitar virtuoso Eduardo Fernández. The upcoming release is an album by world class harpsichord player David Schrader.
Perhaps more importantly, Delmark Records has made digitally available for the world the catalogue of over ten thousand songs released under Bob's tenure as well as all the most recent releases. The availability of this amazing collection for downloads and streaming on all platforms, as well as the immediate access to this trove by radio hosts and music writers has been a game changer in the blues and jazz scenes.
During the 2018 Chicago Blues Festival and in the presence of Bob Koester, the new management of Delmark Records renewed the label's commitment to the blues & jazz communities both by keeping alive its huge catalogue of historical recordings as well as continuing to record and release the living treasures of music. In this sorrowful moment, Delmark Records would like to celebrate and emphasize Bob's accomplishments and legacy while at the same time renewing our commitment.
PHOTO GALLERY: click to enlarge
WATCH:
Bob Koester, Founder Of Delmark Records And Owner of Bob's Blues & Jazz Mart In Irving Park, Dies At 88
Koester started Delmark Records when he was just 21. "Delmark documented Chicago blues, and we take that for granted," one longtime customer said.
Alex V. Hernandez 8:00 AM CDT on May 14, 2021
IRVING PARK — You might think when friends and family visited Bob Koester's home in North Center, the main itinerary would be listening to old records. Koester, the founder of Delmark Records, spent more than six decades of his life recording, selling, curating and collecting music.
But often, guests would gather in the basement screening room where Koester would project old 16-millimeter and 35-millimeter films from his personal collection, which numbered in the thousands.
"He originally thought that he was going to be a filmmaker, but he ended up as a record collector and label owner who collected film," said Michael Gaertner, owner of Lincoln Square's Interstellar Space.
Koester, 88, died Wednesday, said his son, Bob Koester Jr. He had a stroke and had been in hospice care.
Koester was just 21 when he started Delmark Records, one of the most important and longest-lasting independent record labels in United States' history. After relocating his business to Chicago in the 1950s, he and his label became well-known for releasing records ranging from blues and jazz to avant-garde and experimental. He ran Jazz Record Mart for nearly 50 years at multiple locations in the city, then Bob's Blues & Jazz Mart in Irving Park in his later years.
"He launched an independent and later Chicago-based label that released music in multiple genres. Delmark documented Chicago blues, and we take that for granted," Gaertner said. "He documented music that was happening in South Side clubs and stuff like that. And he got these artists into his studio to record, to document them. And he didn't sell the rights to a major label or anything like that."https://www.youtube.com/embed/iesCAOqP3CM?version=3&rel=1&showsearch=0&showinfo=1&iv_load_policy=1&fs=1&hl=en-US&autohide=2&wmode=transparent
Koester was inducted into the Blues Hall of Fame in 1996. In 2018, he sold his label, subsidiaries, a catalog of masters dating to the 1920s, inventory of CDs and LPs and his Riverside Studio at 4121 N. Rockwell St. to Chicago musician Julia A. Miller, from the band Volcano Rada.
Miller soon would learn about Koester's love of film, too. When she took over the Rockwell recording studio, she realized she also acquired hundreds of vintage films. She later donated them to the film department at the Art Institute of Chicago.
"He was very interested in collecting very specific things. He did that with records, especially with 78s. And he also did that with recordings. He was a collector, which is why the label turned out like it did," said Miller, Delmark's CEO and president.
'He Was On The Leading Edge'
Koester was born in Wichita, Kansas, in 1932. He began collecting records in high school and spent much of his teen years going to as many live jazz and blues shows as he could, according to an AllMusic.com bio.
He studied business and cinematography at St. Louis University in 1951. While there, Koester sold records out of his dorm via mail order and realized he had a knack for selling vinyls.
Still in college, Koester joined a local jazz club and made friends and contacts around St. Louis' music scene. He and another jazz club member, Ron Fister, opened a small record shop called K&F Sales in 1952. It was so successful Koester dropped out of college to focus on the business full-time. The store soon moved into a larger space, where it was renamed the Blue Note Record Shop.
But Koester and Fister's differing tastes in music ended their partnership by the following year. Striking out solo, he opened a store on the corner of Delmar and Olive streets in St. Louis. He branched out into recording jazz bands, such as the Windy City Six and blues performers including Speckled Red, Big Joe Williams and J.D. Short, for his then-new label Delmar Records.
Just 21 when he started his company, Koester later renamed the label Delmark Records.
Delmark Records was subsidized by the store's sales, which allowed Koester more freedom in curating a mix of popular jazz and blues musicians alongside more avant-garde, experimental artists and Black classical musicians.
But Koester wasn't just interested in recording new music that caught his ear. He sought to acquire the rights to vintage music from other labels like United, Apollo and Regal. A trip to Chicago in 1958 to acquire the rights to Paramount label's holdings led to him moving here permanently.
"He was on the leading edge and one of the first to document music from the Art Ensemble of Chicago and the Association for the Advancement of Creative Musicians," Gaertner said. "When he heard this music in Chicago, he knew that it was important, that it was significant and he was one of the people at the forefront of recording it."
Koester relocated his shop to Chicago when he was 29 and ended up taking over a shop called Seymour's Jazz Mart at 439 S. Wabash Ave. from songwriter Seymour Schwartz in 1959.
Koester renamed it Jazz Record Mart and would move around Chicago a few times before arriving at its final address, 27 E. Illinois St. The store closed in 2016 due to the rising rent, Koester said at the time. He opened Bob's Blues & Jazz Mart at 3419 W. Irving Park Road the same year.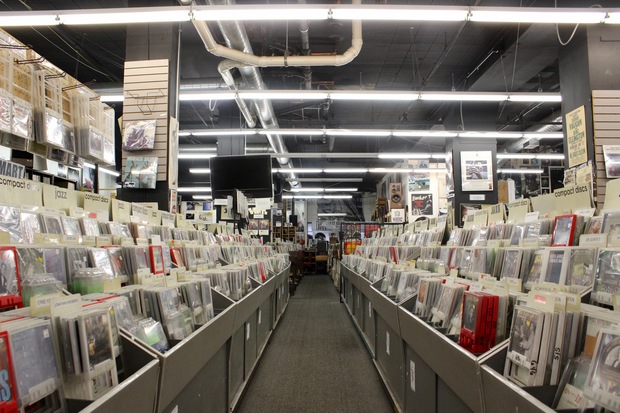 Outside of music, Koester's eclectic tastes included collecting magazines, prints of cartoons, film reels and other items.
"It's very interesting to know about Bob as an avid collector and as someone who had an eye for people and an ear for music. He also had a very old-school business style. He was always about the deal," Miller said.
Miller taught at the Art Institute for 17 years before retiring in 2019. One of her classes was the history of recorded music from Thomas Edison to the present day. She says her teaching background was the perfect training to take over from Koester because of the label's history.
"When Delmark Records first came out, it was sort of the teenage era of the music industry," Miller said.
Earlier this year, Miller told Block Club she's been working to digitize the label's archive while continuing its legacy of recording an eclectic mix of musicians and expanding its distribution network.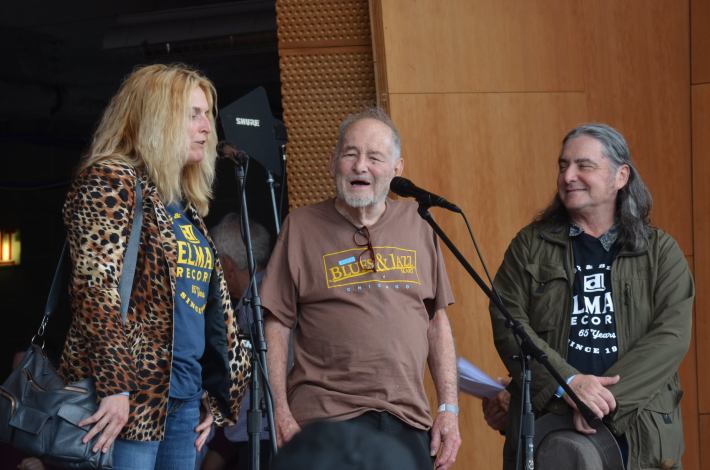 Miller, Gaertner and Koester Jr. all remembered Koester's sharp sense of humor even as he got older.
"He had a lot of jokes he picked up here and there, especially from W.C. Fields," Koester Jr. said. "He and his music-loving cronies also loved to impersonate a drunk patron at a music club trying to request a song from the band using the first line instead of the title."
Examples include Koester and his friends, in fake drunk tenor, saying, "Caaan you play 'Look At Me?'" — which is the first line of the song "Misty" — or belting out "Mister Saturday Dance!" instead of asking the DJ to play "Don't Get Around Much Anymore," Koester Jr. said.
Koester's son also remembers hearing his dad talk about the business aspects of the music industry or him saying a musician "really kicked ass" on a record while listening to music.
"I think he loved it so much that he took the worth of the music as a given," Koester Jr. said.
Years ago, Koester Jr. and his parents were at the record store on New Year's Day for what he called an "un-holiday" slog of going through each record by hand to make sure the inventory count was accurate.
"Mom put on a Duke Ellington record and I heard Dad say, 'Mr. Ellington, you sooth my soul,'" Koester Jr. said.
Gaertner, a self-described music "archeologist," was a regular at Koester's Bob's Blues & Jazz Mart for the past five years. He relished spending about an hour or two digging through the vinyls each week and talking shop with a fellow record store owner and music fan.
"I don't live too far from there and would spend a lot of time talking with him," Gaertner said. "He was a real personal inspiration."
Gaertner attended a few of Koester's Friday evening film screenings and remembers they would often start with a short or a cartoon that was followed by a feature film. The screening room had its own booth that housed the projectors to screen the films.
"… He was very passionate about watching movies, watching films," Gaertner said. "I didn't know him as a young man, but there was something so inspiring about this octogenarian who had this stubbornness in the face of aging about wanting to keep going and have a business when he could have just retired at that point."
In addition to his son, Koester is survived by his wife, Susan; his daughter Kate; brother Tom and two grandchildren.
READ THE FULL INTERVIEW BOB GAVE TO HOWARD REICH: click on the photo caption