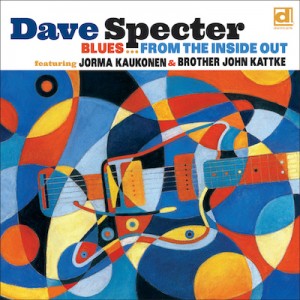 Dave Specter
Blues From The Inside Out
(Delmark)
By Bobby Reed  |   Published January 2020
A middle-aged dog can learn new tricks. This is evidenced by veteran bluesman Dave Specter's latest release, Blues From The Inside Out.
For the first time in his long career, the string-bending, flame-throwing guitarist emerges as a lead vocalist, taking charge of three tunes here. The muscular "How Low Can One Man Go?" is certain to get a response from crowds. With lyrics that reference the highest office in the land, a casino, bankruptcy, bone spurs and "telling lie after lie," the tune is an angry jab at President Donald Trump. The song is delivered as a pent-up sentiment that Specter felt obligated to express.
On this program made up of nearly all his own compositions, Specter surrounds himself with an ace team. His frequent collaborator Brother John Kattke (who also plays organ and piano) delivers potent vocals on four cuts. Sarah Marie Young offers an engaging, nuanced lead vocal on the standout track "Wave's Gonna Come," a powerful composition by William Brichta. Additionally, the legendary Jorma Kaukonen plays guitar on two tracks, including "The Blues Ain't Nothin'," which he co-wrote with Specter.
The instrumental numbers pack a punch, too: There's a Santana flavor to "Minor Shout," and a Meters/Neville Brothers vibe to "Sanctifunkious." The inspiring "March Through The Darkness," sung by Kattke, owes an artistic debt to Mavis Staples. Specter shows his witty side with "Opposites Attract," a tale about interpersonal relationships (a key topic for many blues artists, of course).
By recruiting the Liquid Soul Horns for three tracks and percussionist Ruben Alvarez for three tracks, Specter demonstrates that his version of the blues embraces influences from various genres. Longtime fans will find plenty of sturdy material to dig into here, including the leader's newfound role as a vocalist. Another hat Specter wears is that of a podcaster, hosting a monthly show also titled Blues From The Inside Out.