SOUL MESSAGE BAND @ Fitzgerald's, Berwyn, IL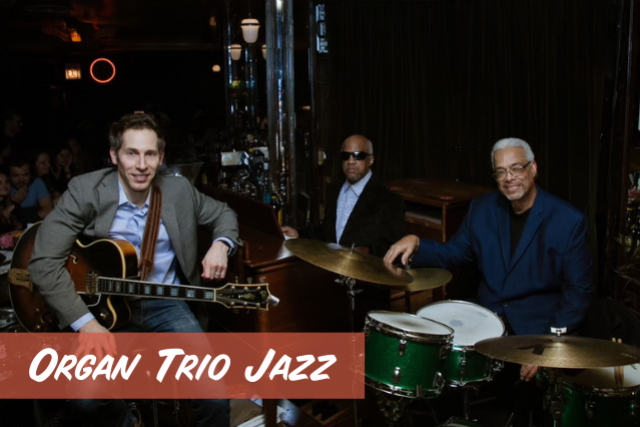 Organ Trio on the Patio: SOUL MESSAGE BAND
FITZGERALDS PATIO
Sat Sep 2 4:00 pm CDT(Doors: 11:00 am )
FREE
All Ages
SOUL MESSAGE BAND
A soulful and infectious style crafted around classic organ grooves, and rooted in thae tradition of great Hammond B3 organists like Jimmy Smith, Jimmy McGriff, Charles Earland, Jack McDuff, and "Groove" Holmes.
Soul Message Band is founded on the enduring partnership of Chris Foreman, the Chicago-based and nationally celebrated Hammond B3 Jazz Organist, and the always solid drummer, Greg Rockingham, aka "The Rock." Greg and Chris have a 25-year history of collaboration, including groups like the Deep Blue Organ Trio. Mr. Rockingham and Mr. Foreman have an unmistakable chemistry that has taken them from Chicago to Jazz Clubs and Arenas around the world as both headliners and as an opening group for Steely Dan. The band adds Chicago veteran guitarist, Lee Rothenberg on guitar.
MEET THE BAND
CHRIS FOREMAN
Chris Foreman is a masterful musician and heir to the throne occupied by the soulful, bluesy jazz organ legends who were once his influence. Blind at birth, Foreman started playing piano at age five and began formal training at seven. As a teenager he was attracted to the organ sounds of Jack McDuff, Groove Holmes, JimmySmith and Jimmy McGriff. This attraction led Chris to pursue playing jazz on the organ, which he undertook through intensive study of recordings. Unlike many African- American musicians whose musical knowledge begins and is established through the church, Chris didn't start his apprenticeship as a church organist until he was almost twenty years old – well after his jazz roots were established. He has arrived at a most exciting blend of blues-gospel and jazz and has developed a stunning command and range on the instrument. The blend of his sound is evident in his professional experience, which has included work with Hank Crawford, Albert Collins, Bernard Purdie, The Mighty Blue Kings and Deep Blue Organ Trio.
GREG ROCKINGHAM
Drummer Greg Rockingham began playing when he was just three years old and debuted as a professional musician at age five in his father's jazz ensemble. An alumnus of the famed Interlochen Arts Academy and Northeastern University, he has won numerous musical awards from the Notre Dame Jazz Festival. Greg has performed or recorded with a wide range of famous names, including the orchestras of Glenn Miller and Guy Lombardo, vocalists Freddie Cole, Patty Page and Jerry Vale and instrumentalists Nat Adderley, Kenny Burrell, Charles Earland, Irene Reid, Ellis Marsalis, Nancy Wilson, and Deep Blue Organ Trio.
LEE ROTHENBERG
Lee Rothenberg was born in Philadelphia and started playing guitar at the age of 14 after studying classical piano for 8 years. His obsession with jazz began at age 16 after spending a summer at Interlochen Arts Camp where he devoted many hours listening to Wes Montgomery, Miles Davis, and John Coltrane in the listening library. He moved to Evanston, IL in 2000 to attend Northwestern University where he studied with jazz pianist Mike Kocour. Since his arrival in 2005, guitarist Lee Rothenberg has emerged as an in-demand sideman in the Chicago Jazz Scene. Noted for a style that is deeply rooted in the Jazz Guitar Tradition, Lee's playing exhibits the sacred elements of melody, swing, and creativity. Lee has performed as both a leader and sideman at venues such as The Green Mill, Andy's, the Jazz Showcase, Pete Millers's, and the Jazz Estate with a venerable list of chicago artists such as Chris Forman, Dennis Carroll, Greg Rockingham, George Fludas, Greg Ward, Dan Trudell, and Bobby Broom. Currently he is working on a quartet record with legendary Multi-Instrumentalist, Ira Sullivan that includes Dennis Carroll on bass, and George Fludas on drums. Stay tuned!! "Lee Rothenberg is a confident, groovin' player that pulls his own weight!!", Chris Foreman.
https://delmark.com/tag/soul-message-band/
Soul Message Band – Soulful Days
$15.99
S
Soul Message Band – Soulful Days
Delmark DE 5030
Soulful Days is the debut album by Soul Message Band but, for the most part, these masterful musicians are not appearing on Delmark for the first time. Organist Chris Foreman and drummer Greg Rockingham both came from the prestigious Deep Blue Organ Trio who have two Delmark albums and one DVD. Alto saxophonist Greg Ward appeared as a sideman on Jason Roebke's High/Red/Center album (Delmark 5014) and tenor man Geof Bradfield recently came out with his Delmark debut, Yes, and… (Delmark 5027). Newcomer Lee Rothenberg is featured on guitar and wrote "Sir Charles", the smoking opener for this funky, greasy organ combo album.
Swagger is intrinsic to any self respecting organ combo and it strides in from the git go on "Sir Charles," named originally for NBA star Charles Barkley, thence organist Charles Earland. Augured by Greg Rockingham's press roll, Chris Foreman's forceful B3 footwork hums beneath his percolating right hand – the coffee's 'bout to spill the pot, but despite the urgency, to swagger with de rigueur gait, the time mustn't trip. Saxist Greg Ward, notwithstanding his natural proclivity for fleet flights, handles the release with laid-back sauciness, smearing notes with grease and grace. It's quickly clear consummate mastery of the genre is at hand here and that's to be expected from Rockingham and Foreman, who have forged an airtight rhythmic lock over a 35 year partnership. More surprising is the idiomatic acuity from the junior members of the band, Rothenberg and Ward. You'd scarcely suspect the former studied classical piano as a youth from the blue veins that course the frets of his Gibson L5; Ward excels in every conceivable context from latin bands to his many leader projects. You can detect the drive of Philly guitar legend Pat Martino in Rothenberg's playing but more so the exploratory insouciance of Wes Montgomery, on his expansive, beautifully articulated "Easy Time" solo.
Listen intently and you'll hear high levels of interplay between these masters. For Rockingham and Foreman it's a sixth sense. "Rock" as his friend Foreman calls him, has impeccable time and is less concerned with flash and display. Drum solos are scarce yet impressive – at the close of the opener and in exchanges with the horns on "Hammer Head," you'll hear more of that press roll Rock borrowed from Buddy Rich, and the special scuttle and purr of his snare. In fact the very sound of the snares (the rattle of metal wires on the bottom drumhead) being turned on is sufficient signal for Foreman that it's time to play. As Chris, who's blind, describes with self-effacing irony, he'll just "look" at Rock and they'll know exactly what's what. "It's like playing with Jimmy Smith and Grady Tate," Rothenberg opines.