Kahil El'Zabar Quartet f/ Corey Wilkes, Justin Dillard, and Isaiah Collier @ The Promontory, Chicago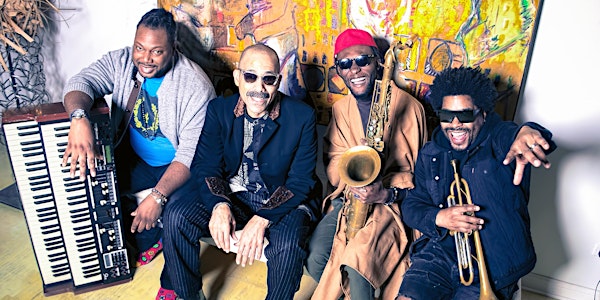 Feb 19
Kahil El'Zabar Quartet f/ Corey Wilkes, Justin Dillard, and Isaiah Collier
All Ages//2:00PM Doors
ByThe PromontoryFollow
Sun, February 19, 2023, 3:00 PM CST, Doors at 2:00 PM
The Promontory 5311 South Lake Park Avenue West Chicago, IL 60615Hide map
Ends 4:30pm
VIP – $35
Table Seating – $30
Reserved Row Seating – $25
Standing Lounge – $15
KAHIL EL'ZABAR QUARTET
Kahil El'Zabar: drums/ earth drum/ cajon/ kalimba/ voice
Corey Wilkes: trumpet/ spirit bowls/ percussion
Justin Dillard: keyboards/ percussion
Isaiah Collier: tenor and soprano sax/ reeds/ percussion
KAHIL EL'ZABAR
Chicago's legendary spiritual jazz shaman Kahil El'Zabar returns, following the worldwide acclamed success of his album 'America The Beautiful', leading an enviable ensemble of young masters from his hometown! Performing and recording at the vanguard of Chicago's musical scene for the past 5 decades, Kahil El'Zabar's impact on jazz, avant-garde music and beyond is significant. Known firstly as a Drummer & percussionist, El'Zabar is also a multi-instrumentalist, vocalist, band-leader, singer, composer, conductor, arts curator, tailor and educator. His pioneering sound, sometimes described as "spiritual groove", incorporating African instrumentation and musical traditions with spiritual jazz, has been incredibly influential upon jazz musicians, producers of electronic music and so many musicians from around the world who have experimented with mixing traditional and contemporary music. Still a teenager, in the early 70s' Kahil El'Zabar joined The Association For The Advancement Of Creative Musicians (AACM), where he was mentored by AACM founder and Sun Ra Arkestra graduate, Phil Cohran, and cut his chops playing with Anthony Braxton, Henry Threadgill, members of the Art Ensemble of Chicago, and Muhal Richard Abrams and Steve McCall. El'Zabar would leave Chicago to study African music at the University of Ghana, Accra. Returning in 1973, he founded his influential Ethnic Heritage Ensemble, before becoming the chairman of AACM 1975 for over a decade. The Ritual Trio, initially featuring Art Ensemble's Lester Bowie and Malachi Favors, laid the framework for the equal footing of spiritual jazz and traditional African rhythm and instrumentation, pioneering his "spirit groove" style. Whilst his Ritual Trio focused more on avant-garde jazz, he initially recorded with Billy Bang and Malachi Favors , and the trio would feature or play with Pharoah Sanders, Archie Shepp and Lester Bowie. El'Zabar has long had an ongoing relationship with new music and upcoming musicians. Firstly, by nurturing the talents of the next generation of phenomenal musicians coming out of Chicago, such as Corey Wilkes, Junius Paul, Tomeka Reid and Justin Dillard, who have all featured on his recordings. With his JUBA Collective, El'Zabar was an early adopter fusing jazz with electronic music and hip hop. The respect he earned from the dance music scene came full circle in 2005 with the likes of IG Culture, Osunlade and IG Culture remixing his work. El'Zabar's reputation has preceded him across the world, and as such he has been invited to share stages with household names such as Nina Simone, Dizzy Gillespie, Stevie Wonder, Paul Simon and Cannonball Adderley. Kahil El'Zabar's latest three essential albums on Spiritmuse Records have rightfully re-established him worldwide as an authentic and leading artist in spiritual jazz and groove, including 'Spirit Groove' featuring legendary saxophonist David Murray, and the epic & magnificent 'America the Beautiful'.
COREY WILKES
Trumpeter Corey Wilkes' impact on the Chicago music scene is near boundless. Having grown up immersed in the sounds of blues, soul, jazz, funk and R&B, he took up the trumpet at the age of 10, and immediately flourished. His confidence and talent soon took him to Berklee College of Music and travelled to Louisiana and New Orleans to immerse himself in those cities' musical cultures. Returning to Chicago, his profile rose rapidly. He became an Artist in Residence for the Jazz Institute of Chicago, and a member of the AACM. For years he's developed under Kahil El'Zabar's wing in the Ethnic Heritage Ensemble, and has played on stage and recorded with greats such as Wynton Marsalis, Roy Hargrove, James Moody, Kurt Elling, Greg Osby, Nicole Mitchell, Marcus Belgrave, Clark Terry, Evan Parker, IG Culture, Tortoise and Bonnie Prince Billy, while playing with the Art Ensemble of Chicago, filling the incredibly large shoes of the late Lester Bowie. Corey Wilkes has been with the Kahil El'Zabar's Ethnic Heritage Ensemble for over 12 years now, and can be heard on the Ethnic Heritage Ensemble's phenomenal "Be Known: Ancient / Future / Music" LP on Spiritmuse Records and on Junius Paul Quartet's acclaimed "Ism". Featured extensively by NPR, Downbeat & JazzTimes, the New York Times described Wilkes's playing style as "smartly balanced bravado, power, and control." He's one of the very few trumpeters to practice circular breathing – an impressive feat.
ISAIAH COLLIER
A graduate of the Chicago High School for the Arts and a second year student at the Dave Brubeck Institute in Stockton, California, saxophonist Isaiah Collier has been turning heads in Chicago from an early age. Howard Reich of the Chicago Tribune writes, "Every time I hear tenor saxophonist Collier. . . I'm struck by his maturity, self-assuredness and above all musicality. Collier shows tonal grit, poetry of line, and a depth of feeling one does not generally associate with teenagers." Collier was mentored by the many legends of Chicago such as Ari Brown, Ernest Dawkins, Pat Malinger, James Perkins, Robert Irving III, Charles Heath, Willie Pickens, and Bobby Broom to name a few. Isaiah has shared the stage with many artists such as Stefon Harris, Roy McCurty, Roy Hargrove, Lewis Nash, Carmen Bradford, Denise Thimes, Dee Alexander, Antonio Hart, Essiet Essiet ,The AACM, Steve Wilson, and Donald Brown. Isaiah was involved with the Thelonious Monk Institute of Jazz All Star Peer-to-Peer group, which was composed of the best high school students from around the country. One of the highlights from this experience was to be a part of the last group to record with the legendary Rudy Van Gelder, who oversaw the project. This group received a Downbeat award after his passing. His latest release with 'Isaiah Collier & the Chosen Few' has been received with huge critical acclaim.
JUSTIN DILLARD
Born and raised on the west side of Chicago and attending both Vandercook College of Music and The Velvet Lounge; his studies at both institutions gave him the honourable privilege to work with innovators locally and globally performing/recording with and/or receiving tutelage from the likes of: Branford Marsalis, Robert Irving III, Ornette Coleman, Kahil El'Zabar, the late jazz master Von Freeman and Roscoe Mitchell to name a few. Howard Reich (Chicago Tribune arts critic) writes: "A new generation of jazz improvisers has emerged in Chicago in recent years, but few are more promising than organist/pianist Justin Dillard".
Musically, Dillard tends to be all over the keyboard, drawing upon the examples of virtuosos such as Dr. Lonnie Smith, Eddie Harris and McCoy Tyner. But there's something more to Dillard's work as well; a quest for new ideas in music, in the manner of his AACM mentors." Justin has performed on national television (ABC) with his organ expose' The DOT; and has played in various genres spanning Avant Garde with the late tenor master Fred Anderson to a Dave Matthews tribute band (Crash). He continues to transform his career by composing for and performing with his vast array of ensembles; all while accompanying great musicians all over the world.
Photos by Michael Jackson.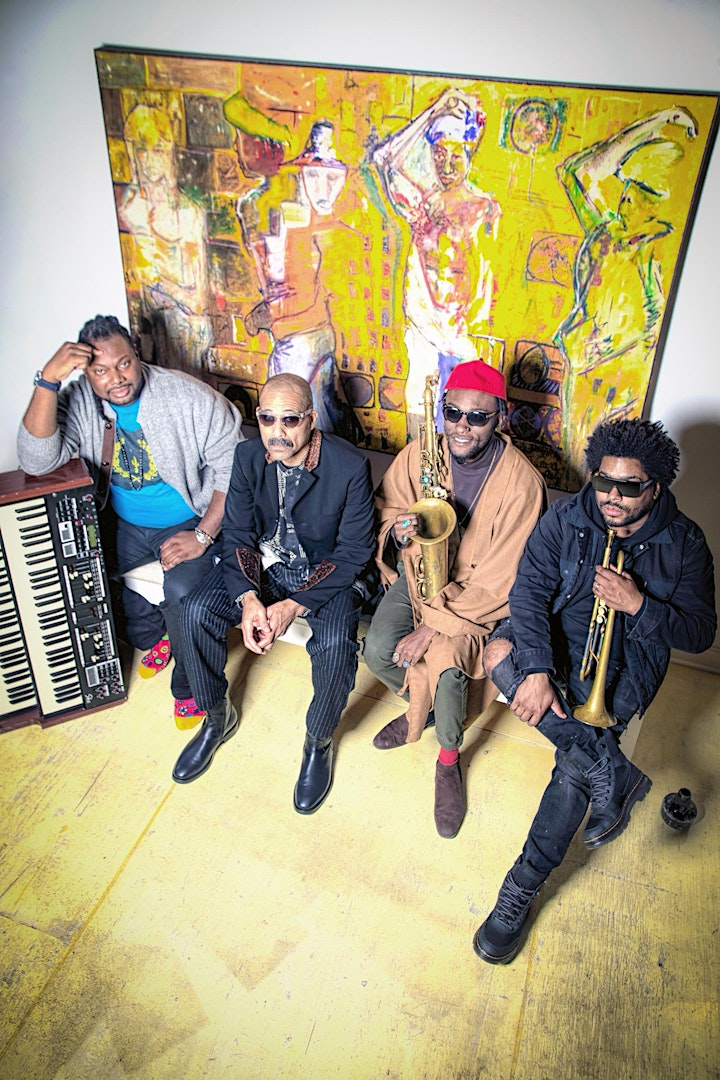 The Kahil El'Zabar Quartet – What It Is!
Delmark DE 5002
Compact Disc (2013)
After leading albums on Delmark that featured jazz vets Pharaoh Sanders and Archie Shepp, Kahil El'Zabar is back with a pride of young lions. Tenor saxophonist Kevin Nabors has studied with Von Freeman, Ari Brown and recorded with Corey Wilkes. Keyboardist Justin Dillard is in many bands in various styles of music including his own D-O-3-O organ group. Bassman extraordinaire Junius Paul has recorded with many Chicago jazz greats including Corey Wilkes, Ernest Dawkins and Dee Alexander. Kahil is featured on drums, African hand drum and kalimba. What It Is contains seven songs including a burning "Impressions".