WILLIE BUCK & The Delmark All-Stars- Live Delmark recording!! – At Buddy Guy's Legends, Chicago
Willie Buck recording LIVE at Legends with
the Delmark All Star Band
Sunday August 28th – Blues master Willie Buck will be at Buddy Guy's "Legends" recording his new LIVE album for Delmark, accompanied by the Delmark All Star Band. Billy Flynn and Willie's right hand man Thaddeus Krolicki on guitars, Johnny Iguana on piano, Melvin Smith on bass & Willie "The Touch" Hayes on drums. The show starts at 9:pm.
Get your tickets now
https://www.etix.com/ticket/p/5443400/willie-buck–chicago-buddy-guys-legends?partner_id=240&_ga=2.228934428.1428006299.1660664046-782366251.1660664046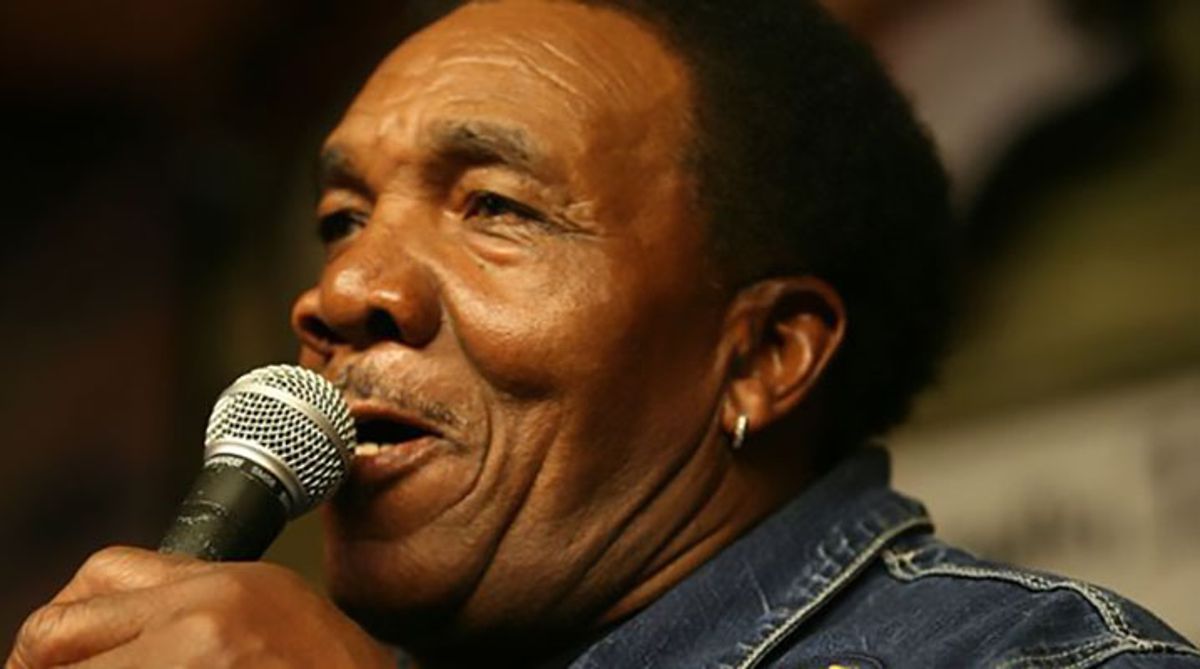 https://www.facebook.com/officialwilliebuck
Featured Interview – Willie Buck
In the mid-1970s, the vast majority of rock and roots-related artists spent a great deal of time publicly railing against the phenomenon that was taking poplar music – along with clubs all over the world – by storm.
As acts like KC & The Sunshine Band, The Hues Corporation and Van McCoy began their weekly assaults on the Billboard charts, rock and roots-related musicians – including a number of bluesmen and women – were left pondering just how to keep their songs relevant and within earshot of the music-buying public.
However, it didn't take Chicago bluesman supreme Willie Buck very long to fashion a suitable game-plan.
He figured, if you can't beat 'em, you might as well join 'em.
And that's just what Buck did, cutting the song "Disco Blues" for Chicago's International Recording Company (IRC) in 1975. The funky and highly-danceable song (credited to P. Willie Buck) became a big hit around the Chicagoland area – and even beyond – more than validating Buck's decision to step over to the 'dark side.'
"Yeah, that kind of song had never been done in the blues before. That was the reason that I did that song … because there had not been anything like that done in the blues," Buck recently said. "It was such a catchy song and for it to have the blues mixed with a little disco was really awesome. I wanted to use disco in my favor instead of run from it and that's just what I did."
Buck's "Disco Blues" might have even helped to open a couple of doors and pave the way for other roots-related artists – such as Johnnie Taylor and Johnny 'Guitar' Watson – to mix in liberal doses of funk and disco-beats into their songs and albums in the latter half of the decade.
"I think it did help some of those other blues artists (in their quest to mix things up)," he said. "Yes, I really do."
Fully-aware of all the things happening around him in the 21st century – just as he was back in the '70s when disco was the big thing – Buck decided to craft a tune that reflected our obsession with the latest technology of today. The result was 2012's Cell Phone Man ( Delmark Records). The cover of the album even gives a clever wink and a nod to society's passion for taking 'selfies,' as Buck holds a microphone in one hand and a cell phone with a picture of himself in the other.
Brilliant and spot-on.
"That Cell Phone Man went over very well. That was a great CD and sold very well," said Buck. "I knew that cell phones were the hot thing and that's why I came up with that song. I just looked around and saw people talking on cell phones and taking pictures with their phones all the time and that led me to take a closer look and write that song."
Never one to rest on recent success, Buck has been busily penning new tunes in hopes of hitting the studio in the near future to record a follow-up to Cell Phone Man.
"I'm been working on some material and already I wrote some new songs like, "I Give So Much To You and Get Nothing in Return" and "I'm Gonna' Leave Here Walking" and "I Got You and You Got Me,"" he said. "Oh, man … I've got a lot of them ready to go. I've got so many, I can't name all of them. I'm getting all the songs together and then we're going to go in and do them. I'm going to try and make this a really hot CD with all new stuff that's never been out before … really hot."
His ability to keep up with the latest trends aside, at the heart of his music, Buck is a deep bluesman through-and-through. Of course, there are a few elements of soul and touches of gospel, but the authentic Chicago blues in Buck's music refuses to take a backseat to anything else.
"When I get on the bandstand, it's like no other," he chuckled.
Buck's 'cell phone' has been blowing up lately with offers to lend a helping hand on other artist's long-players. Those are offers that he readily accepted and you can find Buck singing on the latest album by Big Jon Atkinson & Bob Corritore (House Party at Big Jon's (Delta Groove)), as well as New Cool Old School (Ogden Records) from Shoji Naito.
"I recorded with them (Atkinson and Corritore) in Arizona last year and they put it out this year. I sang "You Want Me To Trust You" and "I'm A King Bee" on that album," Buck said. "And on Shoji's album, I did "I Got To Go' and "Honey Bee" and "I'm Ready.""
While his workload is still as impressive now as it was over four decades ago when he started to play the blues in earnest, no doubt the most exciting thing to recently happen to Buck will take place later this fall (Oct. 16) at Buddy Guy's Legends club in the Windy City.
That's when Buck will be enshrined into the Chicago Blues Hall of Fame.
"It means a lot … it's good to have. Another thing is that people all over the world will know about this and it will let them know I'm still out there doing it," he said. "People just seem to love what I do, and no matter where I travel – and I travel all over – I always have big crowds."
One of Buck's regular gigs around Chicago takes place at Rosa's Lounge on Thursday nights.
"Those people there just love it to death, what I do," he said. "They sure do love it. And I don't just do it in Chicago. I do it all over the world. I spent 39 days in Spain and Brazil. We played in a lot of theatres and clubs over there."
He was born into a family with eight children in 1937 in the smallish town of Houston, Mississippi – not too far from Tupelo. But as he explains it, he was born as Willie Crawford, not Willie Buck.
The 'Buck' handle came later on down the road.
"Yeah, that's (Crawford) my name and Willie Buck is my stage name. I've been using that name for years," he said. "My mom and them gave me that nickname – Buck – and so I just put that in place of Crawford for my stage name. It just seemed like it rhymed pretty well, so that's why I stuck with it for all these years; it just went over well."
As a teenager, Buck fell head-over-heels in love with bluesmen like Muddy Waters, Howlin' Wolf and Jimmy Rogers. But instead of trying to emulate those cats when he began to sing outside of his own bedroom, Buck used them merely for inspiration and tried to find his very own voice from the very beginning.
"Those guys were kind of my favorites, but I didn't really try to sing like any of them. My voice was original and that's what I wanted other people to hear," he said. "And that's the way that it's always been for me. I have seen other guys out there that try to straight-up imitate other singers, but I try not to do that. I just sing with my natural voice and when I get up on the bandstand, I know I can hold my own … I don't worry about that. I do it from the heart and that's what it's all about."
Like a lot of folks in Buck's age group, when he was a young man, he seldom ever missed listening to Ernie's Record Mart, an hour-long rhythm-and-blues radio program hosted by the legendary John R. and broadcast on Nashville's WLAC back in the day.
"That was a very popular show when I was coming up. I listened to it and have never forgot it – '179 3rd Avenue in Nashville, Tennessee (the tag line to one of the spots on the program, and address of Ernie's Record Mart)' – I still remember all of that. It was great," he said. "That's how I started to like the blues as a young man … from that program. I just kept following that music and kept following it and then I started doing it myself. When I first started singing, I was singing without a band. That's how I started and I just went from there."
With a couple of sisters (two of his sisters played guitar and helped inspire young Willie Buck to become a musician) already living up in Chicago at the time, Buck himself moved there from his Mississippi home-base in 1953.
"I had two sisters living in Chicago and one living in Grand Rapids, Michigan. My sisters wanted me to come up and see if I liked it, so I went up to Chicago and stayed for a couple of months," he said. "Then I went back (to Mississippi) and stayed until 1954 and then I went back to Chicago. Since coming back, I've been here ever since."
Even though he was too young to enter such locales, Buck's brother-in-law managed to sneak him into hot-spots like Pepper's Lounge and Smitty's Corner – joints that Buck would later play in himself – to see the late, great Muddy Waters. More than just another fan, however, it turns out that Buck's brother-in-law was a close acquaintance of McKinley Morganfield.
"My brother-in-law and Muddy was very good friends. Muddy used to come by and pick up my brother-in-law when I first got to Chicago and they hung out together," he said. "Believe it or not, the last show that he (Muddy) was going to do in Chicago, he was going to send for me to play with him. This guy that used to play keyboards for me – Lovie Lee – was playing with him then and he was going to send for me to come out and help him do his last show in Chicago. But then he (Muddy) took sick and never did play that show. I was really looking forward to that, because I had not seen him for a while. But he took bad sick and never did get up from that."
Even though he had secured a job as a mechanic shortly after re-arriving back in Chicago, Buck still found the time to hit many of the clubs on the city's south and west sides and within a year, he was gigging regularly around town. He later went on to share the bandstand with a former member of the Muddy Waters' Band – the iconic Little Walter Jacobs.
"That was great. My bass player at the time – and for many, many years – was Dave Myers and he had played with Little Walter a lot. I went to a show they were doing and got up and played and had such a great time," he said. "And you wouldn't believe this, but two weeks later, he (Little Walter) passed away. He sure did. He was a great guy to be around and I loved his blowing (on the harp); he was just a fantastic guy. I really enjoyed playing and hanging out with him."
The Myers brothers were also a ton of fun to be around, says Buck.
"Yes, sir. Dave Myers was a great guy and he taught me a lot. He was good at arranging songs on records and I enjoyed hanging around with him, too," he said. "We just worked great together. I worked with the Myers brothers (Dave and his brother Louis) for a long time. They was called The Aces. Other people had said they couldn't get along with them, but I never had any trouble with them guys. We were always respectful of each other when we got together. I could never talk bad about them. Matter of fact, they played with me until they wasn't able to play anymore. We had some great times together. Me and them and Junior Wells used to play at a place called the Auxiliary Club, a great big place on 37th and Indiana. We played there every Friday and Saturday night for, I don't know how long. Junior was a nice guy, too."
In 1982, Buck cut a full-length album, I Wanna Be Loved. But instead of propelling Buck into the upper stratosphere of blues stardom, the album hardly received a notice. However, Buck was neither depressed nor disappointed by I Wanna Be Loved's lack of instant success.
"You know, I've always been the type of guy to never get discouraged. I always say, 'If that one don't do it, we'll just move on to the next one.' That's the way that I was then and the way that I still am," he said. "It didn't do what I would have loved for it to do, but I didn't just get down and out about it. My base has always been if one don't work, we'll keep doing it until we get one that does work."
That disposition is certainly admirable, but as it turns out, I Wanna Be Loved did end up being the album that Buck hoped that it would. It just took it nearly 30 years to find it's legs. Delmark Records reissued (and repacked, with five bonus live cuts) the album in 2010 as The Life I Love. So why did the album finally manage to connect with an audience some three decades after it initially failed to land?
"I really don't know (what the difference was). Maybe it was the time (when it was first released) that was the problem. Maybe when they (Delmark) got ahold of it, it was just the right time for people to find out about it. I'm really not sure about all of that," said Buck.
No matter where Buck turns up to play, whether in Chicago or whether in Belgium or even in the 'City by the Bay,' you can bet that he's going to have an eager crowd ready and waiting for him to hit the stage.
"I was in San Francisco playing in this place that held about 5,000 people. They had a few bands playing before I came on and the place really wasn't very full. But when it was time for me to come on, that place was jam-packed. I was really knocked off my feet by that," he said. "The way I came out was, I had a wireless mic and started singing before the people in the crowd ever saw me. The crowd really liked that … it was just so awesome."
As he nears five decades of playing the real-deal Chicago blues, Buck's keys to success in 2016 are the same as they were back in the '60s and '70s. And according to the man himself, the power to a long and prosperous career has less to do with some lucky charm or mojo hand than it does with something that folks in all walks of life should do.
Worry about yourself and not about the next guy.
"I never thought that I was better than the other singers or other bands out there. I just always knew that when I hit the bandstand, I could hold my own," he said. "I've never worried about what the next person can do on the bandstand … never. I've never let that bother me. That's it; I worry about myself and not the next person.
Visit Willie's Facebook page at: www.facebook.com/officialwilliebuck.