Kahil El'Zabar w/ David Murray @ Blue Llama Jazz Club, Ann Arbor, MI
FRI, JUNE 9 @ 6:00 PM – 8:00 PM
$35 – $85
DAVID MURRAY & KAHIL EL'ZABAR
DOORS @6PM, SHOWTIME @6:30PM / DOORS @8:30PM, SHOWTIME @9PM
PRE-PAY $85 DINNER & SHOW PRE-PAY COCKTAIL TABLE TICKET + SHOW $35
David Murray is considered to be the most influential tenor saxophonist of his generation. He has recorded more than 300 acclaimed projects. He has worked with many of the giants, such as Max Roach, Charles Mingus, Cecil Taylor, Jack DeJohnette, Chico Hamilton, Elvin Jones, Archie Shepp, Pharoah Sanders, Randy Weston, the list goes on. He is co founder of the World Saxophone Quartet, and leads the famed David Murray Quartet, David Murray Octet, and the David Murray Big Band.
Sir Kahil El'Zabar, was Knighted by the Council General of France for his Global contributions to the Arts. He has performed with luminaries like, Dizzy Gillespie, Cannonball Adderley, Pharoah Sanders, Nina Simone, Stevie Wonder, Archie Shepp, Eddie Harris, Donny Hathaway, Paul Simon, Ntozake Shange, Nona Hendryx, Neneh Cherry, Lester Bowie, Hamiet Bluiett, Malachi Favors, Billy Bang, Gene Ammons, to name a few. El'Zabar, has recorded over 100 acclaimed projects, and founded and leads the legendary Ethnic Heritage Ensemble and Ritual Trio.
Click here for details about our Cocktail Table tickets.
PRE-PAY $85 DINNER & SHOW PRE-PAY COCKTAIL TABLE TICKET + SHOW $35
KAHIL EL'ZABAR
Chicago's legendary spiritual jazz shaman Kahil El'Zabar returns, following the worldwide acclamed success of his album 'America The Beautiful', leading an enviable ensemble of young masters from his hometown! Performing and recording at the vanguard of Chicago's musical scene for the past 5 decades, Kahil El'Zabar's impact on jazz, avant-garde music and beyond is significant. Known firstly as a Drummer & percussionist, El'Zabar is also a multi-instrumentalist, vocalist, band-leader, singer, composer, conductor, arts curator, tailor and educator. His pioneering sound, sometimes described as "spiritual groove", incorporating African instrumentation and musical traditions with spiritual jazz, has been incredibly influential upon jazz musicians, producers of electronic music and so many musicians from around the world who have experimented with mixing traditional and contemporary music. Still a teenager, in the early 70s' Kahil El'Zabar joined The Association For The Advancement Of Creative Musicians (AACM), where he was mentored by AACM founder and Sun Ra Arkestra graduate, Phil Cohran, and cut his chops playing with Anthony Braxton, Henry Threadgill, members of the Art Ensemble of Chicago, and Muhal Richard Abrams and Steve McCall. El'Zabar would leave Chicago to study African music at the University of Ghana, Accra. Returning in 1973, he founded his influential Ethnic Heritage Ensemble, before becoming the chairman of AACM 1975 for over a decade. The Ritual Trio, initially featuring Art Ensemble's Lester Bowie and Malachi Favors, laid the framework for the equal footing of spiritual jazz and traditional African rhythm and instrumentation, pioneering his "spirit groove" style. Whilst his Ritual Trio focused more on avant-garde jazz, he initially recorded with Billy Bang and Malachi Favors , and the trio would feature or play with Pharoah Sanders, Archie Shepp and Lester Bowie. El'Zabar has long had an ongoing relationship with new music and upcoming musicians. Firstly, by nurturing the talents of the next generation of phenomenal musicians coming out of Chicago, such as Corey Wilkes, Junius Paul, Tomeka Reid and Justin Dillard, who have all featured on his recordings. With his JUBA Collective, El'Zabar was an early adopter fusing jazz with electronic music and hip hop. The respect he earned from the dance music scene came full circle in 2005 with the likes of IG Culture, Osunlade and IG Culture remixing his work. El'Zabar's reputation has preceded him across the world, and as such he has been invited to share stages with household names such as Nina Simone, Dizzy Gillespie, Stevie Wonder, Paul Simon and Cannonball Adderley. Kahil El'Zabar's latest three essential albums on Spiritmuse Records have rightfully re-established him worldwide as an authentic and leading artist in spiritual jazz and groove, including 'Spirit Groove' featuring legendary saxophonist David Murray, and the epic & magnificent 'America the Beautiful'.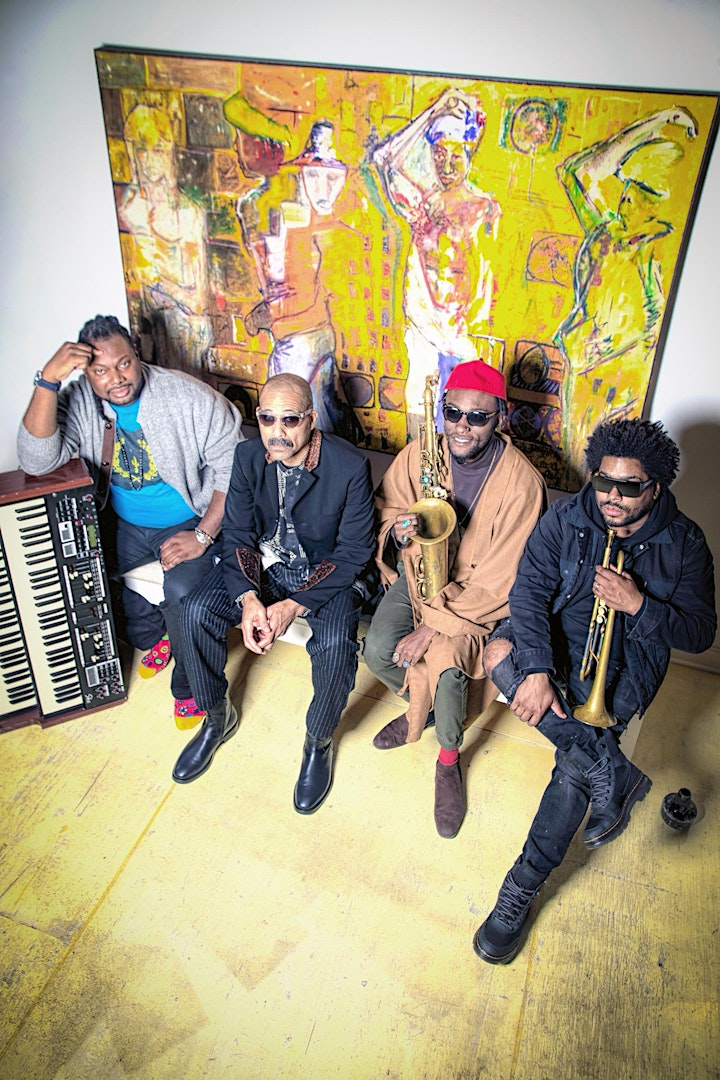 The Kahil El'Zabar Quartet – What It Is!
Delmark DE 5002
Compact Disc (2013)
After leading albums on Delmark that featured jazz vets Pharaoh Sanders and Archie Shepp, Kahil El'Zabar is back with a pride of young lions. Tenor saxophonist Kevin Nabors has studied with Von Freeman, Ari Brown and recorded with Corey Wilkes. Keyboardist Justin Dillard is in many bands in various styles of music including his own D-O-3-O organ group. Bassman extraordinaire Junius Paul has recorded with many Chicago jazz greats including Corey Wilkes, Ernest Dawkins and Dee Alexander. Kahil is featured on drums, African hand drum and kalimba. What It Is contains seven songs including a burning "Impressions".