JOSE RAMIREZ @ Blues Nights, Baixa da Banheira, Portugal
November 13
Blues Nights, Baixa da Banheira, Portugal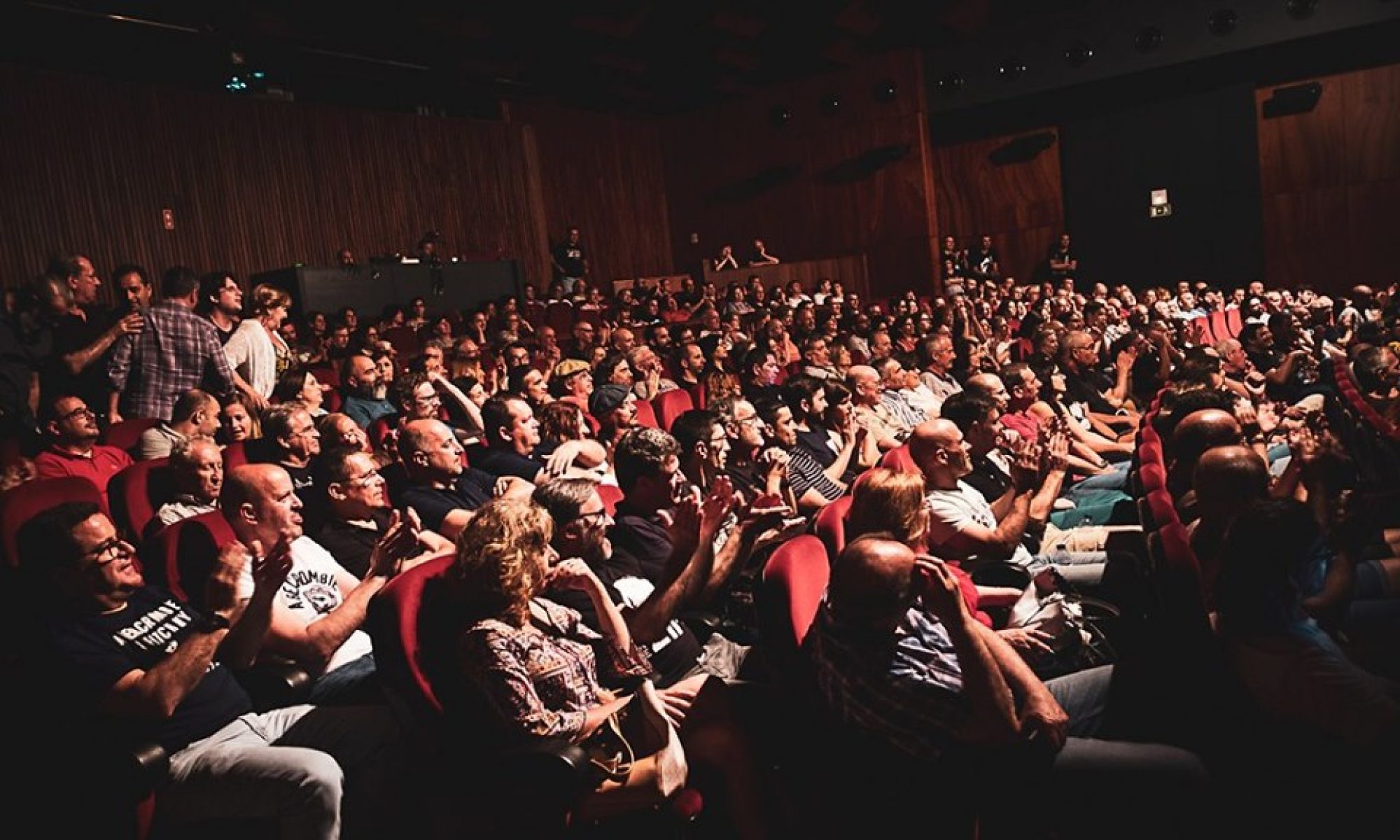 BB Blues Portugal Association
On November 13th, from 9:30 pm, the José Manuel Figueiredo Cultural Forum, in Baixa da Bath, receives another Blues Night By BBBF. Tonight, José Ramirez, currently one of the most popular Latin American bluesman , takes to the stage, who makes his absolute debut in Portugal on this Blues Night, in a concert as part of his European tour .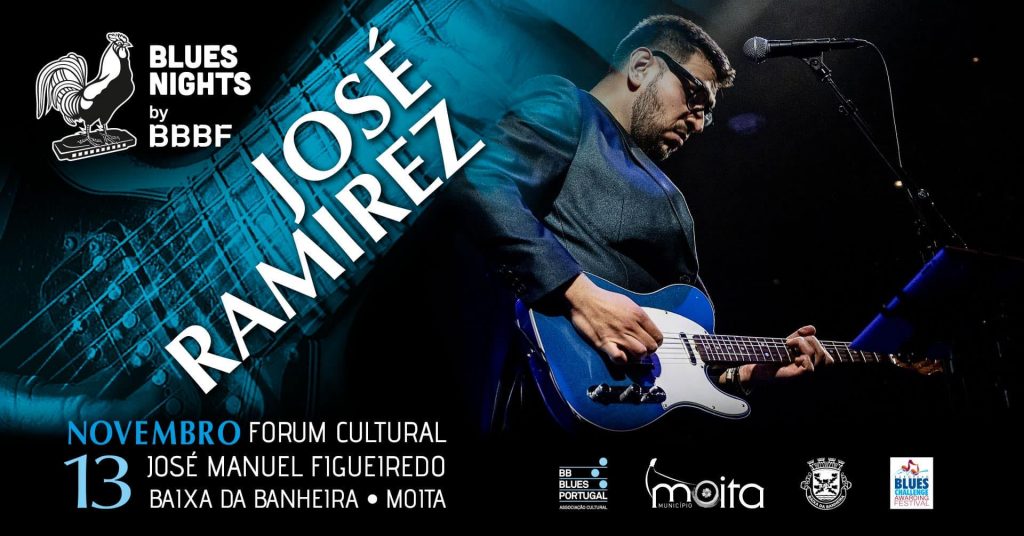 At 33 years old, José Ramirez has already worked with big names in the blues such as Buddy Guy, Anson Funderburgh, Janiva Magness, Mark Hummel and Bryan Lee, among others. With a recent contract with the famous Delmark Records, from Chicago, he is preparing the release of his second album.
He was recently nominated at the Blues Music Awards for his debut album "Here I Come", produced by guitar legend Anson Funderburgh.
It also won second place at the International Blues Challenge, in Memphis, in 2020, organized by the Blues Foundation.
Recipients: General | M/6 years old
Duration: 70 min.
Ticket: 10 euros
Organization: Associação BB Blues Portugal, in partnership with the Municipality of Moita and the Union of Parishes of Baixa da Bath and Vale da Amoreira
José Manuel Figueiredo Cultural Forum.
Rua José Vicente, 2835-134 Baixa da Tuba
Ticket Opening Hours
Tuesday to Saturday from 2:30 pm to 7:30 pm Show
days: One hour before the start of the show or session; it closes when the show or session starts.
Tickets can also be reserved, by calling 210 888 900, during the ticket office's opening hours. Reservations must be collected, at most, the day before the show/session, with a limit of five tickets per reservation.
Buying tickets online:
http://pt-pt.facebook.com/cmmoita
And at participating points of sale: http://ticketline.sapo.pt/pagina/postosdevenda
From Delmark artist Jose Ramirez:
6 countries including Germany
The Netherlands
Switzerland
Belgium
Spain
Portugal
I couldn't be more excited to be back to see my European fans and friends
Here are some of the cool posters they have been designing for the shows ! This will be my first time bringing my USA
band and we put together a very special crew for this adventure
Brant Leeper on Keyboards (Coco Montoya )
Rick King on Drums( Koko Taylor, Buddy Guy )
Franco Torterolo on Bass( International touring & recording artist USA/Latin America )
thanks to my agency in Europe Agentur MuddyLives for all the support and to all the amazing venues we're going to be performing at
We're also thrilled to have Spanish Blues Wizards Carlos King Bee and Tio Marino as special guests for our shows in Spain and Portugal !Also I'd like to thank Reunion Blues Gig Bags for their sponsorship
Our guitars and basses will travel safely in our new gig bags !EUROPE…HERE I COME…IM ON MY WAY…GET READY FOR WHAT I HAVE TO SAY !#joseramirezmusic#europeantour#DelmarkRecordingArtist#reunionbluesgigbags#ontheroad#blues
Upcoming European Shows 2021
We are so excited to be coming back to Europe!
OCTOBER
October 15
New Blues Festival, Assen, Netherlands
October 16
Heimathaus, Twist, Germany
October 17
Bluesmoose Cafe, Groesbeek, Netherlands
October 20
Theaterbakkerheij, Gouda, Netherlands
October 22
Heeft de Blues, The Hague, Netherlands
October 23
Bluesphere, Liege, Belguim
October 24
Bel Air, Breda, Netherlands
October 25
Banana Peel, Ruiselede, Belguim
October 27
Chabah, Kandern, Germany
October 28
8 Bar, Basel, Switzerland
October 29
Hamburg Blues Nights, Germany
October 30
Blues Club Extra, Luckaitztal, Germany
October 31
Haus Windheim, Petershagen, Germany
NOVEMBER
November 3
Sala Tempo, Madrid, Spain
November 4
Urban Rock Concept, Vitorio, Spain
November 5
Burlada Blues, Navarra, Spain
November 6
Sala Corleone, Sabinanigo, Spain
November
Rock & Blues, Zaragoza, Spain
November 10
Sala Rockville, Madrid, Spain
November 11
Mercado Bar, Plasencia, Spain
November 12
La Alquitara, Bejar, Spain
November 13
Blues Nights, Baixa da Banheira, Portugal
November 14
Cafe Concierto Boogaloo, Caceres, Spain
ABOUT JOSE RAMIREZ
Latin America's Rising Blues Star
At 33 years old, Jose Ramirez is currently Latin America's most popular blues star and has played with some of the biggest names in the blues industry. These artists include Buddy Guy, Anson Funderburgh, Janiva Magness, Mark Hummel and Bryan Lee, to name a few.
Jose recently signed a contract with world famous blues label Delmark Records in Chicago for the release of his second studio album. This makes him the first-ever Latin-American to ever sign with the renowned record company.
Jose was recently nominated for a Blues Music Award 2021 for his debut album "Here I Come." It was produced by blues guitar legend Anson Funderburgh.
The Jose Ramirez Band recently won second place at The Blues Foundation 2020 International Blues Challenge in Memphis. The band performed in the finals at the Orpheum Theater in Memphis after advancing to the quarter and semi-finals against over 230 bands from around the world.
In the past couple of years, Jose has traveled the world playing the blues. His two European tours included more than 45 concerts in England, Spain, the Netherlands and Belgium. His U.S.A. tour included shows around the Midwest and the South. Highlights included shows at legendary clubs such as Buddy Guy's Legends, where Buddy Guy himself joined Jose on stage.
HOME
U.S.and European Tour Photos