JOSE RAMIREZ @ THE VENUE, Aurora, IL
JOSE RAMIREZ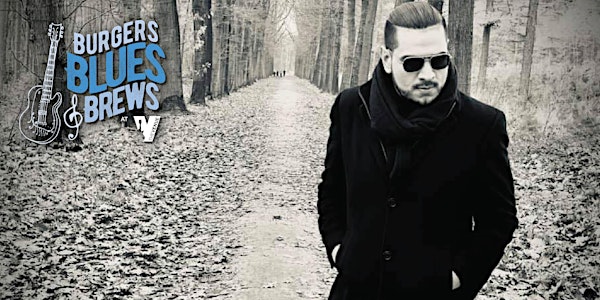 MAR
19
JOSE RAMIREZ
by The Venue AuroraFollow1512 followers$15 – $20
Event Information
It's Burgers Blues & Brews Night with JOSE RAMIREZ at The Venue
About this event
The Venue is pleased to present our monthly Burgers, Blues and Brews event – featuring JOSE RAMIREZ, Saturday, March 19 at 8pm. Doors open 7pm.
Every month we feature one of Chicagoland's BIGGEST & BEST Blues acts on stage – PLUS select menu items from Gillerson's Grubbery Food Truck and some incredible cold brews.
Doors will open at 8pm. Venue guests can grab some grub from the food truck, have some brews and settle in for an evening of Blues!
Advance Admission – Premium Seating – $20
Advance General Admission – $15.
+$5 door
About Jose Ramirez:
Jose Ramirez has become Latin America's #1 Blues Artist and undeniably one of the hardest working touring musicians in the US Blues circuit and this upcoming tour will support Jose's new album on Delmark Records " Major League Blues "
At 33 years old, Jose Ramirez is currently Latin America's most popular blues star and has played with some of the biggest names in the blues industry. These artists include Buddy Guy, Anson Funderburgh, Janiva Magness, Mark Hummel and Bryan Lee, to name a few.
Jose recently signed a contract with world famous blues label Delmark Records in Chicago for the release of his second studio album. This makes him the first-ever Latin-American to ever sign with the renowned record company.
In recent years, Jose was a Blues Music Award Nominated Artist in 2021, won 2nd Place in the International Blues Challenge in 2020, and was the first Latin Artist to ever sign with Chicago's famous record company, Delmark Records, in 69 years.
" The most soulful and heartfelt Blues ever since Robert Cray burst onto the scene all those years ago " STEPHEN FOSTER – BBC
" Jose is one of a kind, I love his vocals and phrasing " CHRISTONE KINGFISH INGRAM
"Jose Ramirez is a dynamic talent and a soulful songwriter; a rising star in blues." – JULIA A. MILLER, DELMARK RECORDSAbout Delmark Records:
In May 2018 Delmark Records LLC purchased Delmark. Julia A. Miller became the CEO & President of the label and Elbio Barilari its artistic Director.
Delmark Records is the oldest continuously operating jazz and blues independent record label in the United States. It was founded by Robert G. Koester in St. Louis, Missouri in 1953, originally under the name "Delmar." In 1958, Koester and the label relocated to Chicago with the label's current name: Delmark.
Today, Delmark is thriving. The label is a world force on the blues & jazz music scene with artists like Jimmy Johnson, Bob Stroger, Demetria Taylor, Sharon Lewis, Mike Wheeler, Dave Specter, and recent releases of jazz albums by Geof Bradfield, The Soul Message Band, Volcano Radar with Paquito D'Rivera, Fareed Haque and Goran Ivanovic, Dee Alexander with the Metropolitan Jazz Octet and the Fat Babies.
HOME
NEW 2022 DATES ANNOUNCED
FOR U.S.A TOUR
SIGNING WITH CHICAGO'S BIGGEST
BLUES LABEL DELMARK RECORDS