JOHNNY BURGIN @ McMenamin's Spanish Ballroom in Tacoma, WA
MONDAY, 09 AUGUST 2021
Blues Vespers Presents
Johnny Burgin
featuring Joel Astley
6 pm doors, 7 pm show
$10 advance, $12 day of show
All ages welcomeShare this event
Add to Calendar
BUY TICKETS
About Johnny Burgin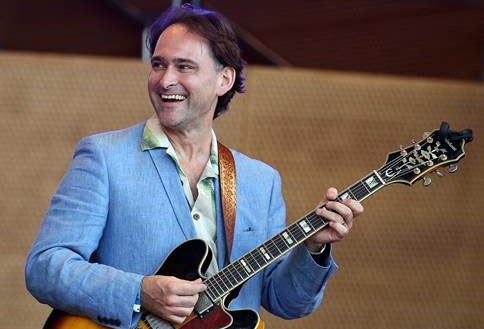 Johnny grew up in Mississippi. When he went to University of Chicago at 18 he met a college radio DJ who took him to see Tail Dragger on the West Side of Chicago. Tail Dragger took Johnny under his wing and gave him his first professional gigs. Since them, Johnny has gone on to tour and gig with many blues legends such as Pinetop Perkins, Sam Lay and Billy Boy Arnold, and Johnny lives up to his moniker "Worldwide West Side Guitar Man" by performing up to 250 shows a year in Europe, Japan and coast to coast in the US. In addition to touring extensively, Johnny has played on dozens of records as a sideman and as a band leader, and has released ten CDs on Delmark and Vizztone records. In 2017, his album Howlin' at Greaseland, a Howlin' Wolf tribute, was nominated for a BMA for Best Traditional Blues CD. Among his recent efforts are Johnny Burgin Live, which featured special guests Charlie Musselwhite, Nancy Wright and Rae Gordon and debuted at #3 on the Living Blues Blues Radio Chart. His most recent release, No Border Blues: Japan, was borne from Johnny's many tours and long relationships in Japan, and it is the first American compilation of the underground Japanese blues scene. Johnny and his blues partner Stephanie Tice host the No Border Blues podcast, the only blues podcast focused exclusively on international blues artists.
"Stellar fretwork, gloriously loose, earthy and immediate Chicago blues" – Vintage Guitar.
"Stunning guitar playing– the pure Chicago style sound" – Cascade Blues Association.
About featuring Joel Astley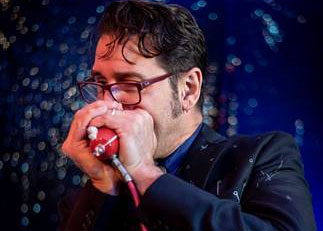 Joel was a visual artist for 20 years before abruptly switching to music ten years ago. Since starting his first band in 2014, he has been performing around The Pacific Northwest and beyond, and has quickly risen to local favorite. He has been recognized by the Washington Blues Society with music awards including Best Blues Harmonica 2018-2021, Best Male Vocalist 2019 & 2021, Best Songwriter 2020-2021, and several more. He currently leads Seattle-based High Note Group.
Johnny Burgin – Cherry On Top (feat. Anson Funderburgh) – Digital SIngle
$1.29
Available for streaming and download on February 12
Johnny Burgin – Cherry On Top (feat. Anson Funderburgh) – Digital SIngle quantityBUYArtist:Johnny BurginGenre:BluesRelated Tags:Anson Funderburgh, Chris Matheos, Christian Dozzler, Reo Casey
Description
Johnny Burgin – Cherry On Top (feat. Anson Funderburgh)
Delmark Digital Single 867
Cherry On Top is a sultry burlesque blues with lyrics of love for this Valentine's Day! Chicago blues artist Johnny Burgin's livin' in a lover's paradise and wants the world to know! Anson Funderburgh's trademark restrained lines and super-clean tone heightens the romantic and indulgent mood of this new blues digital single.
Johnny and his road manager, Stephanie Tice (producer, Delmark DE 863) share a lot of lighthearted banter as they travel– leading to lots of "that's a song! moments". "Cherry On Top" is a true-life love song that was quickly jotted down as the tour van rolled. Johnny always loves to record in different cities with great local musicians, and last winter while touring in Dallas, Johnny and his touring bassist Chris Matheos jumped at the chance to record with young multi-instrumentalist Reo Casey on drums and veteran pianist Christian Dozzler.
Blues guitar aficionados will love this fruitful pairing of Johnny Burgin and Anson Funderburgh's guitars– their first appearance together on record. Anson has long been one of the very best living blues guitarists, with an elegant and instantly recognizable sound with roots in the swinging early BB King style. Johnny's more in a gutbucket, Chicago West Side sound, and creates a fun contrast by playing very aggressively on the outro. All in all, it's a great meeting of dedicated simpatico blues artists to bring to this seductive and fun tune to life.