Delmark All-Stars 70th Anniversary Blues Revue @ S.P.A.C.E. in Evanston, IL
The celebration continues! Delmark 70th anniversary all-star blues concert coming soon at S.P.A.C.E. in Evanston – Delmark Records 70th Anniversary Celebration with Bob Stroger, Billy Boy Arnold, Mike Wheeler, Dave Specter, Sheryl Youngblood – Wed, Sept 20
Sept 20: Evanston SPACE, Delmark Records 70th Anniversary Celebration. Evanston, IL. 8:00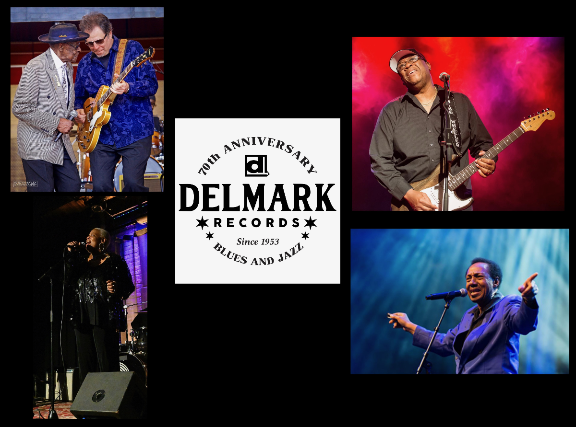 Wed Sep 20 2023 , 8:00 PM (Doors 7:00 PM)
1245 Chicago Avenue, Evanston, IL 60202
$18.00 – $26.00
Chicago's own Delmark Records, the oldest independent jazz and blues record label in the world, celebrates it's 70th anniversary at SPACE with an all-star blues review featuring Bob Stroger, Mike Wheeler, Sheryl Youngblood, Dave Specter, Roosevelt Purifoy, Larry Williams and Pooky Styx. And a very special book signing with the legendary BILLY BOY ARNOLD!
Recently featured on the main stage of the 2023 Chicago Blues Festival with a 70th Anniversary Tribute, Delmark's lineup of contemporary blues artists represent a wide variety of blues styles and sounds.
Award winning bassist and vocalist Bob Stroger is still going strong at age 92 and continues to perform and tour the world behind his critically acclaimed Delmark release, That's My Name.
Guitarist and vocalist Mike Wheeler represents a generation of contemporary blues artists who combine soul, funk and R&B into an exciting style of modern, high energy, urban blues.
Vocalist and drummer Sheryl Youngblood is a rising star on today's Chicago scene and combines traditional blues with a touch of soul and R&B and lights up the stage with her powerful and soulful vocals.
Rock & Roll and Blues Hall of Fame inductee Billy Boy Arnold is one of the newest members of the Delmark family. A vocalist and harmonica player extraordinaire, he recently released his autobiography, The Blues Dream of Billy Boy Arnold.
Guitarist and vocalist Dave Specter signed to Delmark in 1990 and recently released a double album celebrating his 30 years of recordings on the label, Six String Soul. He appears on dozens of Delmark recordings as a guitarist, producer and bandleader.
Also featured on the show: Roosevelt Purifoy on keys, Larry Williams on bass and Pooky Styx on drums.
Delmark Records 70th Anniversary Celebration with Bob Stroger, Billy Boy Arnold, Mike Wheeler, Dave Specter, Sheryl Youngblood
GET TIX HERE!
The Blues Dream of Billy Boy Arnold
Billy Boy Arnold with Kim Field
The frank, funny, and unforgettable autobiography of a living legend of Chicago blues.

Simply put, Billy Boy Arnold is one of the last men standing from the Chicago blues scene's raucous heyday. What's more, unlike most artists in this electrifying melting pot, who were Southern transplants, Arnold—a harmonica master who shared stages with Bo Diddley, Muddy Waters, and Howlin' Wolf, plus a singer and hitmaker in his own right who first recorded the standards "I Wish You Would" and "I Ain't Got You"—was born right here and has lived nowhere else. This makes his perspective on Chicago blues, its players, and its locales all the rarer and all the more valuable. Arnold has witnessed musical generations come and go, from the decline of prewar country blues to the birth of the electric blues and the worldwide spread of rock and roll. Working here in collaboration with writer and fellow musician Kim Field, he gets it all down. The Blues Dream of Billy Boy Arnold is a remarkably clear-eyed testament to more than eighty years of musical love and creation, from Arnold's adolescent quest to locate the legendary Sonny Boy Williamson, the story of how he named Bo Diddley Bo Diddley, and the ups and downs of his seven-decade recording career. Arnold's tale—candidly told with humor, insight, and grit—is one that no fan of modern American music can afford to miss.
BOB STROGER
Bob Stroger: A Country Boy Playing the Blues
NEWS, FROM DOWNBEAT MAGAZINE, BOB STROGERBy Aaron Cohen   I  Aug. 9, 2022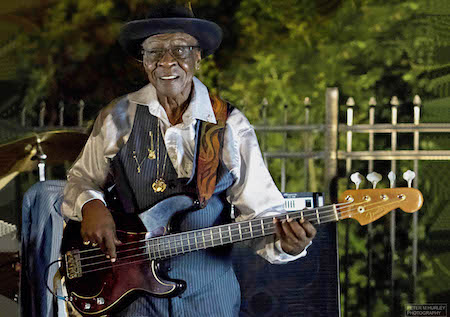 Just before the COVID pandemic, bassist Bob Stroger's touring itinerary took him around the world. He also recorded the recently released That's My Name (Delmark) with his Brazilian blues band, The Headcutters, near their country's southeast coast. Now that venues are re-opening, Stroger has picked back up where he left off. At 91, he sees no reason to slow down.
"As long as I satisfy my fans, I'll keep going," Stroger said from his home on Chicago's South Side. "I never think about retiring from music. When you retire, if you have the money, you travel. So I'm retired now because I travel around the world doing this."
That's My Name encapsulates Stroger's wide and lengthy experiences. His compositions, especially the title track, showcase his amiably spacious bass lines and expertise in this music's history. He embraces material by artists ranging from early blues singer Ma Rainey to jazz bandleader Jay McShann. He also revisits pieces that some of his former colleagues wrote, including Eddie Taylor. Such versatility has always been crucial for his work.
"My style changed when I played with Otis Rush, then when I played with Eddie Taylor," Stroger said. "Then when I played with Snooky Pryor I changed styles again. I had to listen and find styles that fit their playing. With this CD, I didn't want all the songs to sound the same. So I played all of my heroes."
The album also highlights Stroger's quietly compelling voice. Still, he remains humble about his subtle delivery's emotional impact.
"I'm my biggest critic, I just sing my personality," Stroger said. "A lot of good singers can sing like different people, but I can't. I sing the way I talk. I'm a country boy, and it shows in the way I'm singing."
That country boyhood was spent in Hayti, Missouri. As a young adult, Stroger moved to Chicago, where his father worked for a railroad and, fortuitously, they lived near a hotbed of the city's thriving West Side blues scene.
"When I was living on Oakley Avenue, Silvio's was on Lake Street," Stroger said. "I could walk out my back door and look in the window of Silvio's and I saw Muddy Waters, Hubert Sumlin, Howlin' Wolf. I saw all the big guys. I never had a suit and they were wearing suits and ties and I said, 'I really want to do that.' When I was in the country cotton fields, we didn't have the college education, and music was the only thing I could do to get recognized. So I went that route."
Stroger also developed his technique across different idioms. He played in R&B groups and with jazz saxophonist Rufus Forman before becoming blues guitarist Eddie King's bassist throughout the 1960s. These encounters continue to shape Stroger's sound.
"A lot of people said I was a smooth bass player because I play a lot of chromatic notes," Stroger said. "And that's kind of smoothing it out, that's where my style comes from. I think it comes from picking up the jazz notes and some of the stuff you do on upright bass."
Bandleaders Otis Rush and Sunnyland Slim admired that approach and included Stroger in their ensembles as more global festivals began to feature blues artists during the 1970s and 1980s. Gradually, he started releasing records under his own name, starting with In This House: Live At Lucerne, Vol. 1 (Crosscut) in 2002. Nowdays, his main inspiration for recording is to spotlight his international collaborators, primarily The Headcutters. DB
2023 JUS' BLUES LIVING LEGEND AWARD
JUS' BLUES SPECIAL TRIBUTE FOR AN ARTIST WE RESPECT AS A LIVING LEGEND
FOR THEIR OUTSTANDING ACCOMPLISHMENTS AND CONTRIBUTIONS TO BLUES & SOUL MUSIC
| | |
| --- | --- |
| BOB STROGER | ​Bob Stroger ​(born December 27, 1930) is an American electric blues bass guitarist, singer and songwriter. Stroger's life story, like much of the blues, corresponds to the Great Migration. He was born in Hayti, Missouri, and his father was a sharecropper who moonlighted as a guitarist. Bob left Missouri for Chicago for the first time in 1947, when his father had a job on the Wabash Railroad; he returned to Chicago permanently in his early 20s, living with his older brother, John. "When I was down South, I didn't see nothing but multiple cotton fields," Stroger says. "When I first came here, we moved to the West Side. I used to get on the streetcars and ride from one end to the other. Every place I looked up was tall buildings. I had moved to another world." |
Bob Stroger – Critics' poll award winner for Most Outstanding Bassist in LIVING BLUES AWARDS
"One of the few top-tier guitarists" – Downbeat
"Dave Specter is a global ambassador of Chicago Blues" – Chicago Sun-Times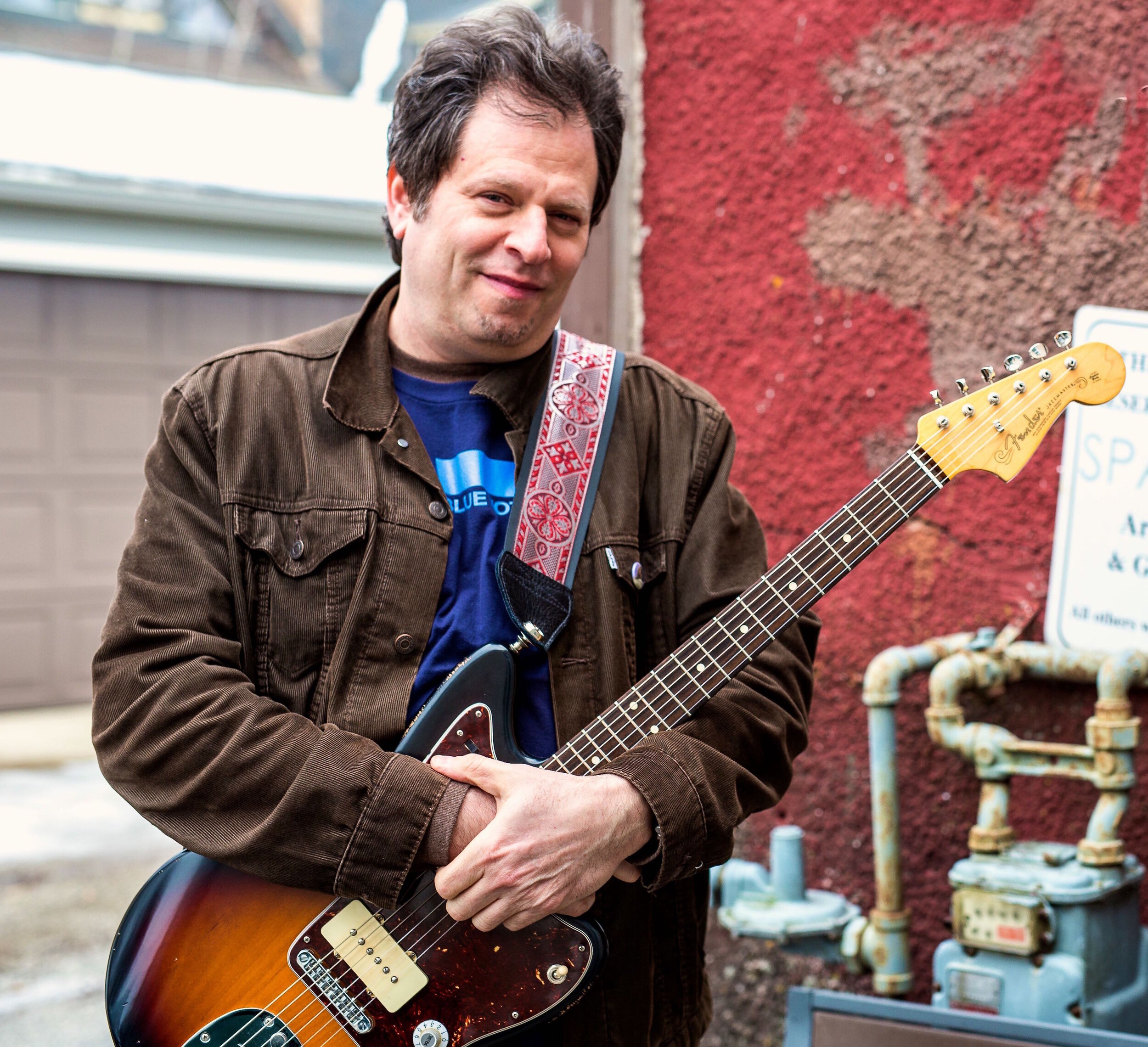 GUITARIST, SINGER/SONGWRITER, BANDLEADER, RECORDING ARTIST, PRODUCER & PODCAST HOST
Dave Specter has earned an international reputation as one of the premier talents on the Chicago music scene. Since 1985 Specter has performed regularly at top venues and festivals throughout the USA and has toured internationally in 19 countries.
Before forming his own band in 1989, Specter toured extensively throughout the U.S. and Europe behind such blues greats as Son Seals, The Legendary Blues Band, Hubert Sumlin, Sam Lay and Steve Freund. Specter has also performed and/or recorded with such artists as Buddy Guy, Junior Wells, Otis Rush, Jimmy Rogers, Robert Jr. Lockwood, Jimmy Johnson, Jack McDuff, Johnny Adams, Snooky Pryor, Kim Wilson, Tad Robinson, John Primer, Johnny Littlejohn, B.B. Odom, Mighty Joe Young, Magic Slim, Lonnie Brooks, Ronnie Earl, Otis Clay, Floyd McDaniel, Pinetop Perkins and Jorma Kaukonen from Hot Tuna and Jefferson Airplane.
Dave has performed for the President of the United States, the Governor of Illinois and the Mayor of Chicago.
Dave appears on over 50 albums and DVDs as a guitarist, bandleader and/or producer, with 13 albums as a leader or co-leader on Delmark Records. His new double album, Six String Soul 30 Years on Delmark was released in 2021.
Specter's guitar playing is featured on the 2023 Grammy nominated "Into The Little Blue House" by Wendy and DB, nominated for Best Children's Music Album.
Specter appears on compilation albums with artists such as B.B. King, Muddy Waters, Buddy Guy, Junior Wells, T-Bone Walker, Eric Clapton, Carlos Santana and Mike Bloomfield.
Dave was inducted into The Chicago Blues Hall of Fame in 2018.
Recently featured in Rolling Stone, Dave's handwritten song lyrics are on display at The Woody Guthrie Center's Songs of Conscience, Sounds of Freedom exhibit in Tulsa alongside Bruce Springsteen's lyrics.
Dave is also partner at one of the Chicago area's most acclaimed music venues, Evanston SPACE and hosts the podcast, Blues From The Inside Out.
About Us
Mike Wheeler has a vast knowledge of music and a voice that's reminiscent of the late Sam Cooke. He can sing and play everything so well that you may forget what the original record even sounds like. From Jazz to Rock, from popular music to Top 40, he slides in and out of musical genres with sophistication, ease and indulgence. Mike Wheeler is a brilliant staple in the Chicago blues community, playing and writing songs for a variety of Chicago artists including, Nellie Tiger Travis, Peaches Staten, Sam Cockrell, Demetria Taylor, Big Ray & Cadillac Dave. Mike was a well known member of Big James &The Chicago Playboys, a notable band in Chicago and recorded five albums with the group. He has travelled the world as an ambassador for Chicago blues music. He's been to Monaco, France, Switzerland, Spain and Belgium, just to name a few. He's also shared the stage with the most elite musicians the world has known, including Willie Kent, Koko Taylor, Buddy Guy, B.B. King, George Benson, Jimmy Johnson and Shemekia Copeland. Mike was inducted in the Chicago Blues Hall of Fame in 2014.



Larry Williams is a Bassist Extraordinaire with unmatched stage presence and charisma. Influenced by artists such as Bennie Williams, Jerome Scott, Sam Cockrell, Larry Graham, James Jamerson, Willie Dixon, Stanley Clarke and Verdine White just to name a few. Larry's style is clean and driving, reminiscent of the late greats yet modern, enabling him to play with the best in the business. From Gospel to Alternative, Larry can play it all. He has played on national and international stages. He has performed with Albertina Walker, Tyrone Davis, James Cotton, Jimmy Johnson, Buddy Guy, Vicki Winans, Koko Taylor, B.B. King and George Benson along with countless others. He has recorded on three major blues labels: Alligator, Blind Pig and Delmark Records. He is a true example of someone who knows what he was born to do!!
SHERYL YOUNGBLOOD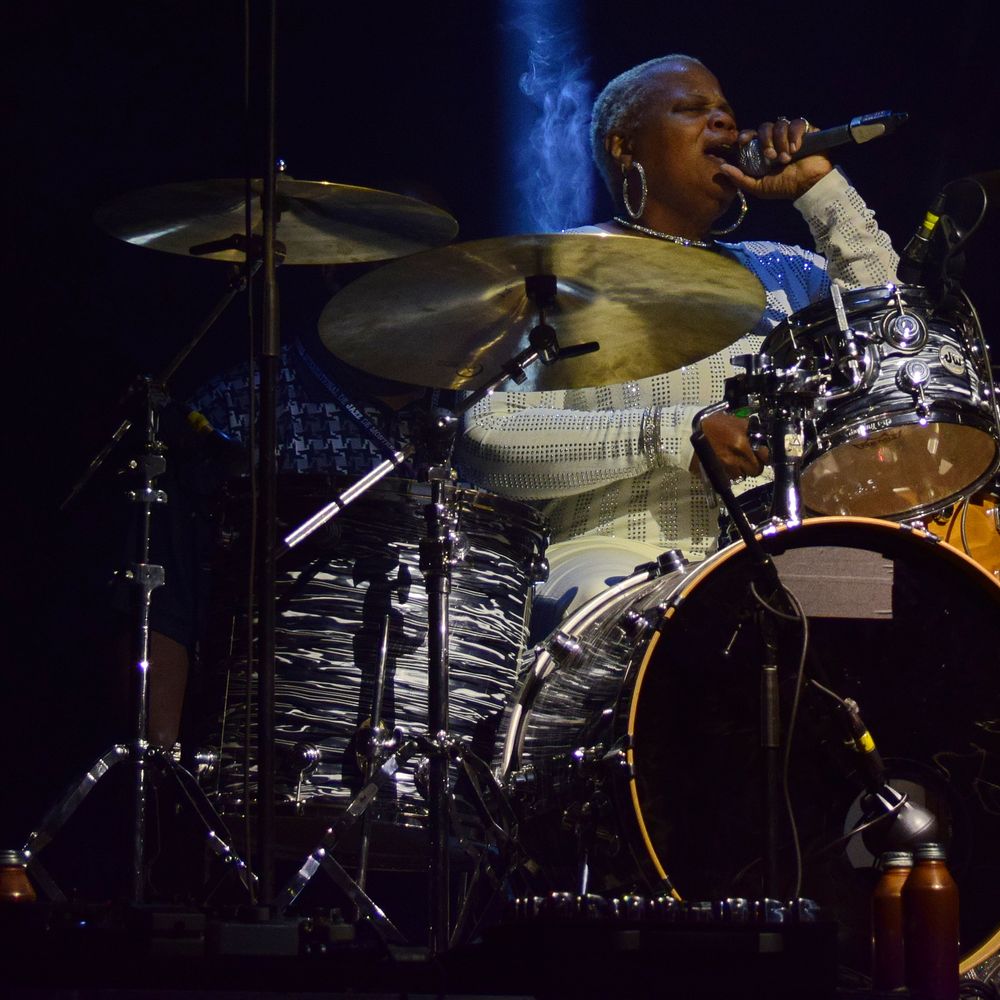 SHERYL YOUNGBLOOD
Singer/ Songwriter/ Musician/Audio Video Technician
Favorite Subjects:
Music and what it means
Motto:
"Do Your Best"; "Nothing beats a Failure but a TRY";
Growing up in a musically inclined family with her mother having her own female group "The Royal Harmonetts" and being a pianist and vocalist in the church, Sheryl was born into music.
2015 Chicago Blues Hall Of Fame Inductee. Sheryl began singing and playing various instruments in the church, in her teen years Sheryl began her own female group in her church (Mt. Zion Baptist Church) called "Sisters" in which she wrote several of their songs and also wrote songs for the National Baptist State Convention, (unfortunately those songs were not recorded) soon after Sheryl auditioned for and was immediately excepted into the world renowned gospel recording group "Rev. Milton Brunson and the Thompson Community Singers of Chicago" affectionately called "The Tommies" while singing with "The Tommies" the group became a Grammy and Stella Award winning group. During that time Sheryl began playing drums and or singing with various recording artist such as Otis Clay, Artie "BLUES BOY" White, Bobby "Slim" James, "KoKo Taylor and "The KoKo Taylor Blues Foundation", Nellie "Tiger" Travis, Willie Rogers, 3x Hall of Famer Billy Shelton, 3x Stella Award winner "Darious Brooks", Hall of Fame Group "The Spaniels, "Raven" Grammy and Emmy Award winner Jennifer Hudson, Yolanda Adams, Daryl Coley, LeAnn Faine, Stormy Weather, she has opened for The Whispers, Buddy Guy, Lakeside, Chante Moore, Reheem De'Vaughn, Kindred The Family Soul, Denise LaSalle, Bobby Rush, John Primer, Maurice John Vaughn and the list goes on in 1995 Sheryl Formed "SAYYES!" band and an all female band Ultimately Blessed a.k.a. "UB" SAY YES! And UB performed at many different venue's and put on yearly benefit concerts for SWWR (Batter and abused Women and Children Facility) Cancer; Sickle cell Anemia; Diabetes; Prostate Cancer and more. SAYYES! the band continues to play a variety of music, a variety of venues and for a variety of events SAYYES! has opened for many artist as mentioned on the SAYYES! page of this website www.sayyeslive.com the band continues on, making and playing music. Sheryl has been on Radio, Television, in multiple Blues magazines and in digital media.
Sheryl started her own Blues band Sheryl Youngblood Blues Band in 2013 A Powerful Vocalist; Drummer; Songwriter; Bandleader; Entertainer. works regularly and travels extensively. Performing at such places as The world renown BLUE CHICAGO as a regular artist of the club as well as playing at many venues in and out of the United State with bookings at Buddy Guys Legend, Rosa's Lounge, House of Blues Main Stage, Crossroads Stage and Foundation Room, Kingston Mines, B.L.U.E.S on Halsted, Taste of Chicago, Taste of East Chicago, Blue Chip Casino, Majestic Star Casino, Hardrock Casino MWI, Muckleshoot Casino Seattle Washington, Ameristar Casino Jackson Mississippi, Country Club Hills Theater , Blues On White Edmonton Canada, Blues Can Calgary Canada, and many more venues, keeping the audience involved and energized with a TRUE show. Sheryl also sings and performs with world renowned group, Mississippi Heat
A/V (Audio/Visual): Attended school of Can TV: Videography; Video recording and editing and is now certified as a videography and Audio technician Working in the music business has afforded Sheryl many opportunities for hands on training and teaching of Audio, Video, lighting, spot lighting and as a full on stagehand with Hands R Us Staging for multiple venues: Country club hills Theater; House of Hope special events to name just a few.
Discography: Stranger In My Bed, Live at House of Blues with her rearrangement of At Last by Etta James and other songs you will love to listen to and soon hear in the Blues and R&B sector.
Sheryl's mission is to touch everyone possible musically even if only for an hour or two on stage making someone feel better then they did when they arrived to the event!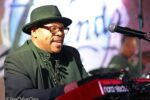 ROOSEVELT PURIFOY
Though he is not well known, even to many blues fans, Roosevelt "Hatter" Purifoy Jr. has performed for decades with a who's who of artists: Buddy Guy, Marvin Gaye, Son Seals, Jimmy Johnson, Willie Clayton; and he appears on dozens and dozens of recordings, likely into the hundreds. He has been the go-to pianist for indy blues and jazz label Delmark Records for years. His talent for adapting his style to best support other artists has led to sessions with Lurrie Bell, Syl Johnson, Sugar Blue, Larry McCray, Eddie Burns, Mavis Staples, the Kinsey Report and many others.
A native of Chicago, Purifoy has worked full time as a musician since he was a young man. Mostly, he has been honored to make others sound their best. For much of his career, however, his opportunities were limited due to his refusal to board an airplane. He decided to fly a few years ago, and as a result, audiences across the country are discovering his talent. He is also stepping out front more often with his own keyboard-driven shows. Purifoy has now taken to the sky regularly as Lurrie Bell's keyboardist, and he is finally working on a full-length recording of his own.
MELVIN "POOKY STYX" CARLISLE
Mr. Melvin "Pooky Styx" Carlisle. Carlisle has an impeccable drumming reputation with over 25 years of professional experience in the music industry. Carlisle was born and raised on the Southside of Chicago. He has toured the world with musical legends ranging from KoKo Taylor, Toronzo Cannon, Sugar Blue, Carlos Johnson, Jimi Johnson, Chico Banks, Muddy Waters, Demetrius Taylor, and a host of others. In addition to being an internationally recognized drummer, he has endorsements with musical companies such as Ear Piece Technology, Slug, Sabian Cynbals, Vic Fifth Stick, and many more.
https://www.youtube.com/embed/8eSCLURbkFQ?feature=oembedHere are selections from the DELMARK RECORDS 70TH ANNIVERSARY CELEBRATION at the Chicago Blues Festival on June 9, 2023. Participants on stage included Dave Specter, Steve Bell, Larry Williams, Roosevelt Purifoy, Johnny Iguana, Big Ray Stewart, Nick Alexander, Johnny Burgin, Dave Weld, Willie Buck, Monica Myhre, Shirley Johnson, Sharon Lewis, Bob Stroger, and Scott "Hambone" Hammer.
https://www.youtube.com/embed/Zg64Ff6gILk?feature=oembedConcert and Interviews featuring: – Dave Weld & The Imperial Flames with guest Pierre Lacocque – Mike Wheeler Band with guest Demetria Taylor – Dave Specter Band with guest Jimmy Burns – Julia Miller and Elbio Barilari of Delmark Records, – Michael Frank of Earwig Music