COREY WILKES, KAHIL EL'ZABAR, GEOF BRADFIELD, DEE ALEXANDER, KEN VANDERMARK and more! @ Hyde Park Jazz Fest
0ABOUTMISSION & HISTORYPRESSVENDORSSPONSORSMUSIC SUBMISSIONSHPJF 2021PROGRAMSHYDE PARK JAZZ FESTIVAL 2020JAZZ POSTCARDSJAZZ KITCHENSTORY SHARE PROJECTCOMMISSIONSPAST FESTIVALSBENEFIT 2021BACK ALLEY JAZZBACK ALLEY JAZZACTIVATING NEIGHBORHOOD SPACE: BACK ALLEY JAZZ AS A CASE STUDYVOLUNTEERSUPPORT
THE HYDE PARK JAZZ FESTIVAL IS ON SEPTEMBER 25 & 26, 2021 – FREE
STAY TUNED FOR THE SCHEDULE AND VENUE ANNOUNCEMENTS COMING SOON!
The Hyde Park Jazz Festival is carefully monitoring guidance from the City, State, and CDC around health and safety for live outdoor public events. This year's Festival on September 25th-26th is outdoors. We are keeping in close communication with experts, officials, and community members. As things are changing rapidly, we will announce all guidelines for attending the Festival as we get closer to the date.
The health and wellbeing of artists and the community is at the core of our decision-making. We are hopeful that we can safely convene for the Festival, and we promise to stay in communication as we learn more and make decisions.
COREY WILKES' IMPROVISED SOUL PROJEKT FEATURING MEAGAN MCNEAL & KAHIL EL ZABAR
SATURDAY, SEPTEMBER 25.
TIME: 1:00 – 2:00 PM
VENUE: WAGNER STAGE. MIDWAY PLAISANCE AT S.WOODLAWN AVE.
COREY WILKES
Corey Wilkes is a world-renowned trumpeter, composer, and producer. Across the globe, he has made a name for himself as one of the best improvisational trumpet players of today. Best known for his soulful, breath-taking riffs and unforgettable avant-garde sounds, he captivates his audience every time he takes the stage. Wilkes' passion for hip hop comes out with amplified intensity, and his love for jazz sings with well-nurtured maturity through his raw brass horn.
Improvised Soul Projekt extends Wilkes' vision for the future of instrumental music. The musicians in this group are more than just accomplished jazz musicians. They are spiritually endowed, next-level sound scientists who have mastered rituals in music like no other. They are master healers through music, serving to raise consciousness while healing the mind, body, and spirit–opening one's pineal gland (third eye) and awakening infinite possibilities of wellness.
MEAGAN MCNEAL
Meagan McNeal is a powerhouse singer/songwriter and recording artist from Chicago. Well versed in soul, jazz, and R&B, she is known for her diverse range and soulful voice. Influenced by groundbreaking artists such as Anita Baker, Ella Fitzgerald, Chaka Khan, and Aretha Franklin, McNeal has refined her talents throughout the years and shaped her signature style: compelling audiences with her energetic stage presence, versatility, and sultry but graceful harmonies.
With the release of her 2013 debut album, "Mindset," McNeal attracted attention both on the local circuit and internationally. In 2017, she was featured on NBC's "The Voice," where her radiating vocals landed her on the team of Grammy Award-winning artist Jennifer Hudson. Since then, she has gone on to perform throughout the U.S. and across the globe, including as a backing vocalist for world-famous artists Eminem, Common, and The O'Jays.
In 2019, she released "Roses," a haunting call-to-action that urges listeners to live fully, and to give their love and gifts while they can.
The musicians:
Corey Wilkes – Trumpet, percussion, electronics
Meagan McNeal – Vocals
Justin Dillard – Keyboard, piano
Junius Paul – Bass
Kahil El Zabar – Percussion, kalimba, vocals
TBA – Drums
GEOF BRADFIELD, DANA HALL & BEN GOLDBERG
SATURDAY, SEPTEMBER 25.
TIME: 1:00 – 2:00 PM
VENUE: SMART MUSEUM COURTYARD. 5550 S. GREENWOOD AVE.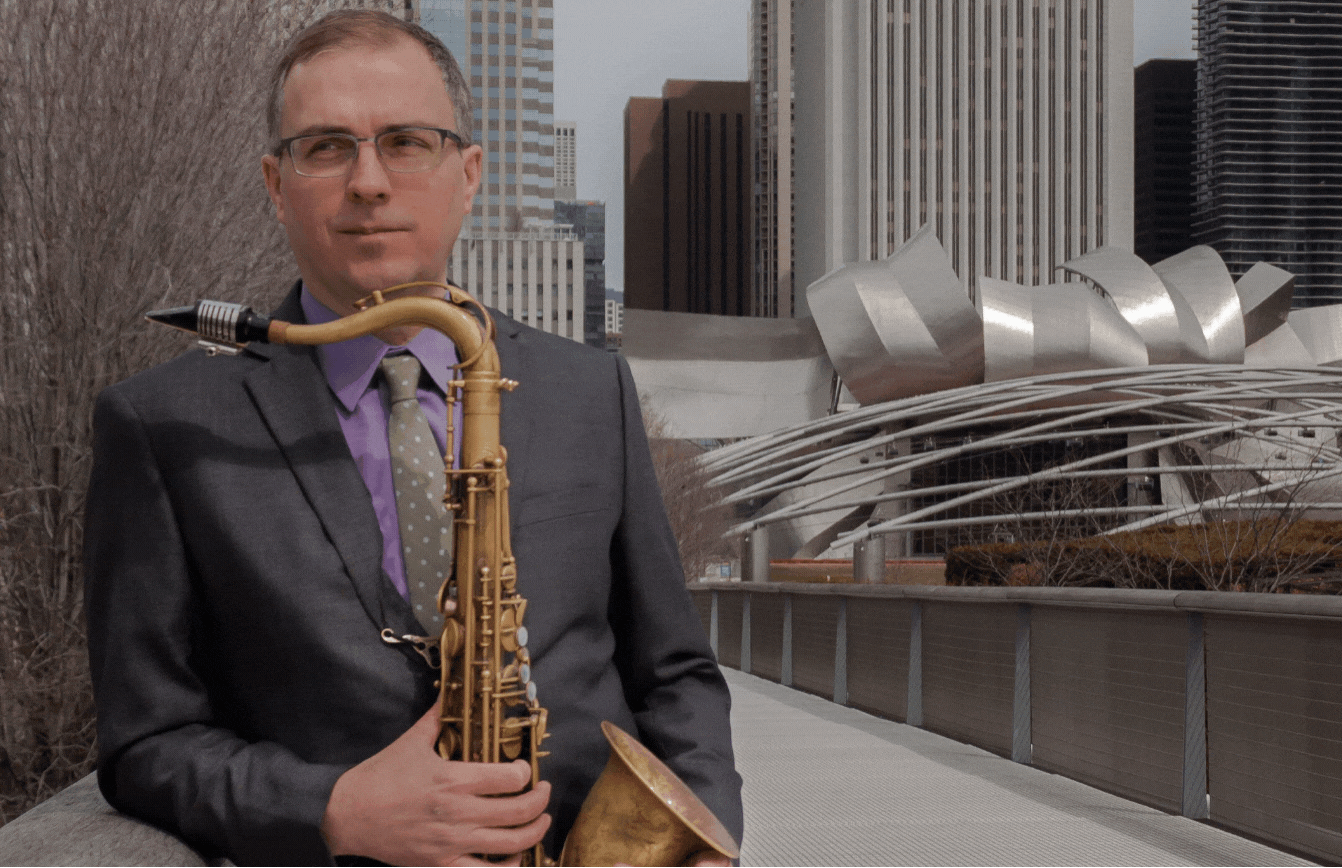 GEOF BRADFIELD
Saxophonist and composer Geof Bradfield has toured throughout North America, Europe, Russia, Asia, Africa, and the Middle East, and shared the stage with jazz luminaries such as Randy Weston, Carl Allen, Brian Blade, Rodney Whitaker, Etienne Charles, Joe Locke, and Orrin Evans. He performs and records regularly with fellow Chicago artists Dana Hall, Clark Sommers, Jeff Parker, Matt Ulery, Marquis Hill, and Ryan Cohan, to name a few.
He has released seven albums as a leader, garnering critical accolades from The New York Times, Los Angeles Times, Downbeat, Chicago Tribune, and NPR. His work is featured on more than fifty CDs, and he has been recognized in Downbeat Critics Polls as a Rising Star Tenor Saxophonist and Arranger.
A committed educator, Bradfield is Professor of Jazz Studies at Northern Illinois University, and has given master classes and lectures at the Brubeck Institute, the Manhattan School of Music, the Jazz Education Network conference, and other national and international venues.
DANA HALL
Dana Hall has been an important musician on the international music scene since 1992, when he left aerospace engineering for a life in music. He has professional performance credits on six continents, and extensive concert, club, and festival experience throughout Africa, Europe, and Asia, both as a bandleader and with the ensembles of others.
Hall was a 2019 Camargo Foundation Fellow in Composition. His most recent commission, a multidisciplinary work commemorating the 75th anniversary of the publication of Richard Wright's Native Son, had its premiere in the renowned Orchestra Hall at Chicago's Symphony Center.
Hall is also a Professor of Music and the Director of Jazz Studies at DePaul University. His scholarship is principally concerned with issues of ethnicity, identity, and temporality; popular musics of the world; music as protest and resistance; and musics of both the African continent and the African Diaspora. His dissertation is a historical ethnography of Philly Soul during the Black Power Movement.
BEN GOLDBERG
Since 1992, when his group New Klezmer Trio "kicked open the door for radical experiments with Ashkenazi roots music" (San Francisco Chronicle), clarinetist Ben Goldberg has established himself as "one of the most vibrant, flexible, and inventive clarinetists in jazz and improvised music" (Downbeat), and as "an artist who seems to find beautiful melodies at the end of every path" (NPR). In Goldberg's music, The New York Times has noted "a feeling of joyous research into the basics of polyphony and collective improvising." He was named #1 Rising Star Clarinetist in Downbeat Critics Polls in 2011 and 2013.
In 2015, Goldberg released "Orphic Machine," a song-cycle built of lyrics from the speculative poetics of Allen Grossman and performed by a nine-piece ensemble including Nels Cline, Ron Miles, Myra Melford, and Ches Smith, and sung by violinist Carla Kihlstedt. The Los Angeles Times called it a "knotted and occasionally spooky composition marked by dazzling interplay."
Goldberg also leads or co-leads The Out Louds, Invisible Guy, Unfold Ordinary Mind, Go Home, Ben Goldberg School, and Ben Goldberg Trio (with Greg Cohen and Kenny Wollesen). He is a member of the avant-chamber jazz ensemble Tin Hat, and performs in a duo called Dialogue with pianist Myra Melford.
The musicians:
Geof Bradfield – Saxophone
Dana Hall – Drums
Ben Goldberg – Clarinet
DEE ALEXANDER & THE METROPOLITAN JAZZ OCTET, "IT'S TOO HOT FOR WORDS"
SUNDAY, SEPTEMBER 26.
TIME: 6:00 – 7:00 PM
VENUE: WAGNER STAGE. MIDWAY PLAISANCE AT S. WOODLAWN AVE
THE METROPOLITAN JAZZ OCTET
The Metropolitan Jazz Octet (MJO) is the reawakening of a group founded in the 1950s by the late saxophonist and arranger Tom Hilliard. In 1959, the original group recorded "The Legend of Bix," a tribute to the artistry of cornetist and composer Bix Beiderbecke. Near the end of Tom Hilliard's life, he bequeathed his life's work of music to his former student, MJO co-leader, Jim Gailloreto.
MJO was thrilled to collaborate with Chicago treasure, jazz vocalist Dee Alexander, to produce their latest album, "It's Too Hot for Words"—a reimagining of 10 classics from the great Billie Holiday, released near the 60th anniversary of her passing. The album, named Best Jazz Album by Chicago Tribune, includes well-known favorites such as "The Blues Are a Brewin,'" "Ain't Nobody's Business," and "I'm a Fool to Want You," and Downbeat described Alexander's vocals as "exud[ing] warmth, conviction, rhythmic certainty, precise diction, and hard-earned effortlessness."
The musicians:
Dee Alexander – Vocals
John Kornegay – Alto saxophone
Jim Gailloreto – Tenor saxophone
Peter Brusen – Baritone saxophone
Doug Scharf – Trumpet
Russ Phillips – Trombone
Bob Sutter – Piano
Doug Bistrow – Bass
Bob Rummage – Drums