Chicago Blues Guitar Summit feat. Dave Specter, Guy King, Steve Freund & Brother John Kattke @ Groove Now Fest in Basel, Switzerland
Saturday 11.09.2021 / 20:30 h
Chicago Blues Guitar Heroes Together
Chicago Blues Guitar Summit feat. Dave Specter, Guy King, Steve Freund & Brother John Kattke (USA)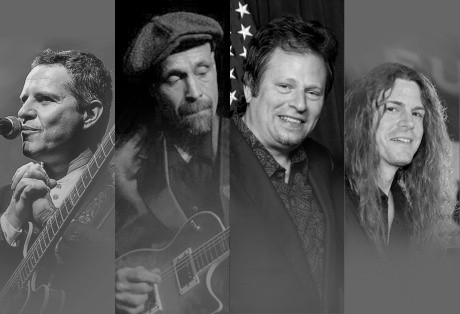 Three Chicago blues guitar greats in one band. This is another project that was jointly conceived by Groove Now and the musicians. Both Dave Specter and Steve Freund are legends, and Guy King is a star on the Chicago Blues horizon.
Guitarist, bandleader, and producer Dave Specter is the best known of the three. He has been performing regularly since 1985 and has earned an international reputation as one of the premier musicians on the Chicago Blues scene. He has released more than 10 records under his own name and has played on countless records of other artists, including Tad Robinson and Steve Freund. 
2017 Blues Music Award Nominee Guy King's music is fresh and unique while maintaining a strong link to the musical masters that came before him. His natural musical abilities and his one-of-a-kind blend of Blues, Jazz, Soul, and R&B, are some of what makes Guy King so special in the music world. Guy quickly gained recognition, and joined Willie Kent's band, serving as his lead guitarist and band leader for a period of six years. Following Kent's passing in 2006, Guy started his solo career, performing at the city's top venues. Playing at a pace of 250-300 shows a year, Guy had the pleasure and honor of opening the shows of B.B. King, Buddy Guy, and touring the world – performing in Japan, France, Belgium, Switzerland, England, Italy, Mexico, Argentina, Chile, and Brazil. In 2009, Guy released his first solo album "Livin' It", that has opened the doors for two more albums since: "I Am Who I Am And It Is What It Is" and "By Myself".  In 2015, Guy was signed by Chicago's Delmark Records to record "Truth", which was released in February, 2016, and has since reached #1 at the Roots Music Report – Contemporary Blues Chart,  #5 at the Living Blues Chart, and has been receiving rave reviews worldwide. 
Guitarist, producer and bandleader Steve Freund, praised by Rolling Stone for his "masterful, no-nonsense guitar work" continues to share his feeling for the blues wherever he can. Steve has appeared on over 50 albums and produced seven. In October 2017, he was part of an upcoming Delmark recording called Back To Chicago by the Rockwell Avenue Blues Band. Steve began his career in Chicago as a second guitar behind Hubert Sumlin, Lee Jackson, Homesick James, Louis Myers, and many others. He spent two years working with Big Walter Horton and Floyd Jones, learning the deep blues and the idiosyncrasies that are part of the art. In 1978, he became Sunnyland Slim's main guitarist, playing just about every gig with the piano legend until the time of his death. Freund became the consummate piano accompanist working with Pinetop Perkins, Jimmy Walker, Henry Gray, Erwin Helfer and many more. He also spent nine years working with harmonica legend James Cotton. Freund's dedication and knowledge of the blues earned him the opportunity to teach accredited courses at Chicago's Columbia College in 1993-94.
He moved to the San Francisco Bay Area in the 1990's. He plays regularly at The Saloon in San Francisco, Club Deluxe in San Francisco and Armando's in Martinez. He also tours nationally and internationally. He can also be seen opening shows for Boz Scaggs.
Last but not least, Brother John Kattke has been a resident musician at Buddy Guy's Legends in Chicago for 25 years.  He has played with Eric Clapton, Steve Miller, the Black Crowes, and acquired ringing endorsements from many other renown musicians. He is a fine keyboard player, a great vocalists, and also plays a terrific guitar. The very fine rhythm section consists of Harlan Terson (bass) and Marty Binder (drums).
Dave Specter – Guitar/Cocals
Steve Freund – Guitar/Vocals
Guy King – Guitar/Vocals
Brother John Kattke – Keyboards/Vocals
Harlan Terson – Bass
Marty Binder – Drums
Concert details:
Saturday, September 11, 2021
Atlantis, Klosterberg 13, Basel
Showtime: 20.30 h
Doors: 20 h
Tickets: CHF 69
Groove Now
Simply the best in Blues and Soul since 2010.
Groove Now Blues Festival presents exclusively the most exciting international artists of today and tomorrow in Blues. Quality is the only criteria for the selection of the musicians. The concerts take place as club concerts. Groove Now is organized under Swiss Laws as an association without profit orientation. The board members are well-known business leaders with a high level of music, marketing and management competencies, coming along with a great enthusiasm for live music.