2023 Delmark's Rockwell Blues & Jazz Stroll returns at BURNING BUSH Brewery – Sat Aug 26- 3-9pm
https://www.burningbushbrewery.com/
Hosted by Burning Bush Brewery Parking Lot 4014 N. Rockwell St.
Chicago, IL 60618

Paul Giallorenzo Trio – Killer jazz trio with new Delmark recording very soon!
Joey J. Saye – rising star on the Chicago Blues scene!
and headliners…
Delmark All-Star Blues Band: Legends of Chicago Blues featuring Demetria Taylor, Willie Buck, Dave Specter, Ken Saydak, Larry Williams, Big Ray Stewart – all bandleaders in their own right!
Wonderful big group picture of Delmark blues artists from the 2021 Rockwell Stroll!
We are so excited about the upcoming 2023 Delmark Stroll – Delmark's annual blues & jazz festival right down the street from Delmark's office on Rockwell! This is the 3rd annual festival, and this year is extra special because Delmark is celebrating its 70th year!!!!
Check out the fantastic lineup!
Paul Giallorenzo Trio
P A U L G I A L L O R E N Z O : P I A N O
J O S H U A A B R A M S : D O U B L E B A S S
M I K E L P A T R I C K A V E R Y : D R U M S
NEW DELMARK RECORDING COMING VERY SOON!!

http://paulgiallorenzo.com/main.html
Originally from Long Island, NY, Paul Giallorenzo is a Chicago-based improviser, composer, producer, and sound designer using piano, synthesizer, keyboards, and electronics in a diverse range of contexts with a wide array of Chicago and international musicians in improvised, avant-jazz, experimental, and electro/acoustic music, performing regularly locally and throughout North America and Europe.
Giallorenzo's work has been praised for its "inside-out" nature – his ability to push the boundaries of "conventional" jazz toward more freedom but also, on the other side, to bring a measure of structure to more avant-garde material. Writing in the online journal Point Of Departure, John Litweiler said, "His solos and aggressive duets are gems of after-Bop, after-Bley melody," while AllAboutJazz.org lauded music that "smudges the lines between the tradition and the avant-garde."
His work can be found on the Chicago-based Delmark Records and Austin-based Astral Spirits labels, as well as various other imprints including Leo Records (UK), Not Two Records (Poland), and 482 Music (NY).

Paul is the Artistic Director of the multi-arts organization Homeroom and a co-founder and programmer of the music venue/art gallery Elastic Arts, producing hundreds of creative music concerts and art events in Chicago since 2001.
Review of Paul's previous Delmark CD with the Trio, FLOW, from Peter Margasak in the Chicago Reader
JOEY J. SAYE Blues Artist Singer Songwriter
We are super excited to share the talents from this rising star in the blues scene, Joey J. Saye!
This charismatic blues performer has been the talk of many blues fans all over the world with his talented and diverse repertoire of fantastic original songs, along with unique interpretations of blues classics and deeper cuts. He can play both old school traditional blues at ease, along with modern contemporary blues, too!
Here's a couple of pics of Joey J. Saye from one of his main mentors, blues bass legend, Bob Stroger!
BIOGRAPHY
When you look at Joey J. Saye, you see a promising, young musician with his entire life ahead of him. When you hear him, his sound and his musicianship far surpass his age. The way he attacks the strings with finesse embodies the roots of blues as if he was around when the Blues were born.
​Joey grew up just west of Chicago and music has been a part of his DNA since he was child; living in a household that provided him with a multitude of music genres and styles. Hearing his grandmother break out in song at any given moment helped him to appreciate music and its art of bringing people together, soothing the soul.
​Even though he was introduced to the blues community at 16, he first heard the haunting melodies and guitar licks at 13 years of age when he was already dabbling in music and creating songs with his friends. But hearing Muddy Waters and Memphis Minnie's music ignited his passion for the blues and he traded in his athletic gear for his guitar. And we are so glad he did.
​Joey is making a name for himself throughout Chicagoland and all over the US, he is being recognized abroad, becoming an international artist with audiences embracing him with open arms.
​His love of blues is infectious, and he shows the audience that the blues are alive and well and will still live on for years to come.
DELMARK ALL-STARS – Demetria Taylor and Willie Buck – vocals, Dave Specter on guitar, Ken Saydak on keys and vocals, Larry Williams on bass, and Big Ray Stewart on drums and vocals.
Demetria Taylor– vocals
Demetria Taylor was born to sing the blues. The songs on "DEMETRIA TAYLOR: Doin' What I'm Supposed To Do" are a balance of traditional blues and modern R & B, with some written by her family, some by fellow musicians Mike Wheeler and Larry Williams, one by the venerable Magic Sam, and two by Demetria herself. This second Delmark record is a strong follow up to her Delmark debut, "Bad Girl", and also features the legendary Deitra Farr on one track. As Demetria says, and we believe her: "It's my time".
Willie Buck – vocals-
The Amazing Willie Buck is simply one of the best standup traditional Chicago blues singer of all! He's been leading his own band in Chicago for over 50 years. This Chicago blues master never seems to age!
Dave Specter – guitar, vocals
Dave Specter's 30-year musical journey on Delmark showcases the guitarist, songwriter and vocalist surrounded by a stellar lineup of special guests.
Specter's career has been intertwined with the deepest roots of Chicago blues and Delmark's rich musical history. This double CD release constitutes a definitive testimony to one of today's most tasteful and versatile blues artists featuring Specter in a wide variety of styles, all played with six string soul.
Ken Saydak -vocals, keys
"…Then there is Ken Saydak. It is his songwriting and singing that make him sound like a barroom bard, street sage and soapbox preacher all rolled into one cat disguised as a gifted pianist and organist…"
David Mac – Blues Junction Productions
Larry Williams– bass We have the FUNKY BASSMAN! – longtime bass player and charismatic performer for Mike Wheeler Band
Big Ray Stewart – drums – We have the FUNKY DRUMMER!! – longtime drummer. vocalist and bandleader for Big Ray and Chicago's Most Wanted. and you may even know Ray from his long time role as B.L.U.E.S. on Halsted's doo
rman and host extraordinaire!
This was my recap of last year's wildly successful 2022 Delmark Stroll
2022 Rockwell Street Stroll – Delmark's 2nd annual Blues & Jazz Festival – September 3, 2022
Bob Koester, Sr. was smiling down from above during the wildly successful blues and jazz festival that took place in his long-time Chicago north side neighborhood, and right down the street from the home of his historic Delmark Records, the world's longest running independent label. This was the 2nd annual Delmark Records' Rockwell Street Stroll, which was expertly organized by Bob's successors at the historic label, Julia Miller and Elbio Barilari, who took over operating Delmark from Koester in 2018. Julia & Elbio and the Delmark team have successfully ushered in a new era for the label, making some great improvements and steps to modernize, while still focusing on the goal of recording the treasured traditional blues and jazz talent our great city (and beyond) has to offer.
This free (!) fest presented a full day of superb live music from predominantly our favorite Delmark artists, from noon 'til 9:30 pm on a beautiful Saturday during a festive Labor Day weekend in Chicago. This year the fest took place inside and outside the Burning Bush Brewery along the Chicago River in Chicago's North Center neighborhood. Delmark, Michael Frank's Earwig Records, CHIRP Radio, and Wang Dang Doodle Tees all had popular booths. We were very fortunate to have a very well attended event, full of diehard blues fans and neighborhood friends, families, and their pets. Yes, kids and even the dogs seemed to really dig the Chicago blues!
To kick off the festivities, Gerry Hundt's legendary one-man-band played to a full crowd inside the brewery. You may know the talented multi-instrumentalist Gerry from his longtime work alongside Corey Dennison, Nick Moss, and the Cash Box Kings, but he also just released a killer new independent recording called The Dig 3, a powerful new trio with Hundt, harp master Ronnie Shellist, and supreme vocalist/guitarist Andrew Duncanson from the Kilborn Alley Blues Band. Up next inside was acoustic and slide guitarist extraordinaire Donna Herula with veteran bassist Harlan Terson (Lonnie Brooks, Dave Specter, and more) along with soulful blues/jazz/r&b vocalist, diva Lynne Jordan. And closing out the inside afternoon fest was veteran folk blues singer/guitarist and Earwig Records artist, Andy Cohen.
The awe-inspiring award-winning Chicago jazz vocalist/composer Dee Alexander and her quartet kicked off the outdoor stage entertainment. Then we switched tempos a bit and brought the house-rockin' slide guitar fueled boogie blues sounds of crowd faves, Dave Weld & The Imperial Flames. This veteran all-star band has a fantastic new Delmark album just released called NIGHTWALK, which captured the full sound they have perfected with the J.B. Hutto influenced guitarist/vocalist, Weld, 2nd vocalist Monica Myhre, drummer and 3rd vocalist Jeff Taylor, keyboardist Harry Yaseen (who studied under the late great jazz/blues pianist and Delmark artist Art Hodes,) saxophonist Rogers Randle, and bassist Kenny Pickens. Next, Chicago's colossal titan of tenor sax, Frank Catalano and his quartet threw down an amazing set of hard and soulful jazz. Can you believe the 45-year young Frank has been with the Delmark family since he was a teen on his '98 Delmark debut, Cut It Out!
One of the most anticipated acts of the fest was the ever popular and legendary bluesman, Bob Stroger, fronting The Headcutters, a superlative traditional blues band in town all the way from Brazil, who have backed up Smilin' Bob Stroger for years. It was a very special set seeing the inspirational 91-year young Bob as the stand-up lead singer, with his infectious ever-present smile, dancing front and center (as opposed to his usual role of bass sideman) fronting the amazing talented band of harp ace Joe Marhofer, guitar star Ricardo Maca, standup bassist Arthur Catuto, and drummer Leandro Cavera. Extra special guest performing the entire set was young rising star of blues piano, Ben Levin, from Cincinnati!! Bob Stroger & The Headcutters were celebrating their successful Delmark recording, That's My Name, which has deservedly received rave reviews and steady airplay worldwide! Congrats and to many more years, Bob!!
The Delmark All-Stars brought a rousing close to the night with many of Chicago's favorite blues singers taking main stage. The All-Stars represented are true living legends of Chicago blues and soul, including Bob Stroger on bass, Willie "The Touch" Hayes on drums, Roosevelt "Mad Hatter" Purifoy on keys, and guitarist Dave Specter. Linsey Alexander, took center stage first, bringing his winning stage smile and humor with his Delmark hit, "Call My Wife!" Jimmy Burns seemingly hasn't aged at all, with his warm soul-drenched vocals and distinctive guitar work, sounding way younger than his almost 80 years. We also were treated to the tough and swingin' harp work from Martin Lang, who played and recorded with Burns, and Johnny Burgin for years, and still regularly plays with Tail Dragger and Willie Buck, while also fronting his own traditional Chicago blues band.
Inspired and riding a wave of excitement about her recent crowning of the KoKo Taylor award from the Jus' Blues Foundation and a brand new stunning Delmark sophomore recording, Doin' What I'm Supposed To Do, Demetria Taylor had the crowd in the palm of her hand, with her unique and funky singing style and charismatic stage presence. The legendary Eddie Taylor's youngest daughter and niece of Jimmy Burns, Demetria truly brought down the house with her mix of originals and tasty covers, and was the big highlight of the fest, in my opinion. Her powerful and emotional version of her dad's "83 Highway" from her new Delmark album literally brought tears to my eyes. Special guest guitarist Jon McDonald (Magic Slim'slong time 2nd guitarist) was an added bonus to the proceedings, with his guitar/slide guitar skills packing a powerful punch alongside Specter's tasty playing. We then brought up two of Chicago's fave veteran traditional stand-up blues singers, the excellent vocalist Milwaukee Slim (Silas McClatcher), and the amazing and ubiquitous Willie Buck, both singin' their hearts out with their Muddy Waters styled deep Mississippi blues. Both Slim and Buck are always dressed to impress and look and sound unbelievably way younger than their 80 plus years!! The Headcutters, Ben Levin, and Dave Weld all returned to the stage at the end with Buck's band, consisting of Martin Lang, his long-time impressive guitarist Thaddeus Krolicki, and rising star bassist, Yoshimi Hirata. Willie Buck is always a big hit with the crowd, walking out and singing right up close to his fans during "Champagne and Reefer" making for an exciting conclusion to a very entertaining and gratifying festival. See ya next year!!
Kevin Johnson, Proud Papa Promotions & Publicity, Delmark blues promotions
WILLIE BUCK
Bob Stroger – living legend of the Blues -This ageless bass legend has been taking on lead vocals with ease, naturally!
Demetria Taylor had the wild crowd in the palm of her hand- She really brought her A game and just killed it! Demetria dancin' with the Rockwell Stroll fans while Specter rips it up on slide guitar.
Willie Buck doin' his amazing version of Muddy Waters' CHAMPAGE and REEFER while walkin' the crowd!
Demetria Taylor singin her Daddy Eddie Taylor's song 83 Highway with guitarists Dave Specter and Jon McDonald and Roosevelt Purifoy on keys!
Check out the beautiful BURNING BUSH BREWERY!!
We are a family-owned microbrewery in the heart of Chicago's North Center neighborhood.
We are deeply passionate about beer, community and service.
We hope to see you soon in our spacious, dog- and family-friendly taproom and on our sun-filled patio!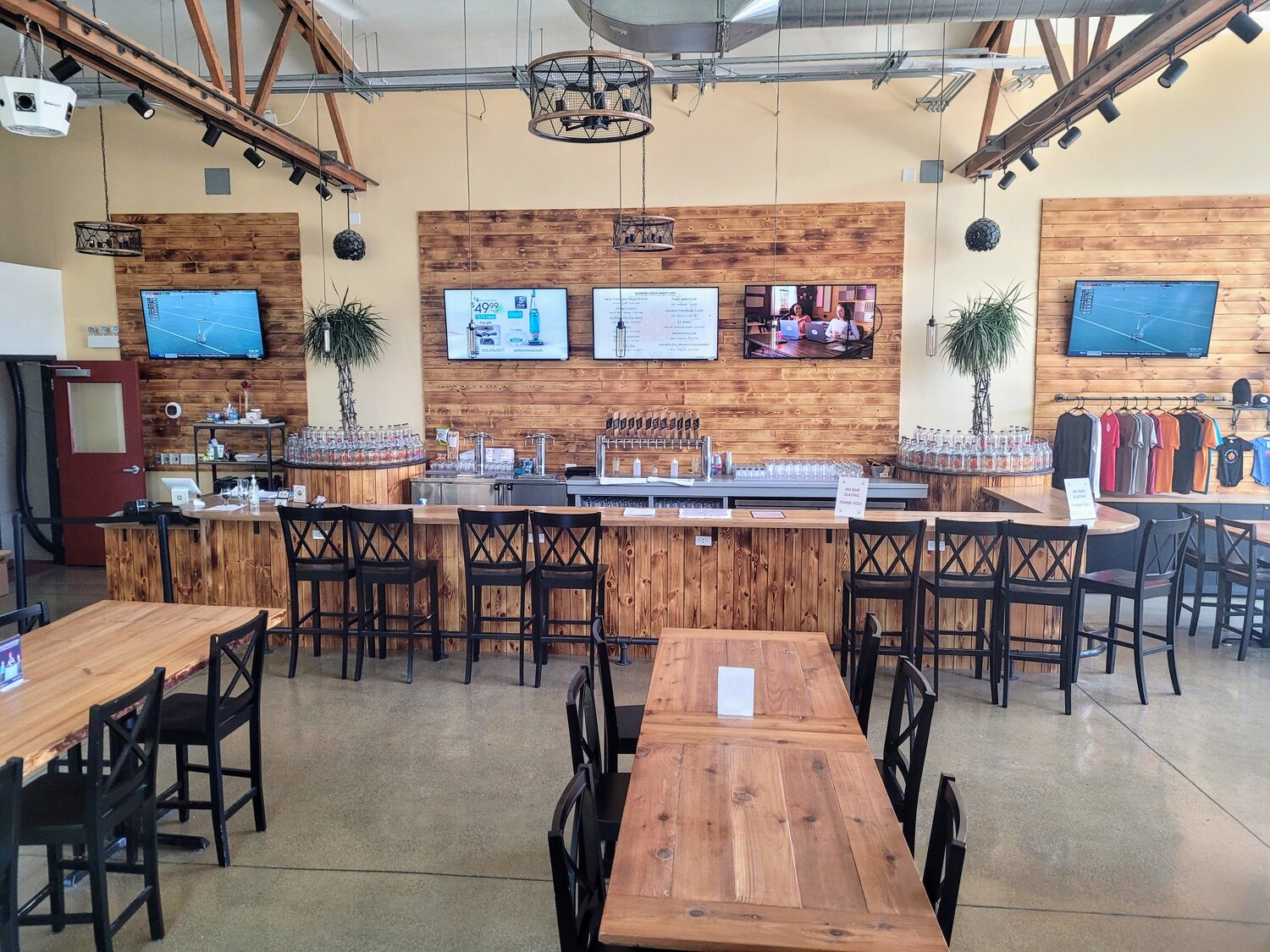 Contact
info@burningbushbrewery.com
773-681-0215
4014 N. Rockwell St.
Chicago, IL 60618

—BURNING BUSH BREWERY—
RIVER ROOM AT BURNING BUSH BREWERY
Hours
Monday – Thurs. – 4:00 – 10:00
Fri. – Sat. – 12:00 – 11:00
Sunday – 12:00 – 8:00