Johnny Burgin & Tail Dragger @ The Wild Eye Pub, Grass Valley, CA
05/13/22
Grass Valley, CA
The Wild Eye Pub

TIME: 7:00pm. AGE RESTRICTIONS: All Ages. ADDRESS: 535 Mill St. With Chicago Blues Legend TAIL DRAGGER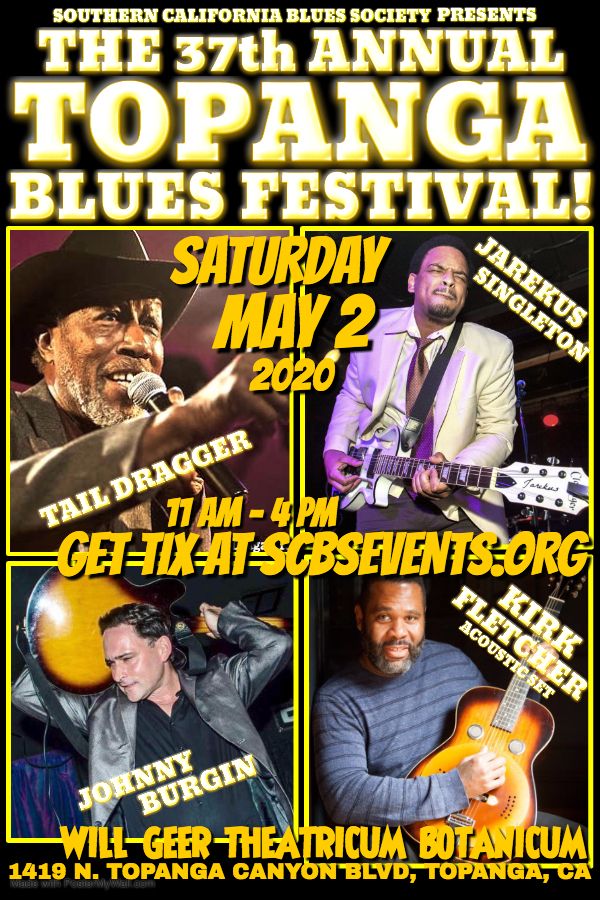 BIOGRAPHY
Johnny Burgin grew up in the South and went to University of Chicago with the intention of becoming a writer. A different path unfolded when a fellow DJ at the college radio station took him out to a West Side ghetto club to hear the blues singer Tail Dragger. It was a conversion moment where the blues came to life for Johnny and he fell headfirst into the vibrant Chicago blues scene. Choosing the blues clubs over the library, Johnny eagerly absorbed the lessons from the blues masters who practiced their craft nightly. Through persistence and practice he gained a spot in Tail Dragger's band, and started doing gigs in town and on the road with traditional blues veterans like Jimmie Lee Robinson, Sam Lay, and Pinetop Perkins. What at first he'd only dared to dream about coalesced into three concrete goals: to play in Europe, record his own CD, and to book his own gigs every weekend. A Monday night residency at The Smoke Daddy in Wicker Park along with featured vocalist Jimmy Burns turned out to the key: before long, Johnny's band packed the club every Monday with a younger, hip crowd. The residency's success led directly to a record deal with Delmark, steady local club work, and his first of many European tours– he'd done it!
The shangri-la of being "King of Division Street" eventually ran its course, and in the early aughts, Johnny dropped off the scene entirely to raise a daughter. But Johnny couldn't keep away from music for too long; his 2009 comeback was noted by The Chicago Tribune, Chicago Blues Guide, as well as the international blues press. His first show, on a frigid January night in a club that'd been an old stoming ground, was packed with his old fans. An awful silence fell before he hit the first note– did he still have it?– but as noted blues producer Dick Shurman wrote, "Johnny's skills, passion and committment were undiminished." Brick by brick, Johnny rebuilt his career first in Chicago, then all over the Midwest and Europe, and gradually out to the West Coast. His move to the Bay Area in 2016 was artistically rejuvenating, leading to new fans, new collaborations, and recordings such as the Cali/Chicago blues mashup Neoprene Fedora, the Howlin' Wolf tribute Howlin' at Greaseland (nominated for a BMA for Best Traditional Blues Recording) and the Johnny Burgin Live LP, which featured Charlie Musselwhite and was nominated for a Blues Blast Best Live Recording Award for 2019. The move honed his road warrior skills: since 2016, he's performed nearly 250 shows a year in Europe, Japan and coast to coast in the US, earning the tag line The Worldwide West Side Guitar Man.
Now with ten CDs as a leader to his credit and dozens more as a sideman, Johnny's developed from a young guitar slinger and local blues hero into a matured bluesman, fully fledged singer and the a confident and engaging bandleader. In recent years, he has been teaching both in person and online at the Chicago Blues Network and has developed a loyal following on Youtube for his weekly looks at the blues guitar greats. Johnny's recordings have evolved from being very Chicago-centric, to a fusion of West Coast and Chicago styles, and finally to a more inclusive, international approach: his latest CD, No Border Blues Japan, is the first American compilation of the underground Japanese blues scene. The success of this collaboration led Johnny and his partner, producer Stephanie Tice, to create and host the podcast No Border Blues, which focuses on the international blues scene.
---
"His guitar style is raw and rude and real– on the vocal side, a nice original style– he's damn good!" –Elvin Bishop
An adventurous musician who's never shy about taking chances.
–Marty Gunther, Blues Blast
This veteran blues musician has been on a roll of late turning out one exceptional album after another.
–David Mac, Blues Junction
The well-traveled and prolific Chicago bluesman.. brings something different each time he issues a solo album.
–Jim Hynes, Glide Magazine
Johnny's ego-free dedication to the music is refreshing. In a world where everyone wants to be a superstar, Johnny shines brightly. He is truly an old-school bluesman.
–Bill Wilson, Reflections in Blue

"I'm knocked out! I already liked what you were doing, but you've really moved WAY up. What did you do, go to the crossroads or something?" –Charlie Musselwhite"I first saw Rockin' Johnny years back at the Utrecht Blues Estafette, and was very impressed. The years have added maturity, his vocals are soulful and his guitar playing is always top notch. Impressed, you bet I was!" –Phil Wight, Blues and Rhythm magazine, UK"The great thing about Rockin' Johnny is that his sound is fully rooted in the old style Chicago Blues sound, but his approach is original and contemporary." –Karen Hansen, Today's Chicago Blues blog"Burgin proves to be a strong writer here… commanding vocals and stinging guitar" –Jim Hynes, Making a Scene
https://www.youtube.com/watch?v=lJN5Ut88QFou0026t=1s
---
Johnny Burgin earns his name as The Worldwide West Side Guitar Man by performing up to 250 shows a year in Europe, Japan and coast to coast in the US. Johnny started his career in the rough and tumble neighborhood blues joints on Chicago's West Side with Howlin' Wolf disciple Tail Dragger, and went on to tour and record with blues legends such as Pinetop Perkins, Sam Lay and Billy Boy Arnold. He's been praised by the Cascade Blues Association for his "stunning guitar playing – the pure Chicago styled sound," and his fans love Johnny's take on the intense, stripped-down "West Side sound" of Otis Rush, Magic Sam and Buddy Guy. Johnny is a Delmark and Vizztone recording artist with eight CDs to his credit. He was nominated for a BMA for Best Traditional Blues CD of 2017 for "Howlin' at Greaseland," a Howlin' Wolf tribute.
Johnny Burgin grew up in Starkville, Miss. and Greenville, S.C., and while he was still in high school, he got to see many touring blues bands such as Guitar Jr., Gatemouth Brown and Eddie Clearwater. His father was an actor and folk musician and taught him the basics on guitar. He went to University of Chicago with the intention of becoming a writer, but a different path unfolded and he fell headfirst into the Chicago blues scene. Things started happening fast after Johnny (at that time featuring guest vocalist Jimmy Burns) took a Monday night residency at the Smoke Daddy in Chicago's Wicker Park neighborhood. They soon became a strong draw, and the atmosphere they generated was so electric that Bob Koester of Delmark Records offered them a contract after hearing just one set.
Since those days, Johnny played the Chicago Blues Festival many times, toured Europe regularly, and has headlined festivals all over the U.S. Over the years, he has developed from a blues guitar slinger and local blues hero into a fully fledged singer, harmonica player, a dynamic and engaging bandleader, and a mature, seasoned guitarist. One look at Johnny's tour schedule confirms his status as an in-demand blues performer. Rockin' Johnny also plays solo and duo performances and does guitar and blues workshops worldwide. He puts on the kind of satisfying and exciting show that only years of touring can develop.