Dave Weld & The Imperial Flames @ Buddy Guy's Legends, Chicago
DAVE WELD & THE IMPERIAL FLAMES
Ages 21 and up
SUNDAY, FEBRUARY 05
Show: 9pm
$15
Online ticket cut off time is 4:00PM day of show. Tickets are available at the door after 5:00PM
Free Jazz set with Hilton Hart– 5:30-8:00PM
Headline Band: 9:00PM- Close
SEATING POLICY:
All tickets sold are General Admission, which means table/bar seating are on a first-come, first-served basis. Buying your ticket online in advance guarantees admission (not seating). We recommend arriving early for seating. The number of patrons in our standing room areas will be limited to maintain safe distances.
PHOTO/VIDEO POLICY:
Buddy Guy's Legends is pleased to announce that we will now allow video recording as well as photos. We ask that patrons be courteous and not block the views of others around them. No professional photo/video equipment will be allowed without a media pass.
BAG/SEARCH POLICY:
No luggage, large bags, backpacks, briefcases, or computer bags. Small bags and purses are subject to search.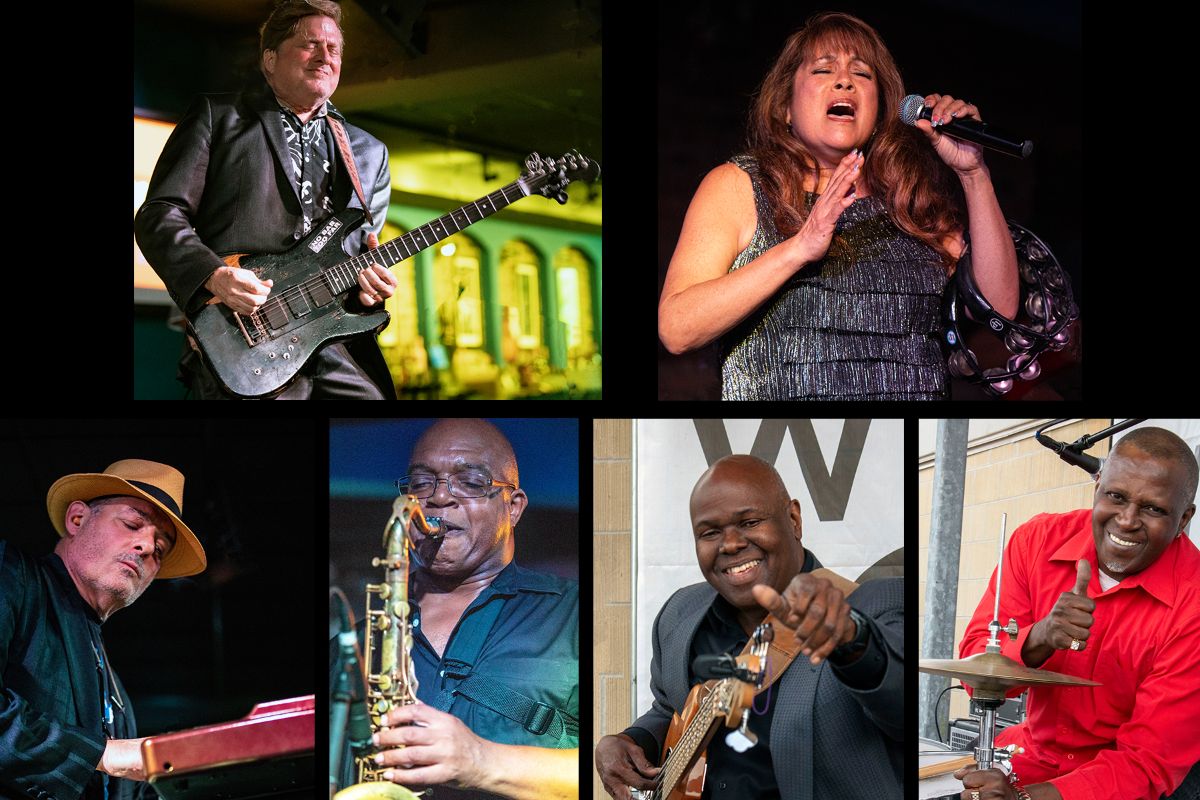 BUDDY GUY'S LEGENDS
700 SOUTH WABASH AVENUE
CHICAGO, IL (9:00-12:00)
Great to be back at the legendary blues club, Buddy Guy's Legends! Ready for some foot stompin', house rockin blues? We're bringing our full show full of blues!
https://www.facebook.com/DaveWeldpage
"Using a metal slide, the guitarist draws on lessons learned from the great JB Hutto, of power and energy ever so purposeful".Frank Hadly, Downbeat
Dave Weld and the Imperial Flames, an authentic blues band with versatile talent, variety, and a cohesive show that includes original driving blues. The originals are classic in nature, the standards are revitalized with striking three part vocal harmony, three vocal stylists, Passionate slide guitarist, Dave Weld schooled from Grammy Winning Master J.B. Hutto, along with blues diva and Rami winner Monica Myhre, Red Hot Saxman Rogers Randle, Jr, creamy voice of Jeff Taylor with a solid beat on drums and tight, rock rhythm section with Kenny Pickens blazing on bass.
From Chicago Blues Fest, to Buddy Guy's new Legends, the Meridien Hotel (Paris), Canada, Japan, Spain, Holland, Caribbean, Germany, Belgium, France, Sweden, England, North, South, East and West in the USA. Here is what they say about Dave Weld and the Imperial Flames:
"We along with our guest are thrilled to see the interaction you have with the audience…your performances have set the standard for consistency, quality and entertainment…your flexibility demonstrates your dependability….Jacques D'Rovencourt, Director of Food and Beverage, The Palmer House Hilton
"You guys are great, fantastic, I loved it!!…..Bonnie Raitt
"Dave Weld and the Imperial Flames were excellent, particularly Dave Weld, who came offstage to play and give individual attention…myclients have commented how great the band played!"….Vivian Liddell, Area Sales Director, Le Meridien Hotel
"On behalf of House of Blues-Chicago, we highly recommend Dave Weld and the Imperial Flames for venue bookings thanks to there consistently high level of talent, dedication, and cooperation……..Virginia Jones, House of Blues, Chicago
"Using a metal slide, the guitarist draws on lessons from the great JB Hutto and makes his emanations of power and energy ever so purposeful"………Frank-John Hadly, Downbeat Magazine September, 2010
"this is a killer veteran all-star, real deal Chicago blues band at its house rockin' best… one of the hardest working, longest running, and most talented, cohesive, Chicago blues bands around"…….Kevin Johnson, Delmark records, Aug 2010
"Dave Weld is one of the friendliest, easiest guys in the music business to work with…never seen a crowd the didn't love him..he put together a performance that was exactly tailored to the event… I would recommend him highly…an evening with Dave Weld is an evening well spent…..Lois Roewade , Event Makers
Dave Weld Bio
Musican Singer/Songwriter Producer
Born in Chicago in 1952, Dave was first influenced as a child when he found an old Victrola in the basement and wore out the blues 78's. In high school the Stones, Clapton and Mayall first came out but Dave traded those records for Howlin' Wolf, Lightnin Hopkins, and BB King.After high school Weld moved to New Mexico, and studied guitar under Kurt Black, a jazz player who worked with Benny Carter, Grant Green and others in the New York jazz scene. Also he drove to Nevada and met and jammed with Gatemouth Brown.
Weld bought Hound Dog Taylor's first Alligator album, heard Howlin Wolf over the radio in the desert one night, packed up and drove back home in his 67′ Ford, and made it with $10 to spare.
Dave found out the West side of Chicago in the black hood was friendlier than the North side, and started sitting in at clubs, and landed a gig with Hound Dog Taylor's band, Brewer Phillips, Ted Harvey, at Sweet Peas on 43rd St. While there a year, there were shake dancers and fistfights. The gig ended when Brewer was stabbed in the throat by his wife, but they reconciled.
Weld then moved to the 1815 Club on W. Roosevelt, owned and operated by Eddie Shaw who had Howlin Wolfs band, the Wolf Pack. Dave stayed there and played in the band with Chico Chism, Lafayette Gilbert, Hubert Sumlin, Detroit Junior, and Eddie Shaw. The going rate was $15 per night, but Dave played there with Otis Rush, Maxwell St. Jimmy, Guitar Junior, Jew Town Burks, Doug Macdonald, Boston Blackie, Tail Dragger, Little Wolf, Big Bad Ben, Little Aurthur, Johnny Littlejohn and more. The gig ended when the band was taken to the Maxwell St. lockup because of the nude dancers. Shaw bailed them out.
Dave's first band! Hound Dog Taylor's group of Brewer Philips and Ted Harvey. They had been working with JB Hutto after Hound Dog's death, and after they came back from breaking iff with JB in Boston, they had a little house gig at Sweet Pea's. Weld joined the band and played with them for a year.Brewer Philip and Ted Harvey are well known because their music started Alligator Records, the world largest blues label. Brewer learned from Memphis Minnie, one of the most famous women in blues history! Their recordings and tours with Hound Dog over 16 years signaled an increase in popularity of the blues in
The Garfield, at Homan and Madison was right around the corner from Ed's house and featured Little Wolf, Hound Dog, and Little Ed's band stayed there about a year.
Necktie Nates at W Roosevelt was a hotbed of blues and Little Ed and the Blues Imperials stayed there a year, during which Buster Benton came in to play quite a bit. The gig ended when Nate insulted Pookie's aunt and James jumped down off the stage to give Nate quite a lesson in manners. About $15 a night, until Bruce Igauer from Alligator recorded them in a historic session "Roughousin'" and they started world tours.
Boss Joe's Lounge on W Lake, where the guys made from $7 to $15 depending on the door, which there never was, but it kept Dave, Ed and Pookie playing
In 1976 Dave Weld was a writer for Living Blues Magazine, this when his life changed forever. He met and wrote an story about J.B. Hutto. The issue was published Nov-Dec and rest is history. They became lifelong friends….
During this time Weld was under tutelage from JB Hutto, a Grammy awarded Blues Hall of Fame slide man from Georgia. He studied at JB's house for three years until JB introduced Dave to his nephews, Little Ed and James Young. They started the band "Little Ed and the Blues Imperials" and played every joint in the West side for ten years. About $15 a night, until Bruce Igauer from Alligator recorded them in a historic session "Roughousin'" and they started world tours.
In 1988 Dave decided to start his own band "Dave Weld and the Imperial Flames" first releasomg in 1988′ "Rough Rockin in Chicago" on Blue Sting Records. This band featured the most authenic seasoned blues veterans in Chicago. Such as Bernard Reed, Leo Davis, Daryl Mahon, Donny Nichilo, Mike Scharf, Vernon Rogers and Ted Harvey. They toured countless times around the world, local and national festivals and the best venues in the Midwest and the national. In 1996 Weld was joined by Lil Ed and together the Imperial Flames released their sophomore album "Keep On Walkin" on the Earwig label. Lil Ed rejoined Dave's band twice for two years each time and the second time they recorded for Earwig Music, "Keep on Walkin'", and this brought them overseas again, as well as local, regional, and national gigs. When Ed went back to his band he was replaced by the great Abb Locke, legndary sax man They continued working every week since the band was formed and Dave made his first UK tour in 2005, with the second to closing slot at the Maryport Blues Festival, going full circle by opening up for Hubert Sumlin and the Legendary Blues Band!
https://www.youtube.com/embed/6ZmE_q9Umnk?wmode=opaque
In 2009-2010 Dave Weld recorded his first Delmark recording "Burnin Love" produced by Bob Koester. Weld featured long time band members Abb Locke, legendary saxman. Jeff Taylor, drums and vocals, Monica Myhre (Garcia) vocals and percussion, Dave Kaye bass and Harry Yaseen, piano.
Weld's second album for Delmark "Slip Into A Dream" received rave reviews. The band consists of Weld, vocals/guitar and slide guitar; Monica Myhre, vocals/percussion; Harry Yassan, piano; Jeff Taylor drums/vocals and Dave Kaye, bass. Additional musicians include Graham Guest, keyboards; Bobby Rush, harp, "Sax" Gordon Beadle, tenor and baritone sax. Hank Ford, tenor saxophone, Kenny Anderson, trumpet. The Hurd and Greg Guy (Son of Buddy Guy) Guitar on Too Bad So Sad. The album noted for the opening overture. "Slip Into A Dream" is the first of five songs co-written by Weld and his partner Myhre. This is a great tune that breaks from tradition as the chorus has more of a group harmony sound. The contrast is fabulous. "Sweet Rockin Soul" is the appropriately named rave that follows. Addition of vocalist Myhre gives the band an additional dimension and four songs of her own. "Looking For a Man" features Rush on harmonica. The slow blues "Walk On Down" is another favorite. Dave and the band are currently working on a new album for 2019 with current members; Dave Weld on guitar, Mona Rose (Monica Myhre) vocals/percussion, Jeff Taylor drums/vocals, Kenny Pickens bass guitar, Harry Yaseem piano/organ and Dudley Owens and Rogers Randel tenor and baritone sax.https://www.youtube.com/embed/W2IawP8_zwk?wmode=opaque